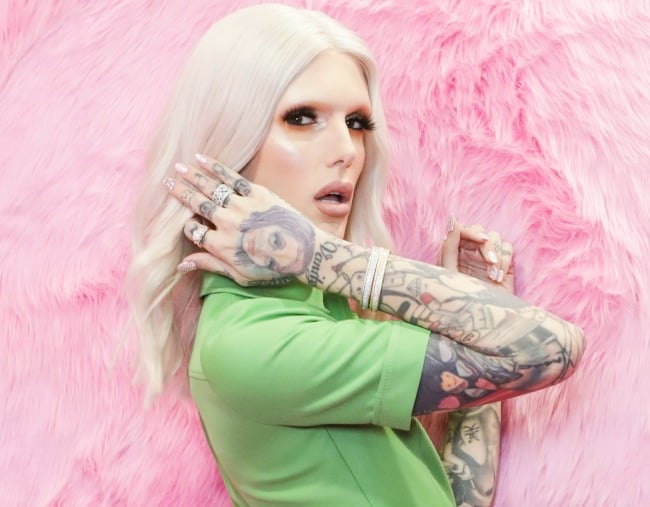 If you think you may be experiencing depression or another mental health problem, please contact your general practitioner or in Australia, contact Lifeline 13 11 14 for support or beyondblue 1300 22 4636.
He's famously feuded with Kylie Jenner and Kat Von D, and now, he's the subject of YouTube's most talked about documentary series.
Yep, we're talking about the ever-controversial Jeffree Star.
The makeup mogul and beauty guru recently welcomed fellow YouTuber Shane Dawson into his home to film a documentary series for YouTube titled 'The Secret World of Jeffree Star'.
Now, in just a week, the five-part series has gained a whopping 63 million views – and it's easy to see why.
Visiting the 32-year-old's Calabasas mansion (Khloe Kardashian is actually his neighbour) and his cosmetic company's factory, Shane provided a unique insight into Jeffree's lavish Californian lifestyle with his long-time partner Nathan Schwandt and their five dogs.
But although he now owns three homes, a pin-protected $7 million wardrobe and over 100 arcade machines, life hasn't always been easy for Jeffree Star.
In fact, as Shane's documentary reveals, just a few years ago, Jeffree was living in a small Californian apartment, bankrupt and alone.

Before making a name for himself as the man behind Jeffree Star Cosmetics, he was well known on Myspace for his music and of course, his makeup looks.
In 2010, Akon even signed Jeffree Star to his label.
But Jeffree's music career didn't exactly take off as planned, and once the money dried up, he was left bankrupt and sleeping on friends' couches across Los Angeles.