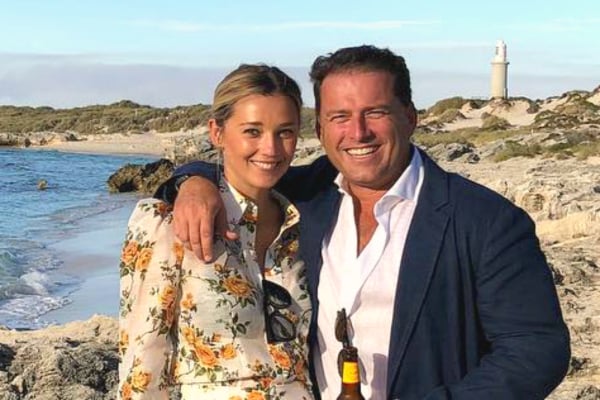 Karl Stefanovic and wife Jasmine Yarbrough are expecting their first child.
The Today Show host confirmed the months-long rumours on Monday, sharing a paparazzi photo of himself emerging from the ocean while holidaying in Byron Bay.
"After a great deal of speculation… the rumours are true," Karl wrote, alongside a baby emoji.

The Instagram post comes just weeks after entertainment reporter Peter Ford "confirmed" that the couple were expecting their first child together.
"We've got confirmation that Karl Stefanovic is becoming a dad, Jasmine is pregnant," Ford claimed.
"They've had the baby shower on the weekend, which is kind of a giveaway sign," he added.
"[Karl's] about to make his big comeback, and now all the excitement of a new baby on the way. Good luck to them."
Earlier this month, photos were shared of Jasmine cradling her stomach at an event in New York City that her friend had described as a 'baby shower'.