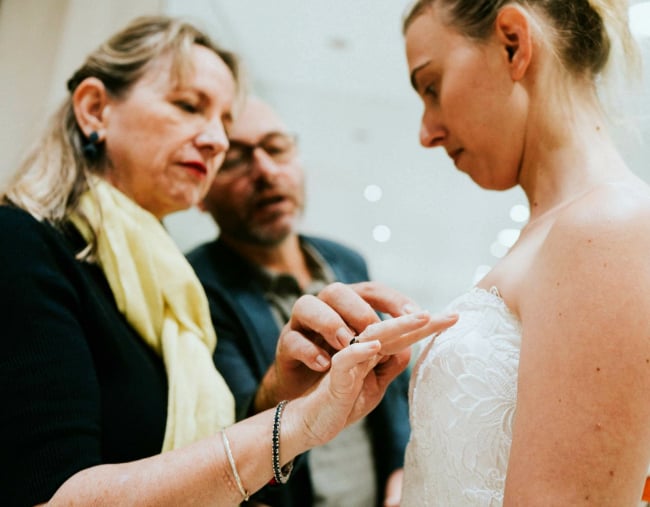 "It was the 18th wedding dress I tried on… I felt my whole face change. It felt like, almost redness going to my cheeks and a smile coming across my face. I felt my face light up and I thought, I don't want to take this dress off."
Steph never thought she would get to have that 'this is the one' feeling about trying on wedding dresses. How could she if she couldn't see the dresses, she thought?
The 31-year-old has Cone-Rod Distrophy, a genetic condition in which the cells in your retina slowly deteriorate and die. She hasn't been able to see for four years, when her vision first started getting blurry.
"The way I explain the way I see now is it's like an old TV you're trying to tune in and you get the fuzziness of the black, white and grey. That's what I see, complete and utter fuzz," she told Mamamia.
"Being a blind bride, you face a lot more difficulties than a sighted bride would. Obviously, people didn't know how I would choose my wedding dress.
"I didn't even know how I was going to choose my wedding dress, to be honest." But she did.
In March, Steph went dress shopping ahead of her November wedding with her dad, brother and bridesmaid, and her mum Linda, who is also blind.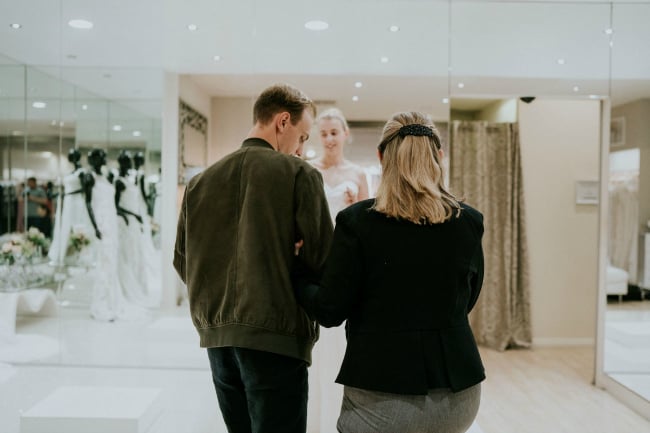 "There was a whole process around how I was going to choose my wedding dress. I haven't been able to see photos or pictures for about four years, so I didn't know what was in fashion or if what I liked was even still available," she said.