On Saturday, Sunrise presenter Edwina Bartholomew married Neil Varcoe at the couple's farm and yes, they were generous enough to put so much on Instagram, we felt we were almost there. Almost.
But perhaps among the beautiful scenery, the obvious love and photos of the gorgeous marquee, there were various references to Edwina's long-held dream of wearing her grandmother's wedding dress.
Now, she's shared a photo of the dress her grandmother wore in 1944 to her own wedding, and how Melbourne-based fashion designer Sonia Cappellazzo restored the dress to its original glory.
"One final photo from our wedding day. I was very close to my beautiful grandmother, Mimi. She was strong and outspoken and naughty. She would pop out for a skinny dip in the middle of summer dinner parties and loved the Tennis because the 'men had such good legs'. She was so full of life," she wrote on Instagram.
"She wore this wedding dress in 1944 when she married my grandfather, Keith Halley. My great grandmother wore the veil for her wedding in 1915.
"More than twenty women in my family have now worn this dress and veil over the past 100 years.
"Thank you @cappellazzocouture couture for bringing it back to life with so much care and consideration."
Describing the "honour" of restoring the dress that holds so much history, Cappellazzo said working with the dress was a "special moment".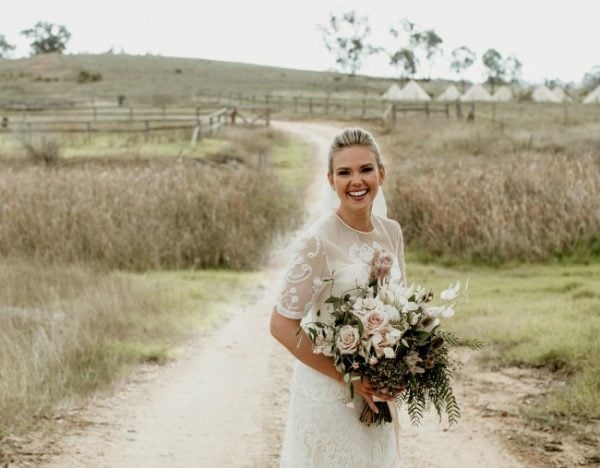 "When Edwina mentioned that her wish would be to wear her grandmother's wedding gown from 1944 and her great-grandmothers veil from 1915… I felt honoured and in awe of this exquisite opportunity. To hold precious history in my hand and to add new memories to this delicate hand made cotton lace was such a special moment. To keep it authentic but current was so important. To see Edwina wearing history with such beauty and grace and making history and knowing that we had a little part in this, is very humbling and I wish Edwina and Neil continued happiness and memories forever."
The couple announced their engagement in April last year, after seven years together.
Edwina Bartholomew on how she nurtures the relationships in her life: