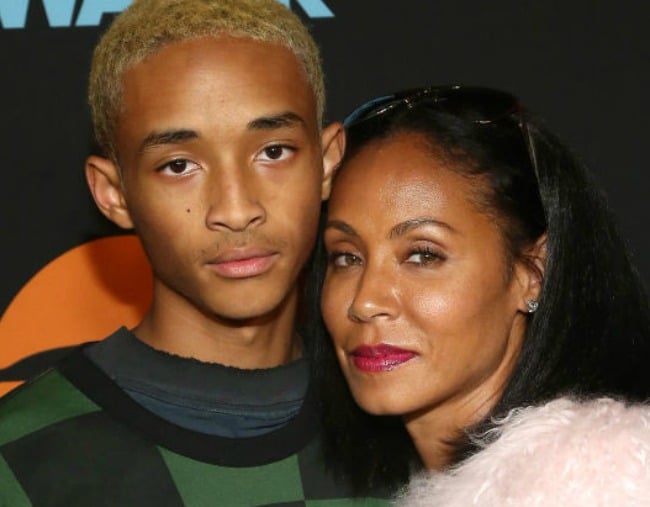 Jada Pinkett Smith has recalled the day her 15-year-old son Jaden Smith decided he wanted to move out of his family home as "one of the most heartbreaking moments of my life".
But as crushed as they were, she and her husband of 19 years, actor Will Smith, chose to force themselves to support his controversial decision.
On a new episode of her show Red Table Talk, the 46-year-old mother-of-two said she intuitively knew it was the right decision for Jaden, and that he had the maturity level to manage it.
Speaking to her now 19-year-old son on the Facebook show, she told him: "You got to a point where you told me straight up, you were like, 'Mum, I have to leave here to live my life'."
"I remember thinking to myself, as devastated as I was, I was like, 'He's right. The time is now. He's 15. It's time for him to leave the house.'"
Jaden said he needed to get out of his family's high-profile Hollywood bubble, and after he did, it was something that eventually strengthened his relationship with his parents.
"It just makes you appreciate being at home, being with your parents, spending quality time with your family," he told his mum, sister Willow Smith and grandmother Adrienne Banfield-Jones.
"You get out into the world and you just understand things."
Watch a snippet of Jada Pinkett Smith's Red Table Talk here: 

Speaking about her and husband's parenting methods, Jada spoke about the difficulty of raising children in a background completely different to the one she grew up in.
She shared one of her key parenting lessons: "Every child needs something different," she said.
"Being in this lifestyle – this world is a bubble and he wanted out, and I understood that.
"I knew that the sooner I was going to let him go, the faster he was going to come back."
Thank you - just by clicking on this and other content on Mamamia, you are helping to fund education for some of the world's most disadvantaged girls.
Together with our commercial clients and charity partner Room to Read, Mamamia's goal is to be funding 1,000 girls in school each and every day, by June 2020.
Learn more here about our ongoing mission to make the world a better place for women and girls.