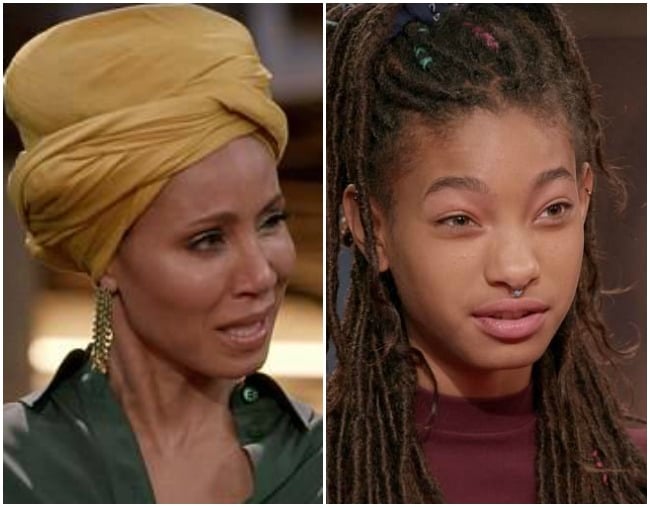 Please note this post deals with issues of depression, mental health, and self-harm. Please contact Beyond Blue on 1300 22 4636, or Lifeline on 13 11 14, if you are distressed.
Willow Smith, daughter of Hollywood veterans Will Smith and  Jada Pinkett Smith, surprised her mother with some very distressing news on an episode of Red Table Talk last year.
The Facebook Watch talk show, which features the mother/daughter duo as well as Jada's mother, Adrienne Banfield-Jones, focussed its second episode on dealing with loss.
Pinkett Smith shared the video on her Facebook page:
In the video, Pinkett Smith asks Willow, 17, what her greatest loss has been. It is then that the teenager reveals that she felt she struggled with her "sanity" after the 2010 release of her song 'Whip My Hair'. She was just 10 years old at the time.
"It was after that whole 'Whip My Hair' thing and I had just stopped doing singing lessons and I was kind of just in this gray area of, 'Who am I? Do I have a purpose? Is there anything I can do besides this?'" Willow says.
"After the tour and the promotion and all of that, they wanted me to finish my album," she continues. "And I was like, I'm not gonna do that. And after all of that kinda settled down and it was like a kind of lull, I was just listening to a lot of dark music. It was just so crazy and I was plunged into this black hole, and I was cutting myself."
Pinkett Smith and Banfield-Jones are shocked and distressed to learn that the child was in so much pain without them knowing about it.
"What? When were you cutting yourself?" Jada says. "I didn't see that part. Cutting yourself where?"