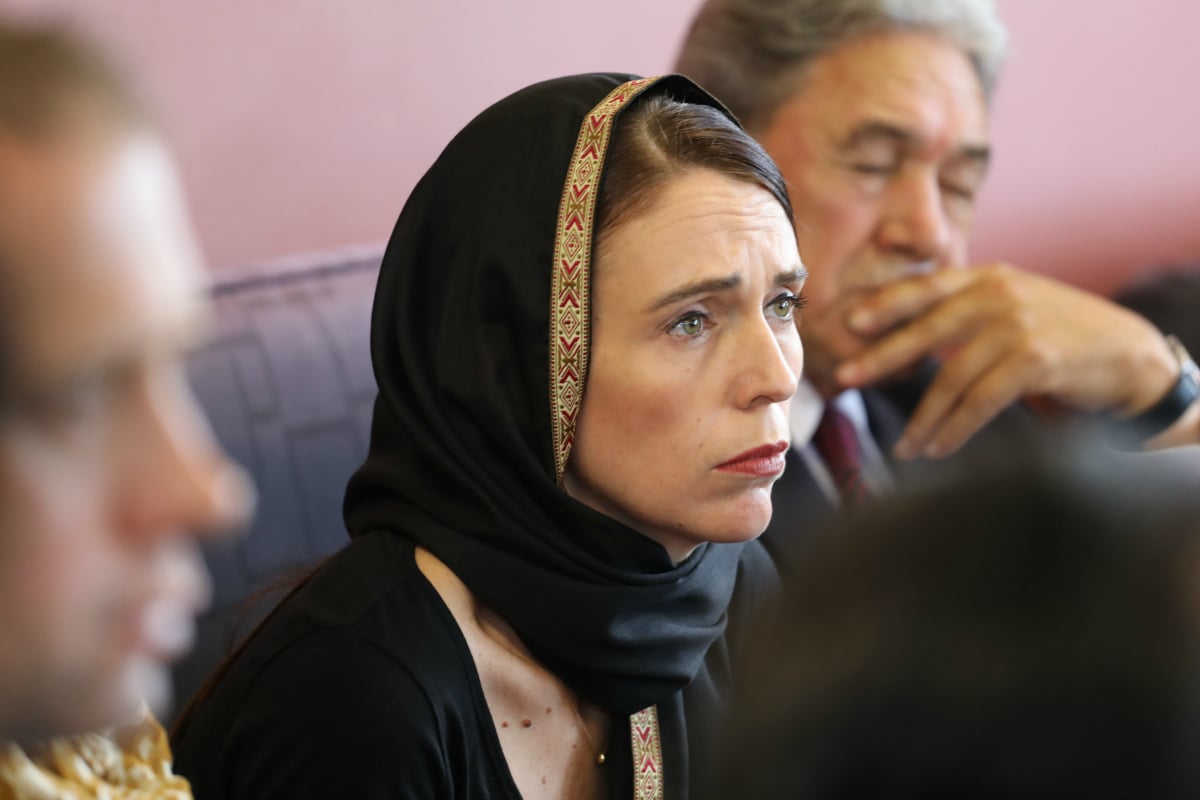 Mamamia has chosen not to show the face of the man in custody for the Christchurch terror attack, or to include or link to any distressing material about his acts. Instead, we are dedicated to remembering the names, faces and stories of the victims.
Wearing a black hijab with gold and red embroidery, her attention is focused squarely on the pain of the people around her.
Her eyes are narrowed, her eyebrows furrowed, her mouth firmly closed. Her expression is effortlessly transparent, and it says the four words she's already said many times out loud: I am so sorry. 
In the wake of New Zealand's deadliest mass shooting on Friday, the world cannot look away from the response of the country's Prime Minister, Jacinda Ardern.
In the hours after Brenton Tarrant, 28, walked into a Christchurch mosque and started shooting at innocent civilians, Ardern made a series of bold, meaningful decisions that will likely set the benchmark for what it means to be a strong leader in a moment of unprecedented crisis.
She quickly called the attack an act of terrorism – a label the media often reserves for Muslim perpetrators of violence.
"It is clear that this can now only be described as a terrorist attack," she said. "These are people who I would describe as having extremist views that have absolutely no place in New Zealand."
Listen to Mamamia's daily news podcast on the people we should be talking about after the Christchurch terror attack. Post continues after audio.

Then, she made a swift call on gun laws.
"The mere fact that this individual had acquired a gun licence and acquired weapons of that range, then obviously I think people will be seeking change, and I'm committing to that," she said on Friday.
"While work is being done as to the chain of events that led to both the holding of this gun licence, and the possession of these weapons, I can tell you one thing right now — our gun laws will change."
She didn't argue with grieving families, telling them now is 'not the time' to discuss gun control.
She didn't condescendingly explain that gun laws are a political plaything, with parties trying to capitalise on the suffering of vulnerable people in order to score points.
She didn't take the opportunity to tell the public that although dozens of innocent people had just been killed with a military-style assault rifle, 'guns don't kill people, people kill people'.
She was resolute. She was unwavering.
When Ardern went to meet mourners and members of the Muslim community in Christchurch on Saturday morning, she wore a hijab as a mark of respect. Photos from the visit show a leader who feels this tragedy as a human first, and a politician second.