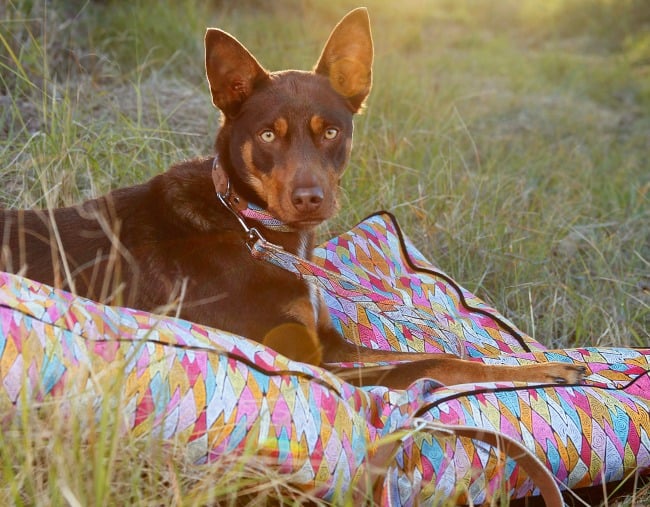 Psssst! You can get 15% off beautiful accessories graced with Indigenous art for your dogs from www.outbacktails.com with the code LADYSTARTUP at the checkout.
We all want our dogs to be happy. And for some of us, their happy life must include adorable matching accessories.
Jessica Knight understands our obsession with dogs, and so after her first successful dog accessory business, DOOG, she founded Outback Tails.
Outback Tails makes beds, collars and bowls in vibrant designs by Pauline Napangardi Gallagher, an Indigenous artist from the Central Desert in the Northern Territory. Jessica also gives back a percentage of her profits to Pauline's community, providing support to local artists.
Jessica explains how she came up with such a unique concept in this interview with Mamamia.
Tell us a bit about your business. How did it start and what does your Ladystartup do?
Outback Tails is a unique and beautiful range of pet accessories graced with Indigenous artworks from the Warlukurlangu Artists of Yuendemu in the Northern Territory. The first collection of cotton dog beds, leather collars and leads and dog bowls all feature the work of talented artist, Pauline Napangardi Gallagher with proceeds from the sale of products going back to Pauline's Indigenous community in the Central Desert.
The idea for Outback Tails was born after I saw a gap in the market for quintessentially Australian inspired pet accessories done stylishly.