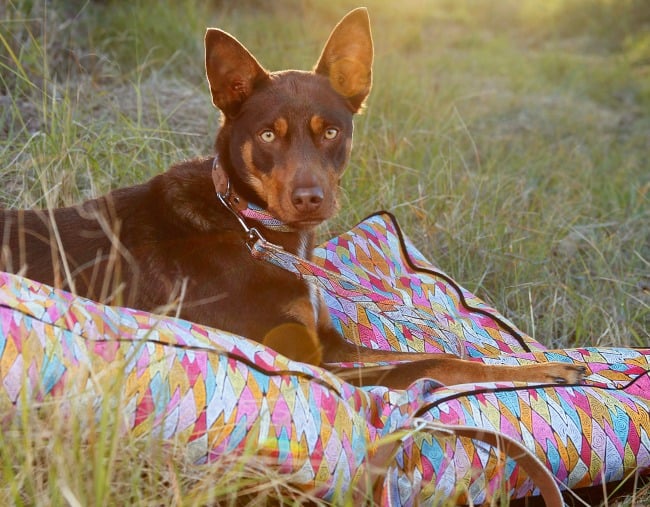 Psssst! You can get 15% off beautiful accessories graced with Indigenous art for your dogs from www.outbacktails.com with the code LADYSTARTUP at the checkout.
We all want our dogs to be happy. And for some of us, their happy life must include adorable matching accessories.
Jessica Knight understands our obsession with dogs, and so after her first successful dog accessory business, DOOG, she founded Outback Tails.
Outback Tails makes beds, collars and bowls in vibrant designs by Pauline Napangardi Gallagher, an Indigenous artist from the Central Desert in the Northern Territory. Jessica also gives back a percentage of her profits to Pauline's community, providing support to local artists.
Jessica explains how she came up with such a unique concept in this interview with Mamamia.
Tell us a bit about your business. How did it start and what does your Ladystartup do?
Outback Tails is a unique and beautiful range of pet accessories graced with Indigenous artworks from the Warlukurlangu Artists of Yuendemu in the Northern Territory. The first collection of cotton dog beds, leather collars and leads and dog bowls all feature the work of talented artist, Pauline Napangardi Gallagher with proceeds from the sale of products going back to Pauline's Indigenous community in the Central Desert.
The idea for Outback Tails was born after I saw a gap in the market for quintessentially Australian inspired pet accessories done stylishly.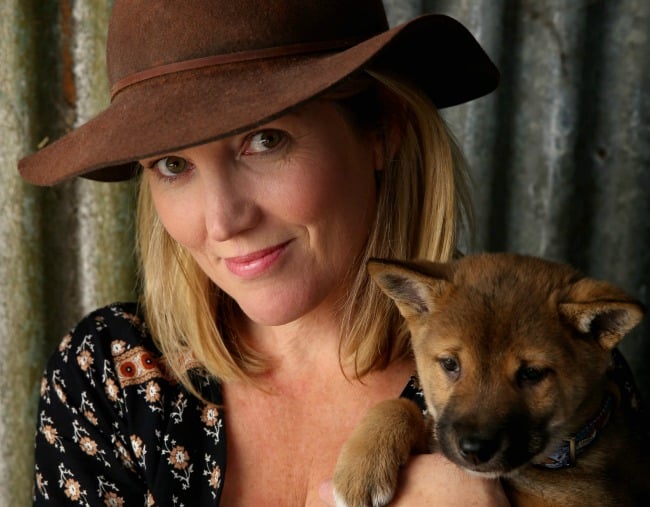 Outback Tails Founder Jessica Knight. Image Supplied. 
What were you doing before you went into business for yourself?
I started an outdoor pet accessories brand DOOG (Dog Owners Outdoor Gear) with my husband Jamie 10 years ago. DOOG products can now be found in over 1000 stores around the world.
Outback Tails is my second project in the pet industry and one I started on my own. I've been working in conjunction with the Warlukurlangu Artists Aboriginal Corporation to develop this range for over a year and launched the brand in October.
Before we started DOOG I worked in television production in Sydney and the UK for Channel Nine and various independent production companies. I've always been in creative roles and been an ideas person.
What made you want to start your own business?
I'm a mother of three children so I needed a job that allows me to be flexible with work hours. I never planned on starting a pet accessories company but really I've just combined my two loves - design and animals - and turned those loves into a business idea. I get to be creative each day but am also constantly teaching myself new skills from graphic design to marketing, accounting, forecasting and financial planning. When you are starting your own business you certainly need to be a jack of all trades!
How did you come up with the name?
I have to credit my husband for my great business name! He came up with it on a run one day and I thought it was brilliant and trademarked it instantly.
Outsourcing is the way to get things done, says Meshel Laurie. Post continues.
Describe the staff/ownership structure of your Ladystartup. 
Jamie and I own and run my first business DOOG together, but Outback Tails is my new venture which I am running on my own. I hope that in 2018 I will have the US and Japanese distribution partner on board to help me take the products to the international market.
Did you require investment to start your business? Where did that come from?
Starting any new business that makes and sells products is an expensive exercise. I managed to secure $100k investment to get me up and running and gave away 20 per cent of my equity in return. I was looking for investment in many different places including the Australian Investment Network, but ended up securing the investment through family and friends in the end. I'm lucky to have people close to me who believed in the idea and have so much faith in my ideas.
What kind of advice did you get before you started and from who?
I was lucky enough to have 10 years of business experience under my belt with DOOG before I started Outback Tails so I do feel I'm going into this new venture already having made a number of mistakes that I know I won't repeat again.
I always go to my closest friends for feedback on business and product ideas and I test all of my products on family and friends dogs for months before I launch them.
What's the single best piece advice you got?
Probably "If you never try you will never know", which is the advice my close friend gave me when I was questioning if starting a whole second business was going to be too much work for me with three kids. If I had never given it a go, I think I would have always wondered what the outcome would have been, so I'm glad I took her advice!
What's the one bit of advice you would give yourself if you were starting again?
Always believe in yourself and your ideas.
At Mamamia we have an expression "flearning" - failing and learning. What have been your biggest flearnings since you have started your business?
Not doing proper forecasting and running out of stock at busy selling times has got us into some sticky situations in the past and can upset customer relationships.
I have learned to accept my weaknesses (accounting and finance for example) and have surrounded myself with people who can take this off my hands and do a much better job at it than me!
What is the smartest thing you've done since starting your business?
We kept our running costs and overheads really low when we started out by running our business from the back shed, packing all of our own orders and moving to a regional area so we had a smaller mortgage than we would have had in Sydney.
Scroll through to see more from Outback Tails. Post continues.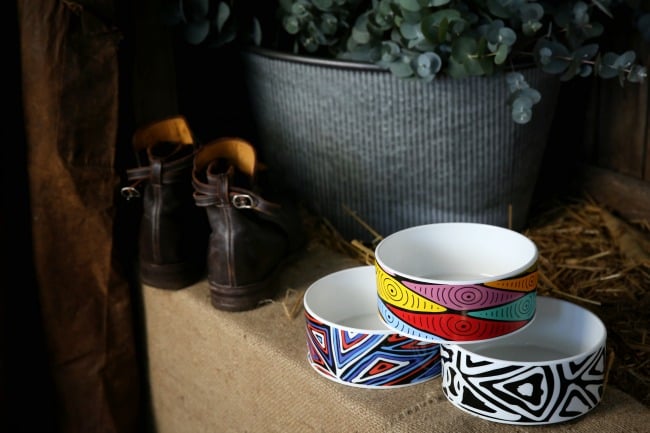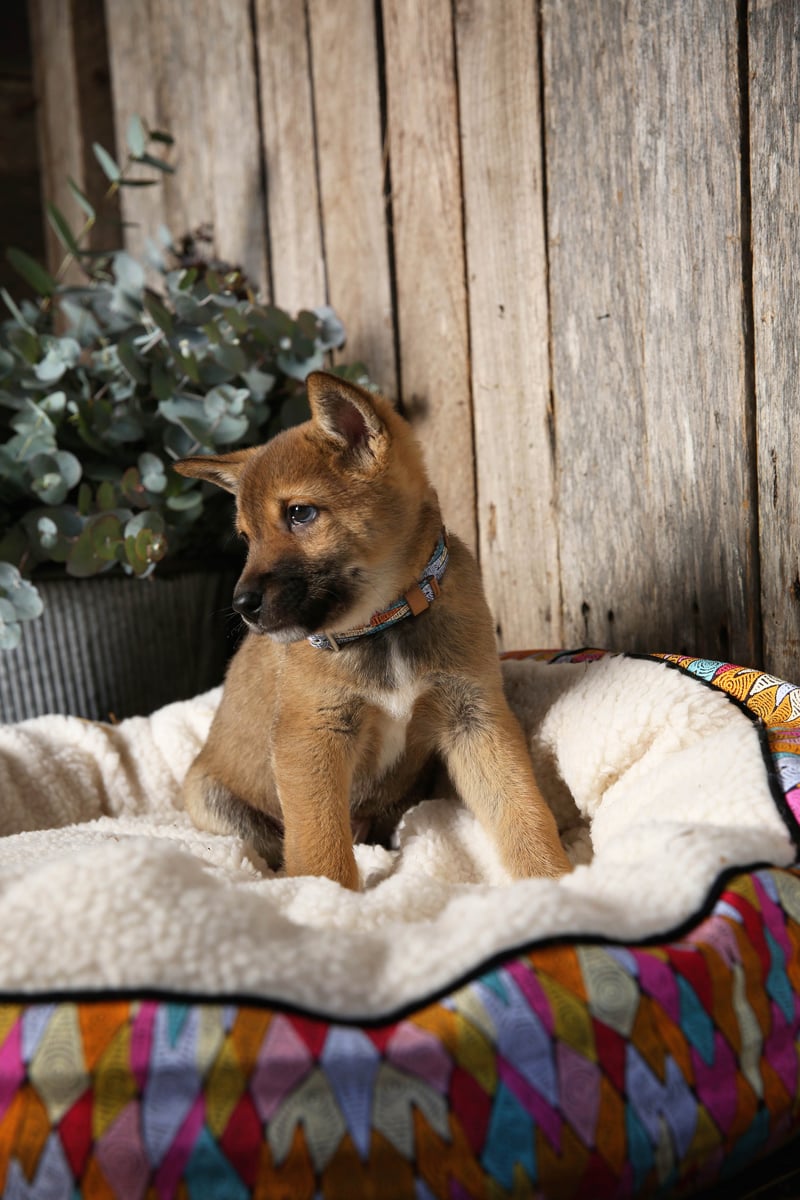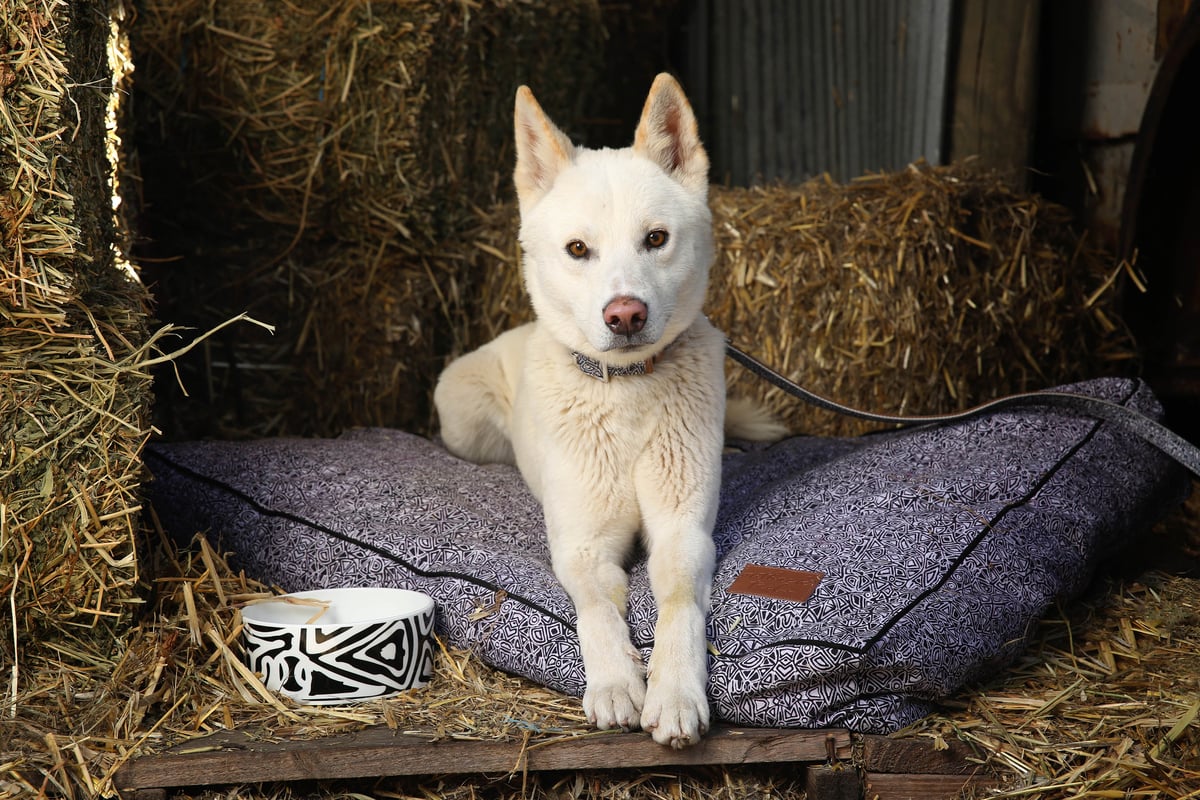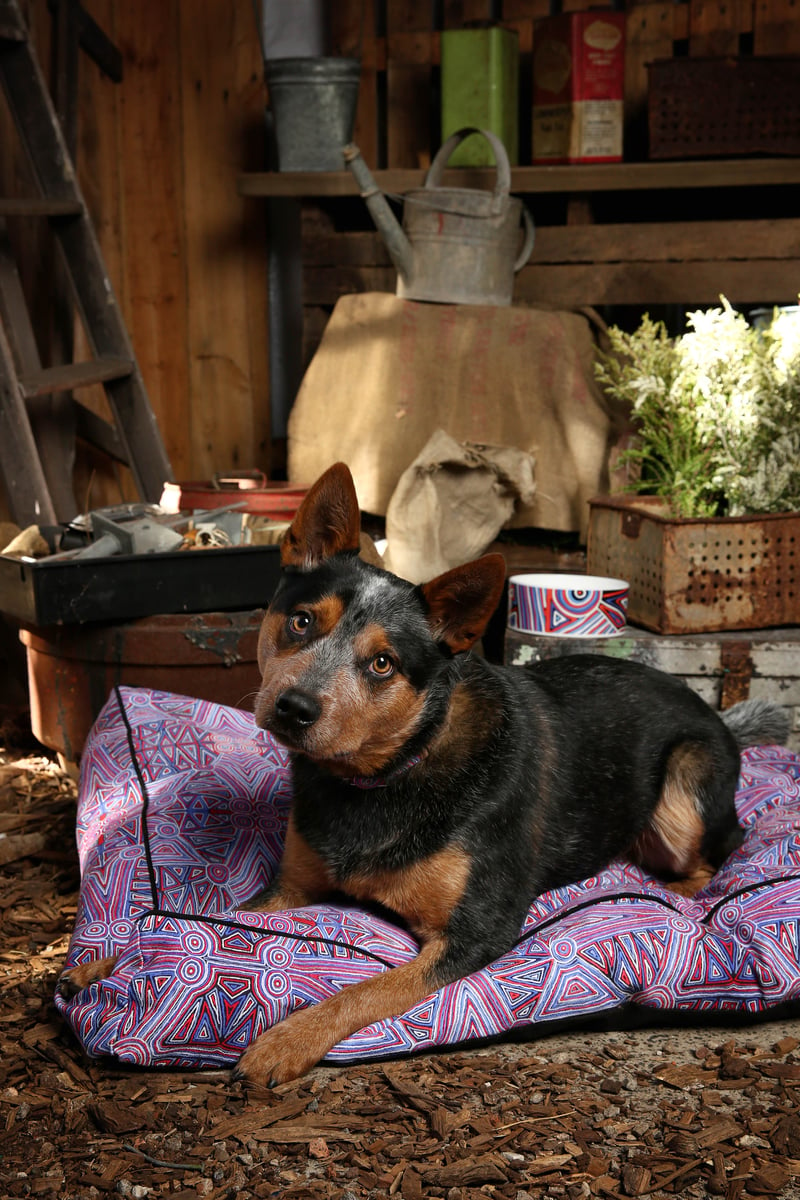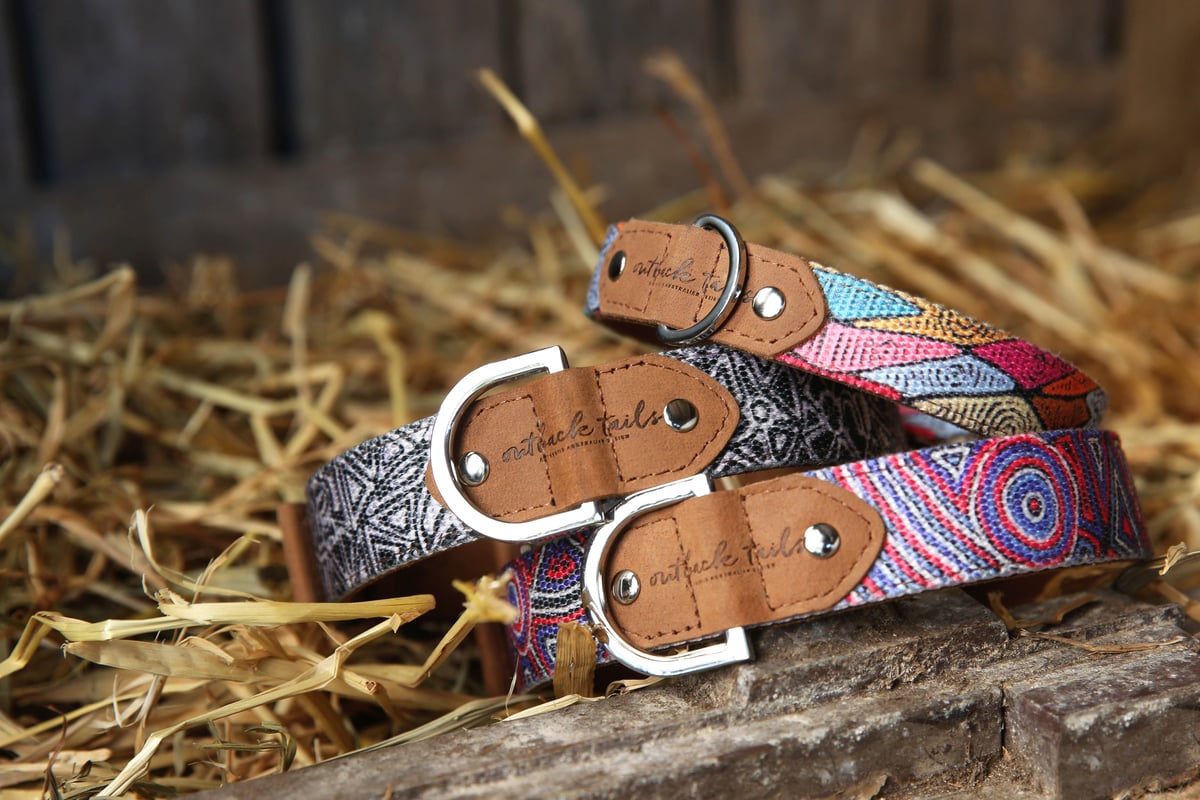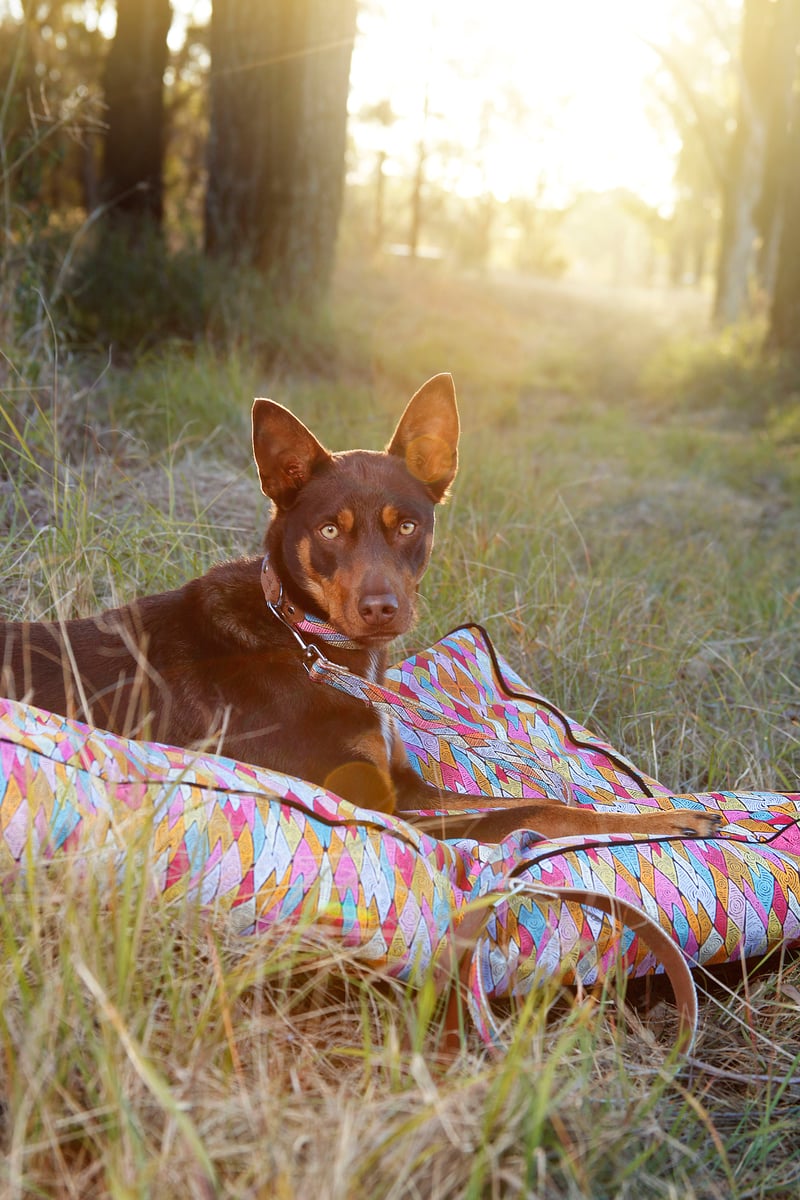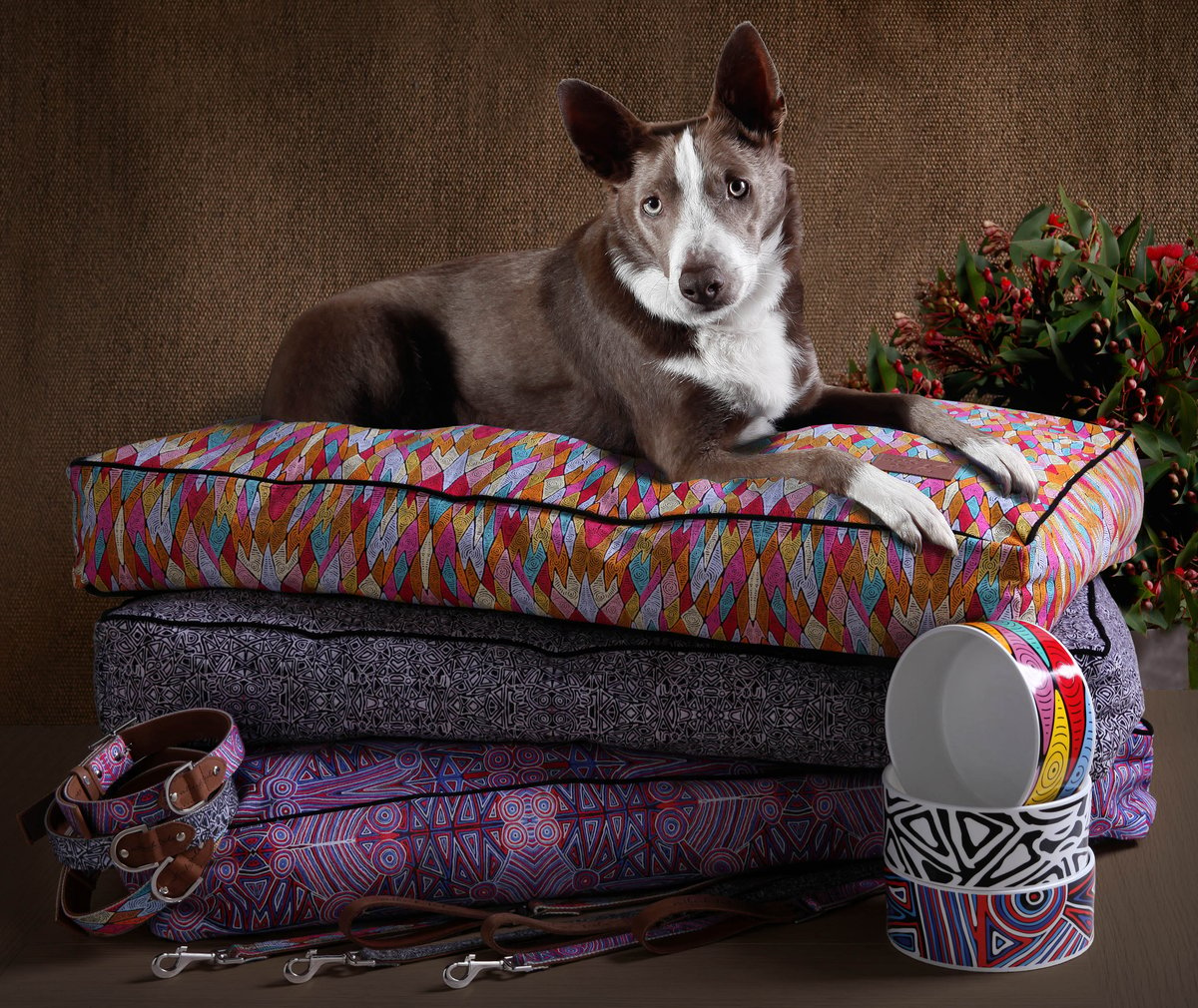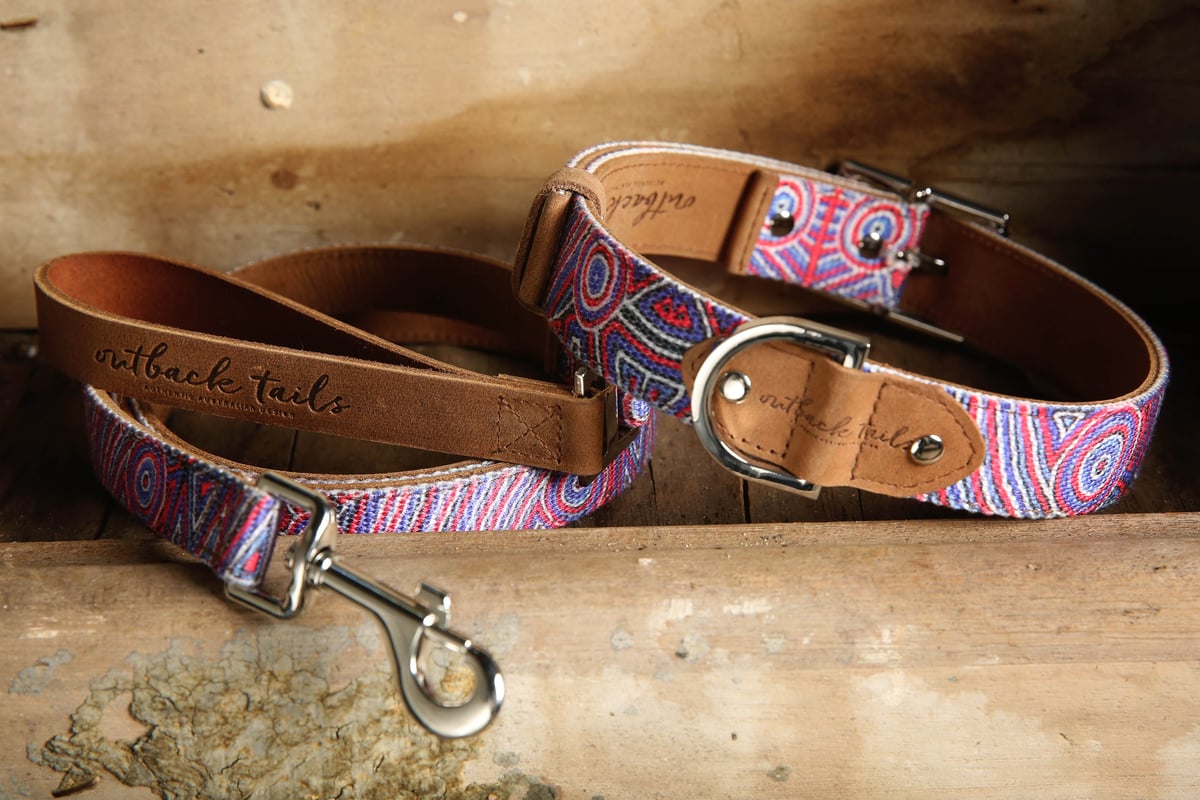 Are there any pieces of technology or software, apps or systems that have made it easier to do what you do?
I love Canva for creating online marketing material and web banners. I run a Shopify online store which is so efficient and easy to use. For task management, I use Monday.com which helps me organise and prioritise projects. I run Insightly CRM to manage sales and customer management.
I recently also discovered Follow up cc, which allows you to CC yourself emails that can be dealt with at a later date and the program emails them back to you on that date to be dealt with then! So clever.
What do you do when you're feeling like you're in a hole emotionally (or financially)? How do you handle those 'deep-trough-of-pain' startup moments?
Exercise is the one thing that will always help get my mood back on track. If I don't do regular exercise I truly feel it affects my positivity and drains my energy levels.
How many hours a day do you work on your business? Has this changed? How do you manage your time?
I work approximately four days a week and work most evenings after the kids have gone to bed. I'm lucky enough to have an au pair who helps keep my household organised and I don't know how or if I could do it without her.
What are your non-negotiables? 
Daily dog walks, regular gym session, tools down on the weekend, date night every week with my hubby, regular girls nights with my lovely friends, good coffee stop on the way to work.
What's the biggest misconception you had about starting your business - how is it different to what you'd imagined?
In some ways, you have more freedom but in other ways, you can never walk away from it. It's not like you can go away for a week and switch your out of office reply on. When it's your business, it's really hard to switch off and take a break as there is always something to do and someone waiting to hear back from you.
Tell us about your proudest moment.
I just love seeing dogs wearing my products when I'm out and about on the streets or at the dog park. It makes me so happy and proud, every single time.
What does your personal life look like? Who are the important people in your life and work?
I love spending time hanging out at home with my family when I'm not working. I love cooking and entertaining. We also love weekends away with friends and all of their kids who are like our second family. As often as we can, we try and have time out on our little boat with the kids and dog visiting beaches and enjoying this beautiful Australian lifestyle.
How much sleep do you get every night?
I am usually so exhausted at the end of the day that I'm in bed by 9pm. I try and get up at 5.30am or 6am each day to exercise the dogs before the kids wake up.
What can you recommend to women who might want to get their own hustle going?
Stop procrastinating and just give it a go!
We asked Mamamia's founder Mia Freedman what she wishes she knew before starting her own Lady Start Up, Mamamia. Post continues.
Do you have a mentor? Who do you go to for help and advice now?
I don't have a specific mentor but I have met so many amazing and inspiring people on my journey who have built successful brands and businesses who are always a phone call away.
Since we're in the #LadyStartUp spirit, which Lady Startups do you recommend? Who should we be looking out for?
I get so much inspiration from my clever friends such as Hannah Gammon from Junglefy - who is greening up our cities with amazing living green walls for big architectural projects.
My friend Ellie Mistry has a fantastic business called At Your Table - where you can hire the best personal chefs in Sydney for your party and event. I'm lucky to have so many like-minded, inspiring people around me who I can always turn to for business advice when I need it.
You can see more from Outback Tails at their Website, Instagram, Facebook, or Linkedin. Jessica's partner business is DOOG. If you have a #LadyStartUp or want to recommend one for us to cover, drop us an email: [email protected]