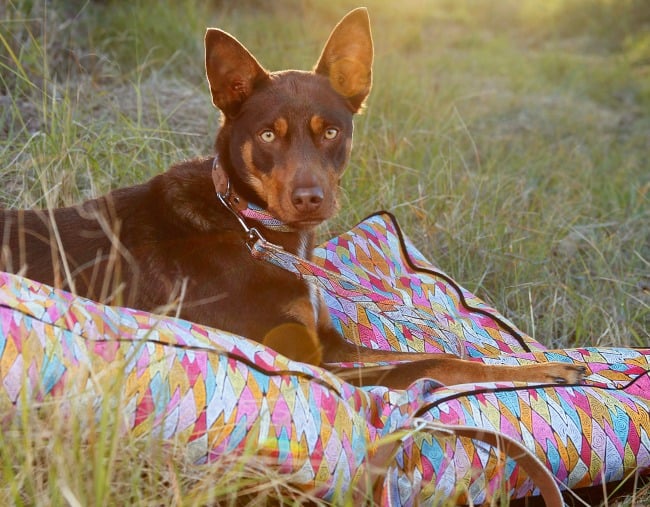 Psssst! You can get 15% off beautiful accessories graced with Indigenous art for your dogs from www.outbacktails.com with the code LADYSTARTUP at the checkout.
We all want our dogs to be happy. And for some of us, their happy life must include adorable matching accessories.
Jessica Knight understands our obsession with dogs, and so after her first successful dog accessory business, DOOG, she founded Outback Tails.
Outback Tails makes beds, collars and bowls in vibrant designs by Pauline Napangardi Gallagher, an Indigenous artist from the Central Desert in the Northern Territory. Jessica also gives back a percentage of her profits to Pauline's community, providing support to local artists.
Jessica explains how she came up with such a unique concept in this interview with Mamamia.
Tell us a bit about your business. How did it start and what does your Ladystartup do?
Outback Tails is a unique and beautiful range of pet accessories graced with Indigenous artworks from the Warlukurlangu Artists of Yuendemu in the Northern Territory. The first collection of cotton dog beds, leather collars and leads and dog bowls all feature the work of talented artist, Pauline Napangardi Gallagher with proceeds from the sale of products going back to Pauline's Indigenous community in the Central Desert.
The idea for Outback Tails was born after I saw a gap in the market for quintessentially Australian inspired pet accessories done stylishly.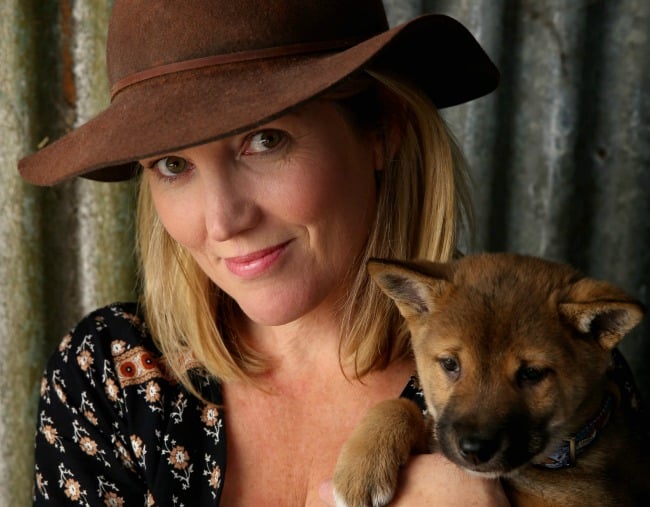 Outback Tails Founder Jessica Knight. Image Supplied. 
What were you doing before you went into business for yourself?
I started an outdoor pet accessories brand DOOG (Dog Owners Outdoor Gear) with my husband Jamie 10 years ago. DOOG products can now be found in over 1000 stores around the world.
Outback Tails is my second project in the pet industry and one I started on my own. I've been working in conjunction with the Warlukurlangu Artists Aboriginal Corporation to develop this range for over a year and launched the brand in October.
Before we started DOOG I worked in television production in Sydney and the UK for Channel Nine and various independent production companies. I've always been in creative roles and been an ideas person.
What made you want to start your own business?
I'm a mother of three children so I needed a job that allows me to be flexible with work hours. I never planned on starting a pet accessories company but really I've just combined my two loves - design and animals - and turned those loves into a business idea. I get to be creative each day but am also constantly teaching myself new skills from graphic design to marketing, accounting, forecasting and financial planning. When you are starting your own business you certainly need to be a jack of all trades!
How did you come up with the name?
I have to credit my husband for my great business name! He came up with it on a run one day and I thought it was brilliant and trademarked it instantly.