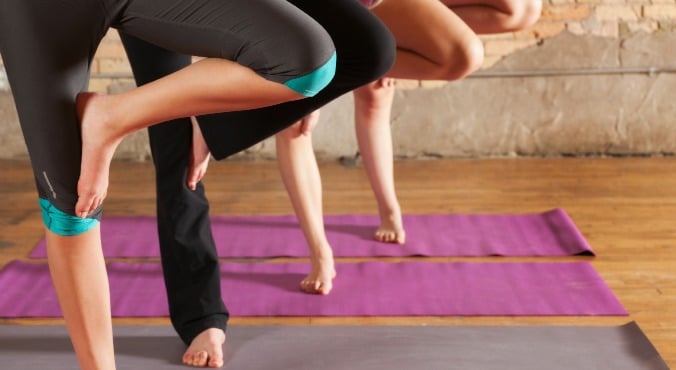 Image: Beware the Gym Clique. 
The front of every workout class has one: an instructor, a catchy soundtrack, and a cult.
Their ritual is gymtimidation, and their target is a fresh face. While most of us will never progress beyond a snubbed smile, a few souls do make it into the hallowed inner sanctum.
The 7 kinds of people you'll find at the gym
But, until now, no one really knew what happened inside. Do they host sacrificial burnings of lazy people's unused gym cards? Do the CrossFitters start Twitter wars against the SoulCyclers? Do they secretly carve trapdoors into the floor of the yoga studio so no one steals 'their' spot again?
The only way to know for sure was to ask. Here, nine former-clique members reveal the inner workings of the extreme exercise A-list:
"It was the constant competitive questioning that got me. Always, 'How many classes have you done today then?'. And not because they were interested, because they had to make sure they'd done more. One girl would do three or four back-to-back, just to have a higher number – even though she was so exhausted by the end that she'd have to keep stopping for water and air."
"Help: Other women's bums are making me feel self-conscious at the gym."
"I got let into a clique when I was in the 'crazy stage', which many gym-goers go through. It's an intense pressure to do an unhealthy amount of exercise and you won't let anything stop you. If anything comes between you and the gym it leads to feelings of anger, resentment, fear and anxiety. You plan your social life around the gym and feel constantly fatigued, yet HAVE to make those two gym classes. Then when you stop, you look back and go… Sheez, I was actually a bit crazy back then!"
"The clique likes to do EVERYTHING together. They exercise together, they hangout at weekends together, they holiday together. You have to be 100% committed to the togetherness."
"Every member has 'their' piece of equipment and 'their' space on the floor, exactly like you had 'your' seat at the family dinner table. God forbid that anyone else should occupy your place. Territorial doesn't even cover it."