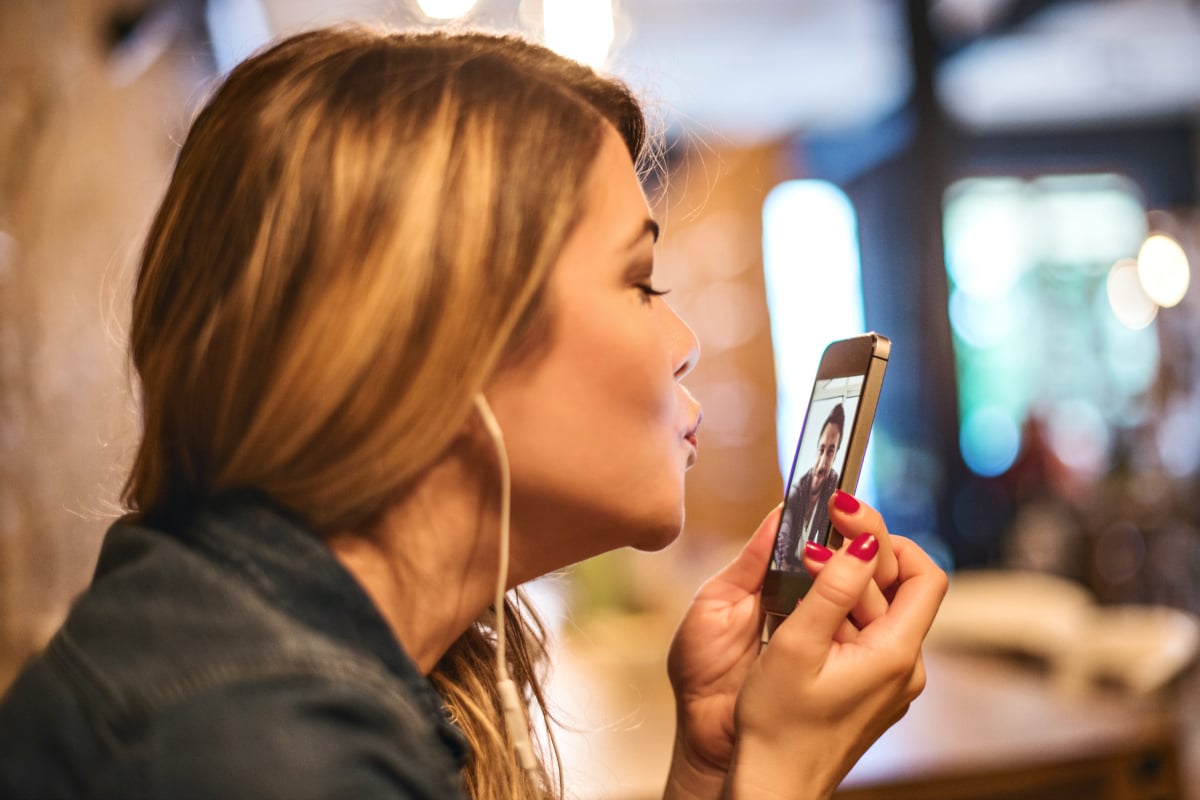 Psychotherapist and couples counselor Melissa Ferrari knows what long-distance relationships feel like. Not just through the stories of her clients, but because she's been in one.
She and her now-husband of three years met eight years ago via online dating.
"When we met, we had five years of distance in our relationship," she told Mamamia. "He lived three hours away, and so that meant that we could only see each other on the weekends. And that meant a lot of good things. But it also had some downsides as well."
Those 'good things' can be especially so for a new relationship, she said: "There's something about having that distance that means you've got be able to be really good conversationalists… And so it tends to take that real physical element out of it, and it gives you the opportunity to really get to know each other. Also, because you're talking a lot, you have the excitement of seeing each other on the weekends, and excitement in any relationship – particularly in the beginning – is good, because it helps with that bonding process."
But for some couples who find themselves suddenly separated due to work, or family, or studies – whatever it may be – it can be far less… exciting.
Here, Melissa offers her advice for overcoming the key challenges of long-distance relationships.
Starting a long-distance relationship.
Deciding to enter a long-distance relationship requires "mutual collaboration", Melissa said. That might mean agreeing that it's something you have to do for the benefit of your finances, for example.
"[It's about] communication; making sure that what's good for me is good for you as well," she said. "If one of you isn't going to be happy about it, it's going to create that win-lose scenario, which is never good for any relationship. Because if one loses, you both lose.
"The kind of conversation that's got to be had is really talking about the risk of where the relationship could go if you decide to make this choice."
Feeling abandoned or lonely.
Crucial in maintaining a long-distance relationship, Melissa said, is recognising your partner's attachment style; essentially, the way they relate to you. Are they secure? Anxious? Avoidant?
"Some of us come from families where we go into relationship that makes this a little bit more anxious," she said. "You have to be aware in a couple that possibly one of your attachment systems are going to be activated. For example, if one person goes, then the one who is more anxious, their anxiety starts to increase. And when someone's anxiety increases, they need their partner there to help them regulate and reassure." For the other person, it's important to be conscious of this, and be communicative.
For the anxious person, it's about looking after mental health. "It's important to make sure you're doing things that still feel positive, like exercise, because that will send the good hormones to the brain. Also, things like communicating with your friends who help to make you feel good. Go where the love is, and be around people that are able to help soothe your anxiety."