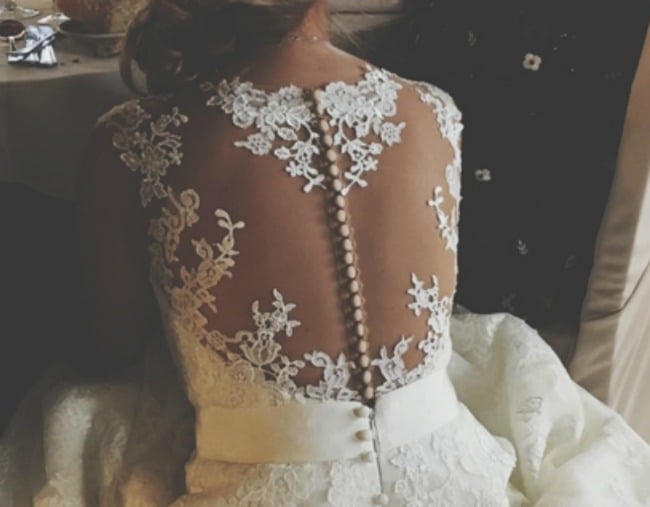 It's a popular wedding tradition for brides to opt for 'something blue' on their big day.
And luckily for brides-to-be, there's loads of options to choose from – from a blue ribbon around the bouquet to blue earrings or even a blue garter, there's something to suit everyone.
But for one Canadian bride-to-be, her something blue was definitely not what she was hoping for.
After slipping a pen into her ponytail at work, Daphne Martin's platinum blonde hair was left with a huge blue patch after her pen exploded just one week before her wedding day.
ONE WEEK!
Blue pen ink wedding hair, anyone?
Posting to Instagram, hairdresser Kelly O'Leary-Woodford shared her client's pre-wedding hair dilemma.
And while the hairdresser from Canada is well-known for giving her clients vivid rainbow hairstyles, she said the blue ink accident is "the craziest thing" she's ever seen.

"One week before my clients wedding, her pen that was in her ponytail burst. What number is this on your 'worst ever' scale?!" Kelly wrote.
"DON'T PUT YOUR PEN IN YOUR HAIR," she warned.
Instagram commenters were very amused by Daphne's hair emergency.
"This type of thing would ONLY happen 1 week before your wedding," one woman wrote.
"Look on the bright side, at least she has something blue," another wrote.
Luckily for bride-to-be Daphne, the pen ink came out in just five minutes with a bit of bleach.
Thank god.
Well, we definitely won't be sticking pens in our hair after seeing this.
Watch: Things people at weddings never say.