Nearly one in three Australian women will have an abortion at some point in her life. Just over half of us will have an unplanned pregnancy and, reports suggest, the vast majority believe in our right to choose what to do, if and when it happens to us.
Abortion is a safe and common medical procedure and yet, for many women, the intricacies of it remains shrouded in mystery until for some it becomes an unavoidable reality.
In part, this is because abortion law is determined at a state rather than at a federal level. Meaning the availability, cost and even legality of terminating a pregnancy varies depending on where in the country you happen to live. It's also because, despite how common it is, too often we're still made to feel it's taboo.
Monique Bowley, Mia Freedman and Jessie Stephens discuss Tanya Davies', the NSW Minister for Women, pro-life stance. Post continues below. 
So, in an effort to clear up any confusion (and remove some lingering stigma), here's what you need to know about getting an abortion in Australia, state by state, in 2016.
First thing's first: What's the difference between a surgical and medical abortion?
There are two types of abortion available to Australian women: medical and surgical. The procedure that's right for you depends on how far along you are.
Surgical abortion involves a low-risk medical procedure in the first trimester of pregnancy (7-12 weeks). Known as a suction curette or suction aspiration, it involves the removal of the lining and contents of the womb, along with the developing embryo by a doctor. Different procedures are used in more advanced pregnancies.
Medical abortion is normally used in the first 7-9 weeks of pregnancy. It involves taking the so-called "abortion pill" Mifepristone (RU 486) and is 98 per cent effective.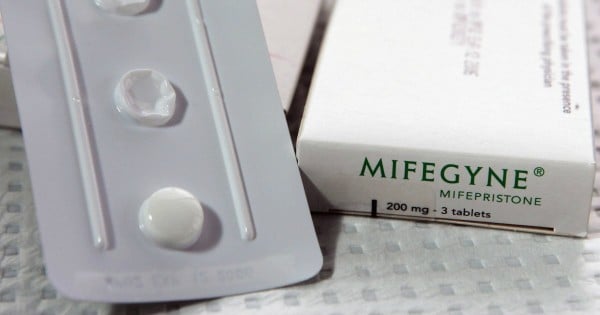 The "abortion pill" RU 486 is a simple and effective way to terminate an early pregnancy. Source: Getty
How much does it cost?
The cost of your abortion will vary depending on which state you live in, whether you live in a metropolitan or regional area, the type of procedure you're having, who is providing it and whether or not you have private health insurance.
At least some of the cost (most often the standard 85 per cent rebate) will be covered by Medicare, putting the average out-of-pocket cost of a surgical abortion between $400 to $1500, depending on how many weeks pregnant you are. The best way to find the exact price is to ask your GP or contact your local clinic.
When it comes to a medical abortion, things are just as complex. In 2013, Julia Gillard added RU 486 to the taxpayer-subsidised pharmaceutical benefits scheme. This means the pill itself costs a mere $12, but getting it is still a challenge. Many providers will charge you for a 'treatment plan', which will set you back around $500 in the city  and $700 if you live in a rural area.
That said, late last year a service was launched to give Australian women, particularly those living in remote locations, cheaper, more straightforward access to medical abortion via telephone.
Mamamia Associate Editor Georgina Dent explains (post continues after video):
At a cost of $250, all you need to do is call toll-free number (1800 180 880) and have a local clinic do a blood test and ultrasound. The service also includes psychological assessment, required by law in some states. You can find out more The Tabbot Foundation.
Is it even legal?
Most states have now decriminalised abortion, or at the very least reformed the 19th century laws that outlawed it in the first place, but some are still lagging behind (*cough* New South Wales and Queensland *cough*).
New South Wales
Abortion has been a criminal offence in NSW since 1900 and 126 years later it still is. However, while it's still technically a crime, it's allowed if a doctor finds an economic, social or medical reason why pregnancy presents a serious risk to a woman's life or physical or mental health.
Victoria
It's legal to have an abortion in Victoria up to 24 weeks. After that it's still legal, but requires two doctors approval.
Queensland
In Queensland, little has changed since 1899 when the state's abortion laws were written, meaning it's still a crime to terminate a pregnancy except, as in New South Wales, if the mother is found to be seriously at risk.
Western Australia
It's legal up to 20 weeks, but some restrictions still apply for under-16s and it's still highly restricted after that time. So much so, a panel of six medical practitioners has to agree the mother or fetus "severe medical condition". In practice, only few women are allowed, driving abortion "tourism" to other states, like Victoria.
South Australia
It's legal if two doctors agree a woman's physical or mental health is at risk endangered by the pregnancy, or for serious foetal abnormality and must be carried out in a hospital or prescribed facility. A woman can still be charged for having an "unlawful" abortion, however.
Tasmania 
Until 16 weeks, abortion is legal in Tasmania upon request. After that it requires the approval of two doctors.
Northern Territory
It's legal up to 14 weeks but requires two doctors to agree the woman's physical or mental health is at risk, or if there is a serious foetal abnormality. This may be extended to 23 weeks in an emergency.
Australian Capital Territory
It's legal, but must be provided by a medical doctor.
For more information visit contact your local branch of Family Planning Australia or speak to your GP.
Feature image: Claire from Please Like Me underwent a medical abortion in the show's most recent season.
You can listen to the full episode of Mamamia Out Loud, here. 
Check out all our podcasts and any books mentioned in any of our shows at apple.co/mamamia.