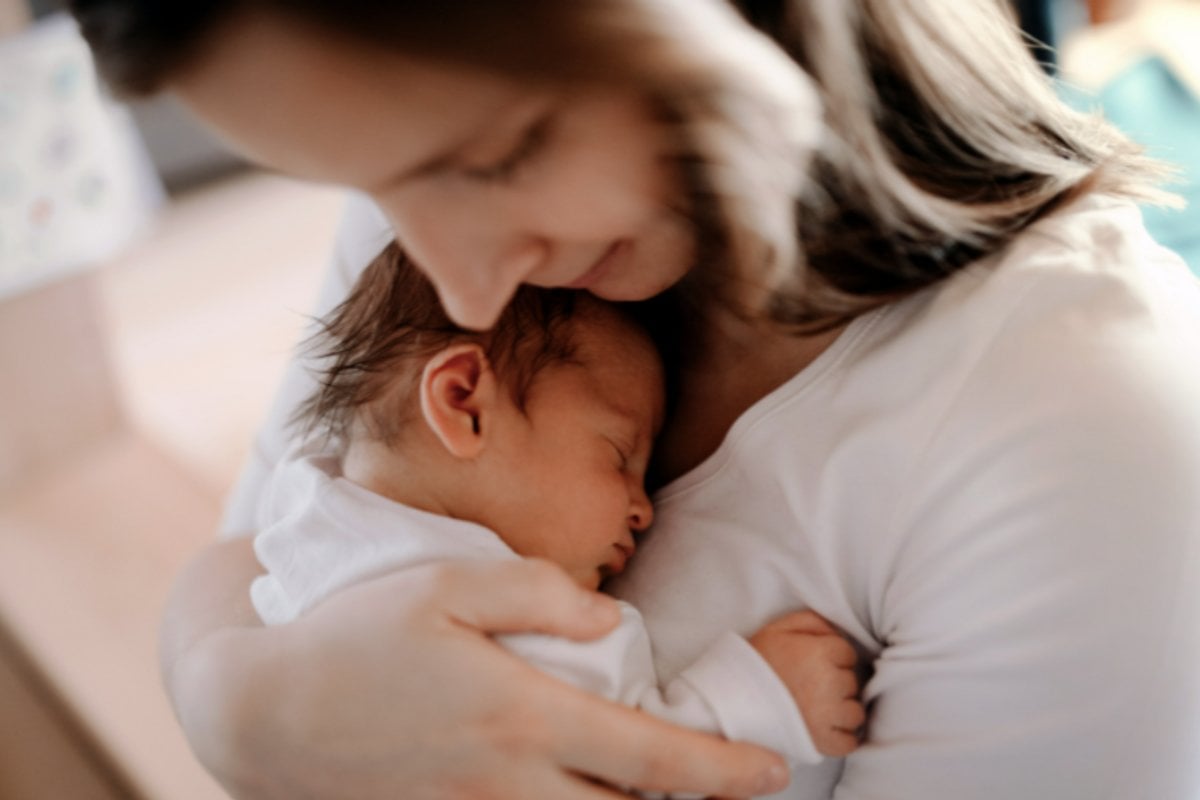 My eldest son loves hearing the story of his birth. I tell him about the whole experience with some of the graphic details omitted. 
I explain about the horrible pain I was in for hours, then the scary moment when we learned that the cord was wrapped around his neck and we feared we could lose him, and then the absolute relief when after the fastest surgery imaginable they pulled him from me and I saw his bright red bottom and scrotum and heard his loud angry squawks. 
Then I tell him how much I loved him instantly. How I was flooded with a deep, heart expanding love from the moment I first saw that little red butt. 
Watch: The horoscopes as new parents. Post continues below.
I tell him how strange it was that from the moment I met him I felt he had always been there, that I had known him my whole life. But I hadn't. He was brand new, and I was so excited that I got the live my life with him in it forever.
All of this is true – having my eldest son is probably the peak moment of my life so far. I had never experienced anything like that before, the love that I felt for him blew me away, and I was changed completely from the moment he was born. 
Having my eldest son also heralded the start of the hardest period of my adult life. I struggled for a number of years to accept the change that having a child brought in my life; I also struggled to believe that I was good enough as a mother. 
Everything had changed. 
My friendships were different, my relationship with my husband – which had always been so rock solid – was taken right to the edge; I just didn't know myself anymore. The most intense feeling I had at this time though was that I was entirely unworthy to be the mother to this glorious, stunning little human. 
Looking back now I can see it was my rigid thinking that created lots of the angst in those early years. I had such fixed ideas of what a good mother did and didn't do, what my family should look like and be like, and how I should feel and act. And things kept toppling these fixed ideas, and this made me feel like a complete failure.
Firstly, his birth did not go to plan, I had this bizarre idea of what 'real' birth was – vaginal and drug free – and felt that it was my fault when I didn't and couldn't give birth this way.
Then I was obsessed with exclusively breastfeeding him, even when he was losing weight and sometimes clearly hungry I thought (and let's be honest, the culture tells us) that if I wanted to properly bond with him, I would need to exclusively breastfeed. I tried everything until I had to accept that I would need to mix feed, and still the feeling of failure and shame ran deep.