After an emotional and action packed episode of House Rules we now know which couples will be competing in the Grand Final.
Dairy Farmers Toad and Mandy and ultra competitive couple Mel and Dave have both landed places in the Grand Final following a heartfelt reveal on the show's latest episode.
The Grand Final of House Rules will air on Channel Seven at 7.30pm on Monday night. The finale episode of the 2018 season will see the two teams battle it out in one final challenge to see who will walk away from the competition with the $355,000 prize money.
In Tuesday night's episode viewers saw homeowner Chelsea, accompanied by host Johanna Griggs, make an emotional return to her renovated house.  After successfully applying for House Rules, Chelsea's partner Wayde died in a tragic accident 12 months ago.
Johanna and Chelsea were both in tears as Chelsea saw her revamped home for the first time.
As the reveal happened Chelsea said "under such unreal circumstances it's so perfect. That's why we applied for House Rules because we knew we would never be able to make this happen. I just want to thank them so much."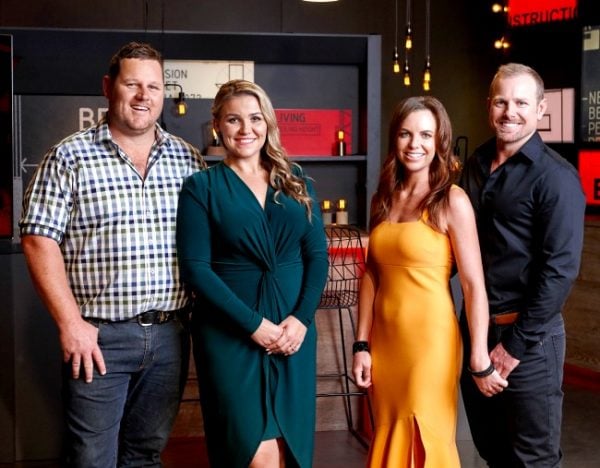 The points from Chelsea's home reveal decided who the grand finalists would be.
In dramatic scenes at home base, Chiara and David felt the intense pressure ahead of scoring.
Host Johanna had to rush to comfort an emotional David who said, "I'm about to pass out" before being eliminated from the competition after scoring 20/30 from the judges.
Although he said that he was "devastated" by the outcome, David also said that he had no regrets about his time on the show.
"I'm so grateful we get to go home to our beautiful three kids," he said. "We've got an amazing renovated home. I'll forever be grateful for this opportunity and what it's taught us as a couple."
Toad and Mandy were the first team to secure their spot in the finale episode, followed by Mel and Dave.
In a very close race, Mel and Dave were given a 24 out of 30, Toad and Mandy were also given a 24 out of 30.
In the end it came down to Mel and Dave's bonus room, which decided who was going through to the Grand Final.
So, which team is more likely to win the House Rules finale? Well, it's anyone guess, but Sportsbet has named Toad and Mandy as the $1.55 favourites to take out the  series with more than 60% of the total money wagered on the market has been backing them to win.
The House Rules Grand Final will air on  Monday, 7:30pm, on Channel Seven.