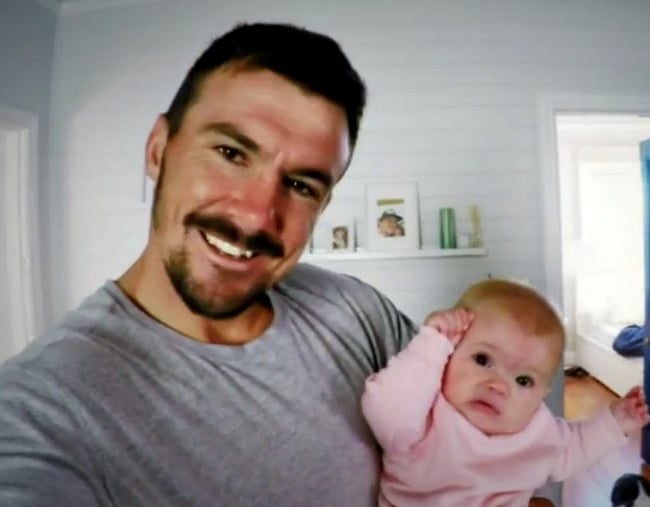 Their little cottage in need of repair, Wayde Dunley and his wife, Chelsea, submitted their final audition tape for Channel 7 renovation show House Rules in July 2017. With his landscaping skills and her passion for interior design, they dreamed of turning their tiny slice of NSW South Coast into their "dream home".
"Wayde and I had always joked about going on [the show] before we even bought the house that really needed renovating," Chelsea told Now to Love.
"We only bought a two-bedroom miner's cottage that was 110 years old so it needed a lot of love and obviously it was quite small, so once we had our daughter Koa [in 2016], that was the thing that gave us a push."
But the following day, with their tape filed, a tragedy shattered that dream.
One of the most emotional transformations in House Rules history… ????#HouseRules | https://t.co/YZTmdrB80E pic.twitter.com/cs4mR3dLpk

— #HouseRules (@HouseRulesOn7) July 22, 2018
The 28-year-old West Tigers player fell while climbing down a rock ledge at Bundeena, south of Sydney, during a fortnightly fishing trip. He was rushed to hospital with critical head injuries, but doctors were unable to save him.
On Sunday night's episode of House Rules, Chelsea shared Wayde's story and spoke of how, through his death, her generous husband had given the gift of life.
"His heart remained beating really strong, so it was only fitting for the person that Wayde was, that we donated his heart," she said. "So he's gone on to save another person's life, and his heart continues to beat."
In an Instagram post on the anniversary of Wayde's death, Chelsea wrote that the recipient had contacted her with a message of thanks.
"They had written to express their gratitude and love and shared that they have gone from thinking of planning their funeral prior to the transplant to making the biggest of bucket lists once they woke up and realised they had survived. This is what we want to hear. They are going to make the most of Waydes big beautiful heart," she wrote.
After finding out about Chelsea's story, House Rules organised for final three teams of the 2018 season to renovate her two-bedroom Woonona cottage, just as she and her husband had planned.
Chelsea told Now to Love she is thrilled with the result of the makeover, which aired on Sunday night. In each corner she notices touches that remind her of her husband, and that she will use to tell her now 17-month-old daughter about her "wonderful" dad.
"She was seven months old when he died and it was only a week later she started crawling," she said. "So all these milestones have just been shared between her and I but there are photos everywhere in the house, I show her videos, we talk about Dad, so she obviously knows who he is.
"Everything that's happened, hopefully it will be beneficial to Koa, and it'll show just how in love her parents were and always will be."