While fans of House Rules are undoubtedly loving the show, there's one thing they can live without – judge Laurence Llewelyn-Bowen's bullying behaviour.
Laurence has been butting heads with fellow judge Drew Heath ever since the season started, and fans are not here for it.
Many of them vented their frustrations on social media, accusing Laurence, 53, of bullying Drew.
"Every time Drew opens his mouth, he is shut down by Laurence. Surprised he hasn't told them to stick it yet," one fan wrote on Facebook, including a series of angry face emojis.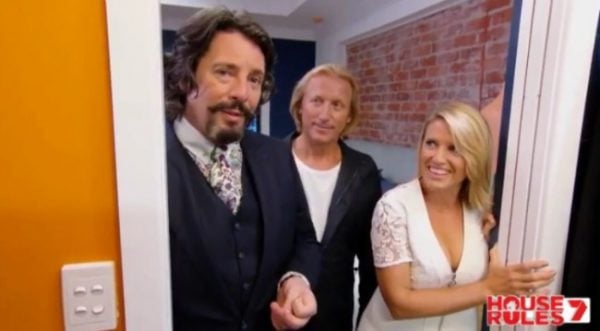 "House Rules is seriously full of bullying!! Aren't we suppose to not accept this sort of behaviour... Laurence is a total bully to all!!" commented another on Twitter.
Others accused the British television personality of being "rude" and "arrogant".
But one of the men at the centre of the controversy, Drew, says there's no hard feelings between himself and Laurence. Honest.
"He's experienced and professional in television and I am not. So I think sometimes he believes it's kind of fun to play with me," the 49-year-old told TV Week, as reported by Yahoo! 7.
And while viewers may get fired up, Drew says he doesn't take offence to Laurence's, uh, blunt comments.
"The stuff Laurence sometimes throws at me doesn't stick," he says.
Still, would it kill you to be nice once in a while, Laurence? Just try it.