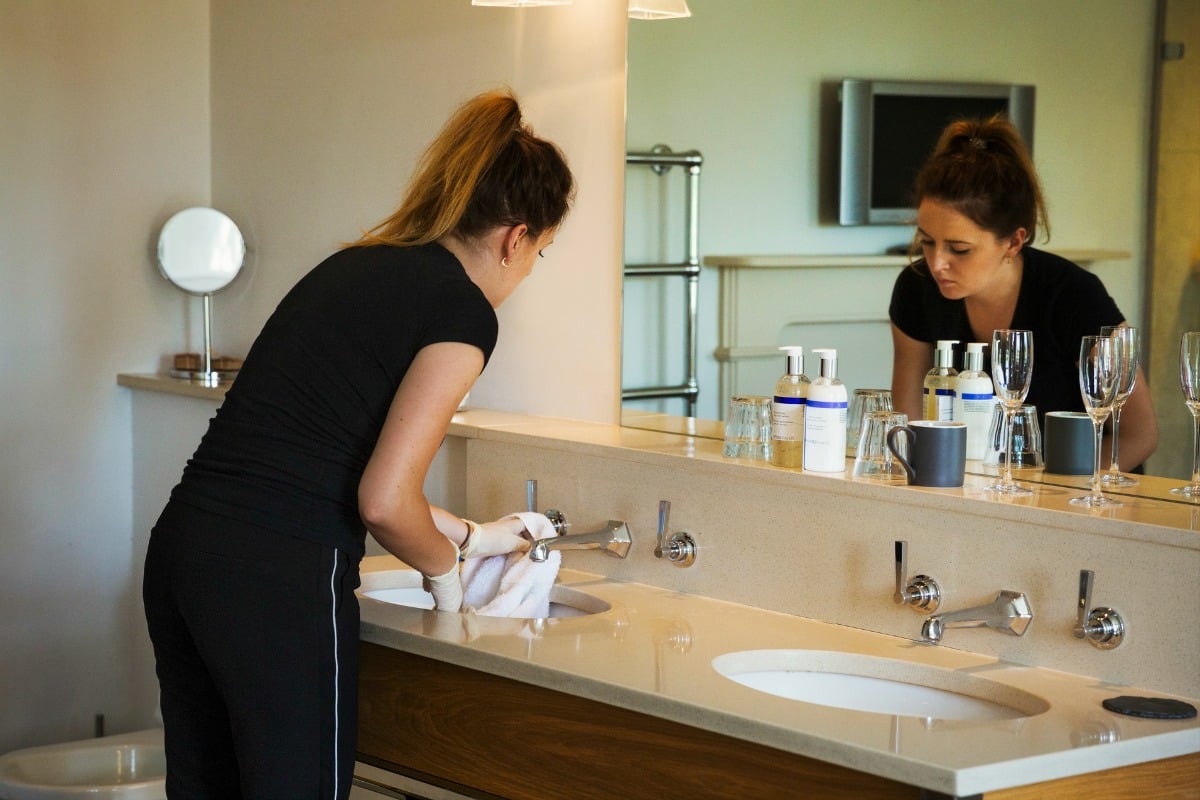 Cleaners; they are like angels with mops and vacuums, helping make our homes liveable. But most of us have had a moment where we wonder if what we're leaving a cleaner to do is… normal. Acceptable. Appropriate. 
You might have also wondered about the sheer extent of what cleaners have to put up with. Surely it's worse than our grubby windows and grimey showers?
Mamamia spoke with a group of cleaners who shared six things you wouldn't know about their job.
Four cleaning hacks to make your life easier. Post continues below.
1. It isn't an easy job that anyone can do.
Renee, a domestic cleaner of over four years, says "the biggest misconception of cleaning is that it is an easy job and a dead end one, for people who aren't able to get into anything else."
She said that the nature of the job, which can often mean being self-employed, is excellent in some respects due to the freedom, but it can also be difficult in others because "if you don't work you don't get paid".
*Kylie, a domestic cleaner of three years, said cleaning is actually "hard labour. It can be very physically demanding."
"Because cleaning is viewed as a non-skilled trade, sometimes clients will turn their noses up at us," she added. "It is usually these same ones who will also view us as a housekeeper and order us around to try and get every dollar's worth."
2. We can't do our job properly if the house is too messy or isn't cleaned at all between our visits.
Renee said she's learned that "there are two stages to cleaning".
"The first is the tidy up – making sure everything can be reached to clean – then, there's actually cleaning it."
Sometimes clients will have so much clutter that getting to the second stage is quite a challenge.
Kylie told Mamamia that she was once faced with cleaning the home of a hoarder. "There was about half a metre of 'stuff' on every surface – the kitchen benches, tables, counters. There were piles of clothing and shoes on the floors, her house was just full of stuff. I was booked for three hours to clean the entire house. She expected it to be spotless at the end but I hadn't even been able to begin actually cleaning it once the three hours were up and she got so upset with me."
Renee said one of her biggest challenges was when it was clear that no cleaning had been done in between her last visit, two weeks prior. "The ensuite had a floor to ceiling mirror covered in make-up and that was at least 3 mm thick. It was also on the surrounding furnishings, the toilet and the shower. The kitchen had mouldy dishes and you could not see the silver of the sink or much of the bench space. By the fourth visit I left the key at the door and told her the job was not for me."