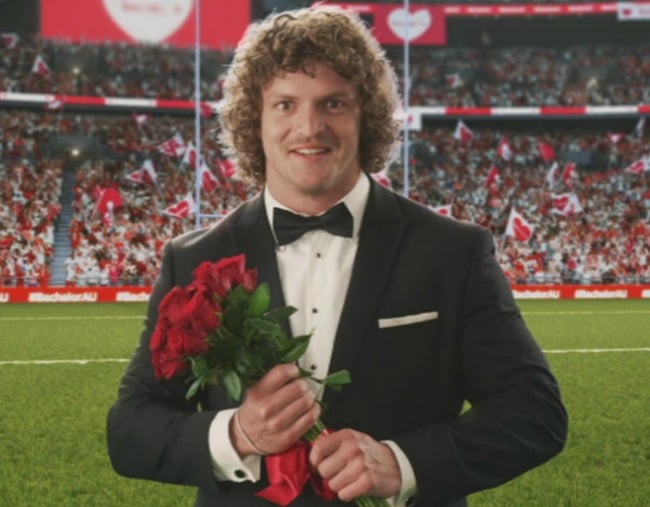 Stone the flamin' crows.
On Wednesday, our new Bachelor, Honey Badger, will meet 25 hopeful bachelorettes on the steps on the bachelor mansion.
He will say things like "Are you willing to risk it for the biscuit?" and "An outside runner coming in hot at the end" and we'll giggle and think "Haha… isn't he funny with his mullet".
Anywho, I had a wee chat with our new Bachelor to find out exactly what sort of Honey Badgelor goodness is coming our way over the next couple of months.
The former rugby union player (real name Nick Cummins) told Mamamia we could expect something a lil' bit different from this season.
The most memorable Bachelor entrances…
"I don't look like your standard bachelor," he said. "They've all been pretty good looking, I hope it's not a let down when I get in there."  
"I wouldn't say I'm bloody shocking but with a big curly mullet and a moustache, I'm not your classic version."
The 30-year-old said he's never watched the show before and he initially turned down the gig.
"It was a no," he explained. "I went out on a little mission, rolled my swag out under the stars, and had a bit of a think about it."
"I thought well I'm in that part of my life now, the timing seems to be right, so I thought 'yeah, let's give it a crack'."
I then asked him what his biggest turn off is. You know, what kind of behaviour would be an absolute deal breaker for him.
"Couch potatoes," he quickly replied.
"I don't like [women] who lie around watching TV all the time."
"Because I'm a bit more outdoorsy and just like to get out and do activities rather than TV," he added.
OH.
I see.
Yes, well.
That… that be me.
I spend quite a bit of time watching TV and, erm, eating potato-based snacks.
In fact, I've even made a career out of it.
Sometimes I even talk to the potatoes and pretend they are my boyfriend ¯\_(ツ)_/¯.
This be me.
This also be me.
This was me five minutes before I spoke to him.
Yep, I am the Honey Badger's biggest turn off.
I am the walking definition of the very thing he doesn't want in a woman.
My very existence is what turns him off.
Good times.
So even though it's not going to work out between the two of us, hopefully Channel Ten has found the Honey Badger a bunch of sky-diving adrenaline junkies who love windsurfing and talkin' about their feelings on picnic blankets and what not.
I'll be watching from my couch… and eating potatoes.
The Bachelor will premiere on Network Ten at 7:30pm on Wednesday August 15.