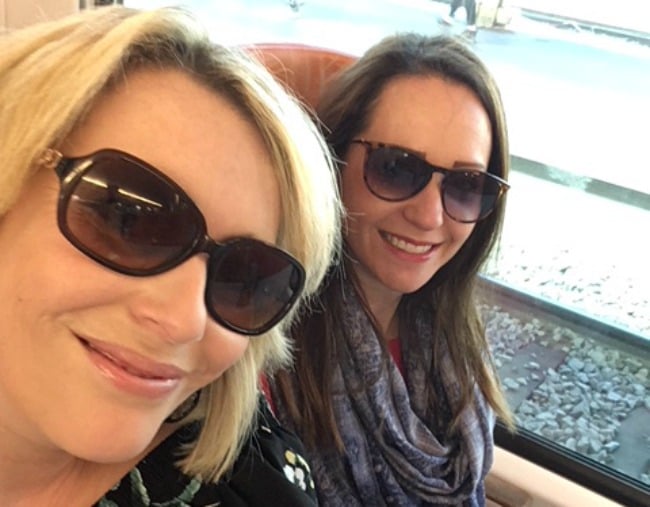 Gleefully I double-check my carry-on luggage for the essentials needed for the flight. Wipes? Nope. The smorgasbord of kiddie snacks? Nope. Selection of kids' books/games/tablet? Nope, nope, nope! In fact, this time, a novel, lip balm, my trusty phone and wallet are all that's required to fit into my ridiculously small handbag.
And let me just say that as a mum of two boys, used to travelling with frumpy, overflowing Mummy-sized sacks, this new-state of minimalistic travel feels so carefree, so chic… so French… which is kind of appropriate as it's off to the city of Nice in France that my good old bestie, Rach and I are jetting away to for our mummy-break.
Sure, I've had the odd night away since my kids were born but certainly nothing as indulgent as three, yes three whole nights away… in a glamorous hotel… with a spa… in a foreign city. And what might the occasion be per say? Well apart from thinking we deserve some fun after a rubbish couple of years for each of us (grief, serious illness and so on); let's just say a monumental birthday is nigh.
Plus as our kids are no longer so little and we're lucky to have supportive partners (who also get their own time off I might add), we threw off the mummy-guilt shackles and said, 'Why the bloody hell not?'
I'm living in the UK nowadays, so Rach and I meet up at the London airport and after check-in and passport control (a much smoother procedure without the kids let me tell you), we leisurely browse the shops.
Then we saunter upstairs to Jamie's Italian – the hip eatery I'd previously gazed up at from the confines of whichever kid-friendly fast food outlet I happened to be divvying out ketchup sachets from at the time. So feeling a bit special, we order eggs benedict and a big glass of wine – at a mere 11am. I realise airports can be fun.
And here comes another realisation or perhaps it's just been that long, I'd forgotten. Flying on a plane can be kind of relaxing. Who would have thought that it's possible to sip wine, enjoy an interrupted conversation and read trashy magazines for the ENTIRE flight's duration?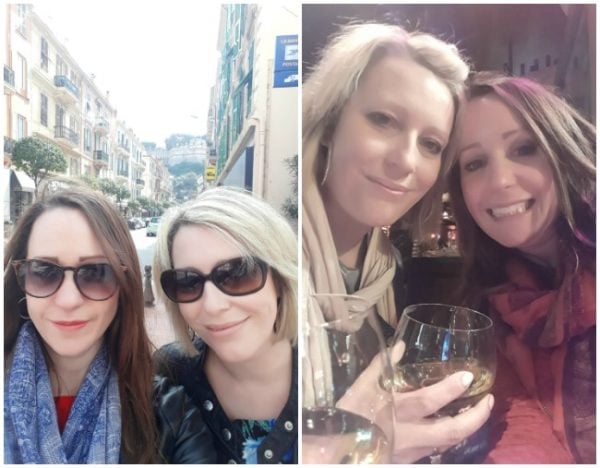 Though the boys are older now, we've lived overseas a lot these past few years and the mental scars from flights gone by still remain. I remember pacing the aisles with screaming infants; avoiding judgmental stares and trying to entertain a toddler on an eight hour flight whilst pregnant and armed with nothing but the safety brochure and the seatbelt clip because they'd already grown bored of every option squashed into the mummy-sack. Brrrrr.
And when we land in sunny Nice, it's simply a case of gliding through customs and collecting our newly-purchased on-trend little suitcases and finding a taxi. No one's tired, cranky, hungry or needing the toilet. My attempt to practice my high-school French becomes a theme throughout the trip.
Generally, I'm humoured, though I must have confused some older ladies with my directions one time, seeing as they nodded and smiled politely but walked off in the opposite way to where I'd directed them to. Still, I tried. More to the point, I realise I actually quite like practicing another language and have remembered at least a little of my schooling.
We check in to our regal-looking hotel along the promenade which faces the turquoise sea – a far cry from our usual family-chain of choice.
We book in a spa and massage and for the next couple of days walk like never before.
We stroll down the sunny promenade, meander through the old town, climb all the way up a very steep hill to see the waterfall (nope, wouldn't even have attempted it with the kids).
We sit back in the bustling piazza for lunch (and more wine), marvel at the old architecture, browse the markets, catch a train to Monte Carlo and chill to live jazz at the hotel bar, when we're back from dinner – mojitos in hand.
And at night, I sleep alone in my bed all night, without any little people climbing in at 3am. And when I wake up – it's because my eyes actually open of their own accord. Yes, I finally remember and realise the joy of a decent night's sleep. We laugh and chat and it's simply fantastique as they say and we have the best time.
But the key things I realise go hand in hand. Going on a mummy-break with the person who knows me best from way back when (we even shared a house pre-hubby and kids), reminds me of who I once was and that deep down, I am actually STILL that person. I have my own interests and goals and remember that actually, yes, I do enjoy a bit of culture. It seems beautiful old architecture and foreign streets, lift my mood and inspire my creative side.
And being away from my family gives me perspective. I go home happy and relaxed and full of appreciation for all my boys. What's more, they had all got along just fine without me. I realise that I need to find a little more balance in my life, to be the best mum I can be but to also stay true to myself and my own dreams.
No, I'm not flying off again next month (budget won't stretch sadly), but as well as being Mum, I'm going to take up French lessons, visit the city art gallery and see if I can earn some dollars from those fiction-stories I've been meaning to write.
Have you been on a 'mummy-break'? Tell us in the comments section below.