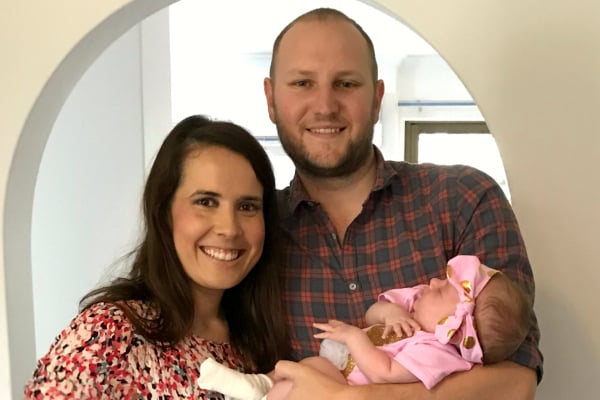 Warning: This post contains mentions of stillbirth and may be triggering for some readers.
One month after our wedding Nick and I fell pregnant. I was 30, extremely fit, healthy and excited (if not slightly daunted) at the prospect of becoming a mum. My whole pregnancy was considered 'low risk' and 'textbook'. I did all the classes, read all the books and had the very best clinicians on my side (including midwives, obstetricians, a nutritionist and a prenatal Pilates instructor).
I was however a complete 'Pollyanna'. Unknowingly, I was completely uninformed and oblivious to any risk factors or complications that could happen to me and my unborn baby. Sure, I knew to avoid oysters, brie and champagne, but that really was the limit of it. I believed (and wasn't told otherwise), that once you pass the 12 week mark of pregnancy, everything is relatively smooth sailing.
Questions about childbirth answered by mums and non-mums. Post continues after video.
Being pregnant and having a baby is the most ordinary thing I would ever do. Women have done it all over the world for centuries – right? Well yes, but I was oblivious to the fact that women and babies have been (and continue) to die every day.
36 weeks went by smoothly. Suddenly, at 37 weeks I experienced severe vomiting, diarrhoea and a stabbing upper abdomen pain. I phoned my healthcare provider immediately, who told me it was simply gastro and not to worry. I actually felt silly for calling the hospital.
I left it for seven days and then the feeling came back. I phoned my healthcare provider once again, only this time on loudspeaker with Nick involved in the call. They said, once again, it was probably gastro and I'd be fine. My husband interjected and challenged this – as I was very, very, very sick, it seemed more serious. The midwife then told me to "come in if I wanted". My husband made the call, we were going to the hospital.