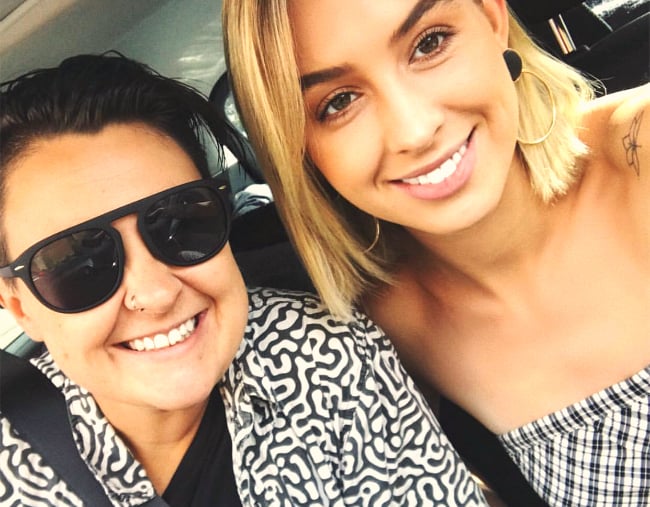 1. A 'source' says Alex Nation and Maegan Luxa have split. Let's unpick those claims, shall we?

According to a mysterious and anonymous 'source', The Bachelor's Alex Nation and girlfriend (maybe fiancée) Maegan Luxa have split.
If you're inclined to believe everything published by tabloids, and told by nameless 'sources', the story apparently goes like this: Alex split with Maegan, who 'didn't take it too well', before telling a handful of close friends that the duo had parted ways.
Curiouser and curiouser.
Judging by Alex's social media activity, the reports *may* have legs. Maybe.
The last photo shared of the couple on Alex's profile was in December 2017, when rumours swelled of their engagement (such rumours were never confirmed).
But when we look at Luxa's Instagram feed, it tells a slightly different story – the 31-year-old shared a photo together early last month.
And, we'd also like to note that both women still follow each other on Instagram.
So, have they split? Perhaps. Or perhaps they just don't share every little moment together on social media.
Wild, eh?
2. The promo for Channel 9's answer to The Bachelor, Love Island, just dropped.

She's no stranger to reality TV – cough, The Bachelorette – and now Sophie Monk is returning to our screens as the host of Love Island.
9GO! has just dropped a promo for the new series, which is set to start filming in Majorca, Spain, next month. Tough gig, right, Soph?
In the promo, Sophie, 38, is dressed as a sexy pilot, complete with a tilted cap and slightly unbuttoned shirt, and we are so onboard. (Sorry.)
According to 9GO!, a group of hot singles will be put together in a luxury villa, where they must couple up.
After resisting every temptation thrown their way, things get interesting…
"The winning couple are handed a pot of money to start their new lives together, but there's a catch: one is given the chance to share the money or walk away with it all for themself."
Money. Always take the money.
3. Gigi and Bella Hadid's Coachella accommodation cost $350,000 for the weekend.
Don't expect to see Gigi and Bella Hadid pitching a tent in the California desert.
The supermodel sisters attended the first weekend of Coachella, and they did not skimp on their accommodation.
According to W magazine, the pair paid a massive US$350,000 – more than AU$450,000 – to stay in a luxury home for one weekend. Yep, one weekend.
Their temporary home is better known as Villa Zenyara, a 40-acre property with 11 bedrooms and bathrooms.
It also comes with its own man-made white sand beach, because why the hell not?
It's also worth mentioning that the beach surrounds the house like its own goddamn moat.
Considering Gigi and Bella spent most of their time soaking up the festival, you have to wonder if they really got their money's worth.
Adopt us.
Please.
4. Victoria Beckham 44th birthday cake is an abomination. AN ABOMINATION.

Birthday cake is real fun. Often there's icing and sugar and chocolate and stuff that doesn't exactly nurture your body, but instead your soul.
And everyone knows soul > body.
Everyone except VICTORIA BECKHAM.
You see, it was Victoria Beckham's 44th birthday today, and we'd say happy birthday except, this:
That is… a watermelon. That is not a cake. You do not celebrate a birthday with a well-cut piece of fruit. Nobody screams, "Yay! A watermelon for my birthday!" when they get a watermelon for their birthday.
Victoria Beckham's birthday cake is a monstrosity. That's all we came here to say.
5. "Australia doesn't know the truth." MKR's Sonya and Hadil have gone rogue on Instagram.

SPOILER ALERT!
Okay, onwards.
My Kitchen Rules' Sonya and Hadil went a little rogue ahead of tonight's episode and, wowee:
"No one would have any idea what we've gone through," the duo wrote in a response to a commenter.
"We will both be happy when we're off air because MKR have bullied us enough.
"What the network has done to us has been extremely disappointing and a complete nightmare."
Click here more on why My Kitchen Rules' Sonya and Hadil reacted how they did.
From Kaia Gerber to Milly Bobby Brown, it seems the world is now being run by teenage girls…The Out Loud crew discuss.