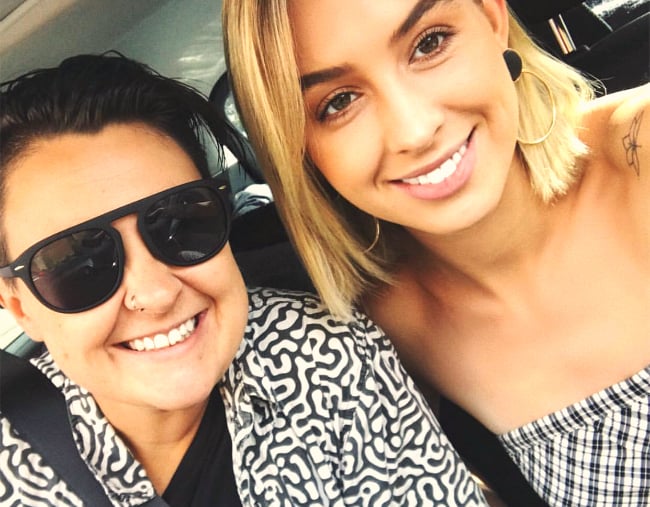 1. A 'source' says Alex Nation and Maegan Luxa have split. Let's unpick those claims, shall we?

According to a mysterious and anonymous 'source', The Bachelor's Alex Nation and girlfriend (maybe fiancée) Maegan Luxa have split.
If you're inclined to believe everything published by tabloids, and told by nameless 'sources', the story apparently goes like this: Alex split with Maegan, who 'didn't take it too well', before telling a handful of close friends that the duo had parted ways.
Curiouser and curiouser.
Judging by Alex's social media activity, the reports *may* have legs. Maybe.
The last photo shared of the couple on Alex's profile was in December 2017, when rumours swelled of their engagement (such rumours were never confirmed).
But when we look at Luxa's Instagram feed, it tells a slightly different story – the 31-year-old shared a photo together early last month.
And, we'd also like to note that both women still follow each other on Instagram.
So, have they split? Perhaps. Or perhaps they just don't share every little moment together on social media.
Wild, eh?
2. The promo for Channel 9's answer to The Bachelor, Love Island, just dropped.

She's no stranger to reality TV – cough, The Bachelorette – and now Sophie Monk is returning to our screens as the host of Love Island.
9GO! has just dropped a promo for the new series, which is set to start filming in Majorca, Spain, next month. Tough gig, right, Soph?
In the promo, Sophie, 38, is dressed as a sexy pilot, complete with a tilted cap and slightly unbuttoned shirt, and we are so onboard. (Sorry.)