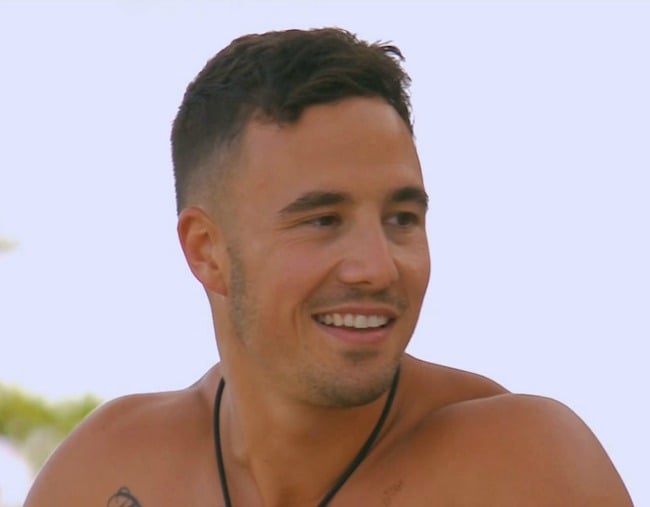 Well.
This is awkward.
Reality star Grant Crapp has announced he's back with his 'secret' ex-girlfriend Lucy Cartwright with a glossy photo shoot in NW Magazine… despite publicly sharing a desperate plea to get his Love Island ex Tayla Damir back just three weeks ago.
Tayla and Grant, who took home $50,000 in prize money after winning Australia's first season of Love Island, split after just one week and six days together.
The main cause behind their split? None other than Grant's 'secret' girlfriend.
"I was completely in love. It was a complete shock to me," 21-year-old Tayla told KIIS FM's Kyle and Jackie O last month.
"I think he was with her [Lucy] for about a year, they were living with each other about four or five days of the week," she added.

Despite claims he had a secret girlfriend, Grant spoke to Kyle and Jackie O shortly after, reading out the desperate texts he'd been sending Tayla in a bid to get her back.
"I still love you, Tayla and I don't care if you or anyone else believes that, that's the truth," one text read.
Now, just weeks later, Grant and his ex-girlfriend Lucy Cartwright have told NW they're back together and happily living together in Canberra.
But it turns out the couple have a very different idea to Tayla about what went down while Grant was on the reality dating show.
Speaking to 9FIX, Tayla said that Grant was on the show to "promote himself" while his girlfriend was "running his business" while Grant was inside the villa.
But according to Lucy, despite being friends for a long time, she wasn't with Grant when he entered the Love Island villa.
"Obviously I was going into the villa with an open heart and looking for love," Grant told NW Magazine.
"But then, I've come out, me and Tayla are finished and I'm back with Lucy."
Ah, reality television, this is why we love you.
Missing Love Island? Watch all the best moments here.