The actresses of Hollywood did more to bring attention to women's rights issues than just wear black at the Golden Globe Awards.
They also used the occasion to speak about women facing sexual harassment and other gendered issues in the workplace, and there was one name on everyone's lips: Catt Sadler.
The former E! News presenter quit in December after learning that her co-host, Jason Kennedy, who was doing essentially the same job as her, was earning "double" her salary – and had been for years. Sadler took the information to her network during contract negotiations, yet they weren't willing to even come close to pay parity, the 43-year-old told People at the time.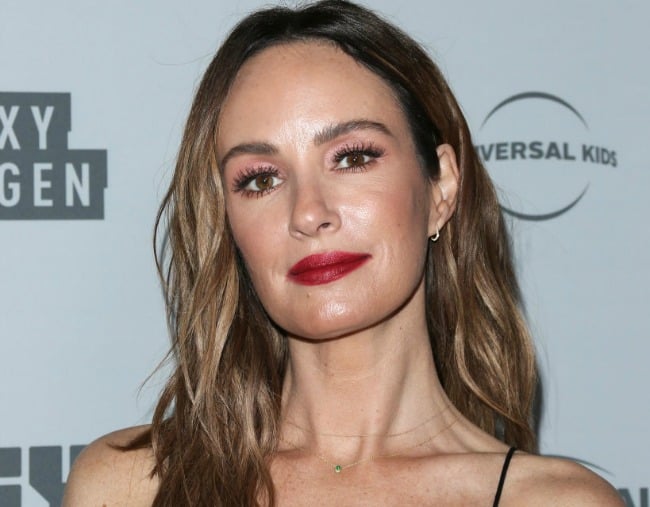 "It's almost insulting because you know you work really hard. I'm a single mum of two kids. I've given my all to this network. I've sacrificed time away from my family and I have dedicated my entire career to this network. And when you learn something like that, it makes you feel very small and underappreciated and undervalued. It's heartbreaking," she said.
Ahead of the Golden Globes, Amy Schumer captioned a photo of Catt encouraging anyone attending or watching the event to ask E! "what happened?"
Also promoting the hashtag were Julianne Moore and Brie Larson, who tweeted, "We stand with you @IAmCattSadler – equal pay for equal work! #TIMESUP#WhyWeWearBlack."
On the red carpet on Sunday night, actresses promoting the Time's Up campaign didn't hold back when talking about the issue with E! presenters.
Eva Longoria, with Reese Witherspoon and Nicole Kidman by her side, told E! reporter Ryan Seacrest his network's attitude to equal pay was one society had no time for.
"Time's up. We support gender equity and equal pay, and we hope that E! follows the lead with Catt as well. We stand with you, Catt."
Debra Messing also made sure her red carpet E! interview included a message to its executives.
"Time is up," the 49-year-old told E! host Giuliana Rancic. "We want diversity, we want intersectional gender parity [and] we want equal pay.
"I was so shocked to hear that E! doesn't believe in paying their female co-host the same as their male co-host.
"I miss Catt Sadler. So we stand with her. And that's something that can change tomorrow. We want people to start having this conversation that women are just as valuable as men."
While we can't know if this got through to those at the network who failed to secure Sadler a pay rise, the woman herself heard and appreciated the support shown for her.
Sadler told New York Post's Page Six she was "immensely grateful for the outpouring of support".
"Thank you to Amy, Debra, Eva, Brie, Julianne and so many more women using their voices on behalf of us all. Time's Up."