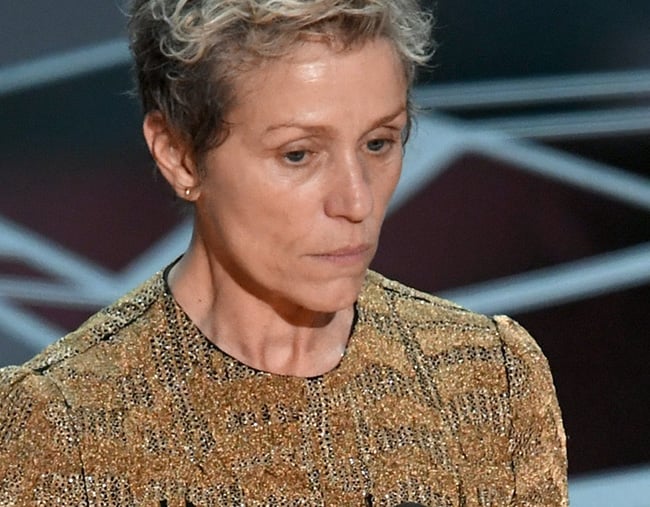 Frances McDormand's high after winning last night's Oscar for Best Actress was contagious. During her acceptance speech, she asked all female nominees to stand. She told the Hollywood big shots "we're coming for you". And she shared a heartwarming huddle with her Best Actress contenders.
But her elation wasn't without its hiccoughs. During the Governors Ball after-party, the 60-year-old Three Billboards Outside Ebbing, Missouri star was reportedly chatting to someone when she turned around and realised her Oscar had been… stolen.
WATCH: The man responsible for stealing McDormand's Oscar has been caught. Post continues below.

The suspect – who has since been arrested and charged with felony grand theft, TMZ reports – was accosted by a photographer, who took a picture of the thief before taking the engraved trophy back and delivering it to McDormand.
Culture reporter at The New York Times Cara Buckley was hot on the story, tweeting:
"Security at the Governors Ball are looking for this guy, who grabbed Frances McDormand's Oscar and ran out with it. Wolfgang Puck's photographer stopped him, got the Oscar back, and the guy disappeared back into the ball. Apparently Frances has said to let him go."