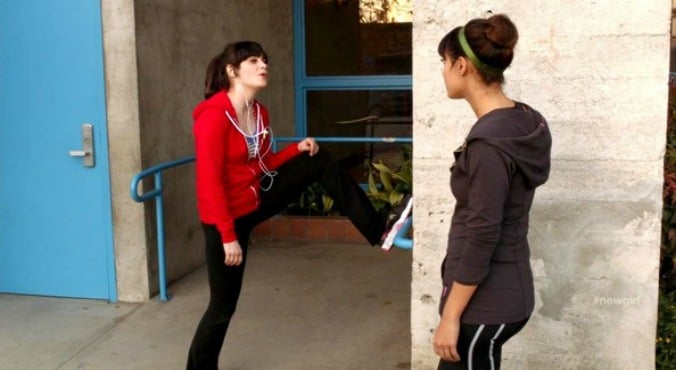 Image via Fox.
"Weights will make you bulky". "You need to exercise at least X times a week to see real results." With everyone now a self-titled "fitness expert" and information coming at you left, right and centre, it can be very confusing to separate the fact from fiction.
While it's confusing you, it's even more frustrating for personal trainers. We asked them to share the fitness myths they want busted for good. You're welcome.
1. Sit ups alone will give you flat abs.
Those 100 sit ups you did last night? They weren't exactly a waste of time but they're not miracle workers.
"Yes, crunches will give you definition, but a healthy gut and diet are the real keys toning your tummy region," says Stephanie Prem, former Olympian and director of Studio PP.
2. No more #Fitspo – it doesn't work.
Some believe staring at images of impossibly toned (retouched) bodies will kick their motivation into gear, however Prem argues #Fitspo could actually be more of a hindrance than help.
"I think we've become too focused on looking good rather than feeling good. While it may be motivating for some it can perpetuate unrealistic body standards for others," she says.
3. Weights make you bulky.
A common misconception is that weights will make you "bulky", something that can put women off using them altogether.
"Strength training actually a great way to develop a leaner and stronger physique," says Michael Cunico, National Personal Training Manager at Fitness First High Performance Club . (Post continues after gallery.)
Honest motivational posters
4. Doing cardio only is enough.
While the cardio training craze of a few decades ago has subsided somewhat, a common fitness myth is that cardio is the be all and end all way to stay in shape.
Instead, Cunico advises looking at High Intensity Interval Training (HIIT) which uses big movements involving every muscle in the body for short interval bursts. Activities like yoga and Pilates that might not get you huffing and puffing are still beneficial for toning and strengthening.