Ironically, one of the most neglected areas in wedding planning is the actual wedding itself: the ceremony, where the magic happens.
For all the hullaballoo that we go through planning weddings, you'd be surprised at how many couples neglect to focus on the details of the ceremony.
It can be daunting thinking about standing in front of a crowd of people, making declarations of love, especially for people who are introverted or aren't that confident when it comes to public speaking.
But it doesn't have to be challenging for you. With a little preparation and forethought, you can create an emotional ceremony that truly reflects who you are as a couple. Including humour and light-hearted moments will add a personal touch, too.
Content of the ceremony.
When it comes to the content of the ceremony, what you want to say to the person you are going to marry, it can sometimes be hard to put into words that you are comfortable saying in front of a large group of people. Some people may believe it's just easier using a script because they are concerned with being overly emotional or getting caught up in their feels.
I think that's a real shame.
What other time will we stand in front of the most special and important people in our lives and be truly honest about committing to another person, the person that we love and respect? The person that puts up with our shit and we put up with theirs.
I am probably the least smooshy person on the planet, and I was concerned with making our wedding ceremony soppy because that's just not who we are as a couple. That's not to say we didn't add a bunch of romantic, personal and funny mementos of our love and relationship to our wedding ceremony. We avoided stock standard readings, and instead chose to include pieces by Woody Allen and Jerry Seinfeld that were both humorous and relevant to us.
The matter of incorporating faith and religion into your service might be a clear-cut decision for you. No matter who is working with you as a celebrant, minister or registrant, make sure you take the time to work with them to make your wedding vows as personal and intimate as possible. When it comes to religion and including religious aspects and details into your wedding service, do what is important to you, not what you feel obliged to do.
If your faith is a part of your life, great, include it in your wedding day. If you are an atheist but your parents want you to get married in a church, I encourage you to have that conversation early on. Perhaps this isn't a big compromise for you, but more and more I am meeting couples who are stepping away from full religious services and adding snippets of tradition and readings into their ceremony.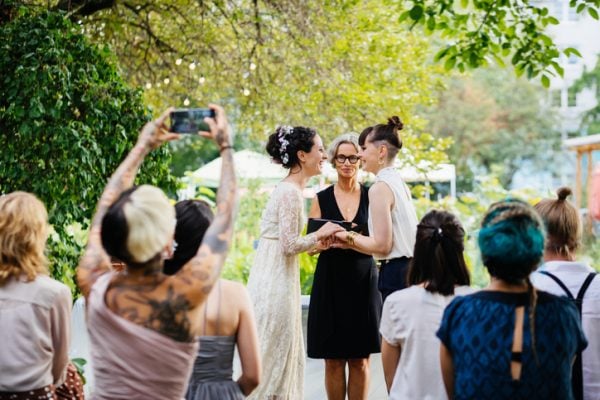 How can you add personality to your wedding vows?
"To honor and obey" and "until death do us part" can be a bit of a yawn. Who talks like that? Add readings that are meaningful to you; ditch the stuffiness and invite friends and family members to contribute. Some movie and TV quotes might do the trick. Here are some examples:
"I will never leave you. That's a promise." (Ripley, Aliens)
"It seems to me that the best relationships, the ones that last, are frequently the ones that are rooted in friendship. You know, one day you look at the person, and you see something more than you did the night before. Like a switch has been flicked somewhere. And the person who was just a friend is… suddenly the only person you can ever imagine yourself with." (Dana Scully, The X Files)
"When I'm around you, I kind of feel like I'm on drugs. Not that I do drugs. Unless you do drugs, in which case I do them all the time." (Scott, Scott Pilgrim vs The World)
"I love you."
"I know." (Han to Leia (and Leia to Han), Star Wars (derr)
"We are all a little weird and life's a little weird, and when we find someone whose weirdness is compatible with ours, we join up with them and fall in mutual weirdness and call it love." (Robert Fulghum)
"Now join your hands, and with your hands your hearts." (William Shakespeare, Henry VI)
Whatever you do, take the time to work together to write meaningful words – don't leave this until the last minute. This is important. This is what it is all about. This is what people will remember.
Planning a wedding, or know a woman who is? Find all the Hitched episodes here, in the Mamamia Podcast app, or wherever else you get your podcasts.
Love weddings or getting married and need to ask all the questions about venues, flowers, photographers, wedding dresses, EVERYTHING? Come join Mamamia's wedding planning podcast Facebook group Hitched.