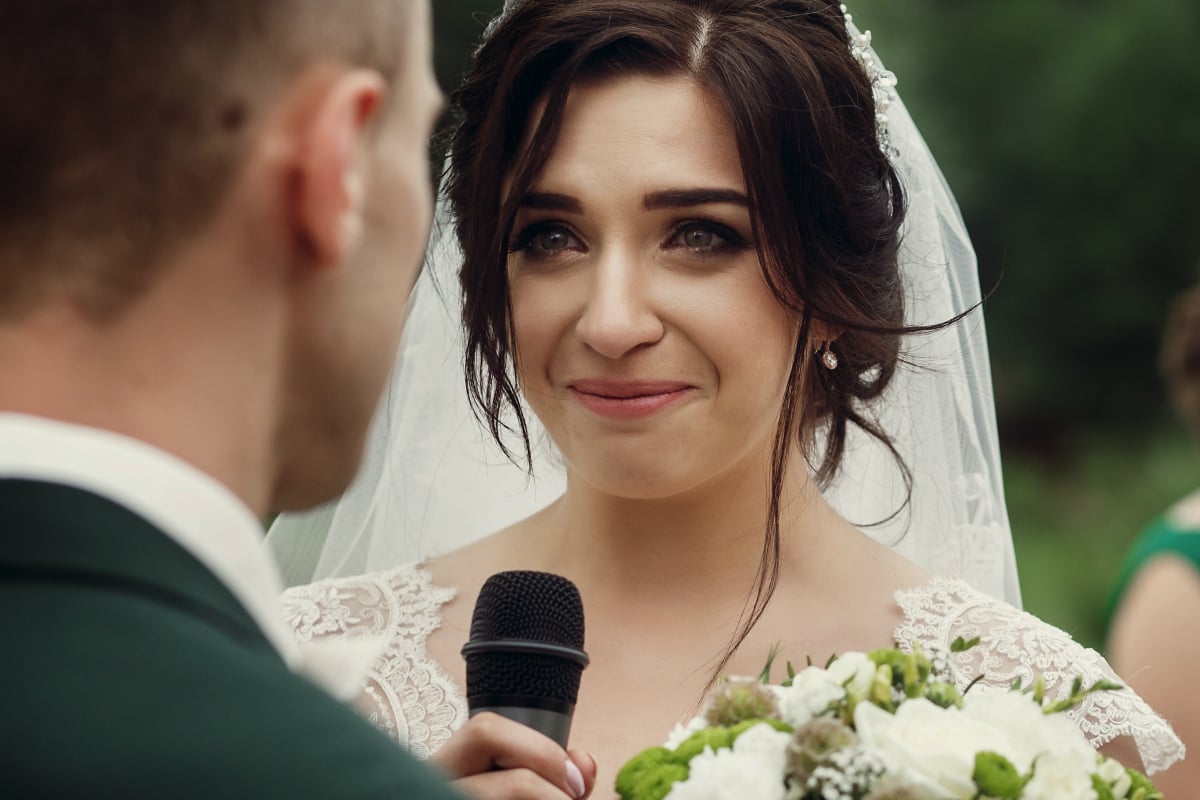 After marrying couples for almost a decade, Sydney-based wedding celebrant Melissa Soncini still loves wedding vows. Whether they're modern or traditional, funny or romantic, it's often the most touching part of the entire ceremony.
Which is precisely why some people find them so daunting to write. How do you capture your love for someone in a few sentences?
Well, if you're curious how to write your own wedding vows, Soncini says the secret is simple: it's all about authenticity.
How to write wedding vows: an expert's tips.
1. Use your own words.
"Where people fail is where they use other people's words it doesn't show their personality," Soncini told Mamamia.
A good wedding celebrant should give couples a variety of examples and Google has a few too, but if the words don't fit the couple, it just won't work.
"Keep it real and speak from the heart, because not only will your partner know you're faking it – so will all your family and friends," Soncini added.
2. Be true to who you are.
Soncini wants couples to know that there's no such thing as one-size-fits-all vows.
"The way that you show your love and your love identity can be done in so many different ways.  So if expressing your love means [promising] you 'will kill the spiders' then that, to me, is love," she said.
"Some celebrants are quite funny and won't let people have jovial vows, they think it's disrespectful, but I don't think that."
3. Don't pad them out.
Soncini says she is constantly asked how long wedding vows should be.  Her answer is always the same: "The vows should be three kisses long," she says.
But how long is that?
"How long is a kiss? I don't know. You just have to say what you need to say from the heart. If it's three lines or three pages just say what you have to say.
"Don't pad it out for the sake of padding it out. Don't make it shorter because you want the ceremony to be short, because the vows are the highlight of the whole ceremony. People want to hear you speak.  If you're shy people, don't go on with syrupy stories or examples about how your love is the best thing in the whole world."