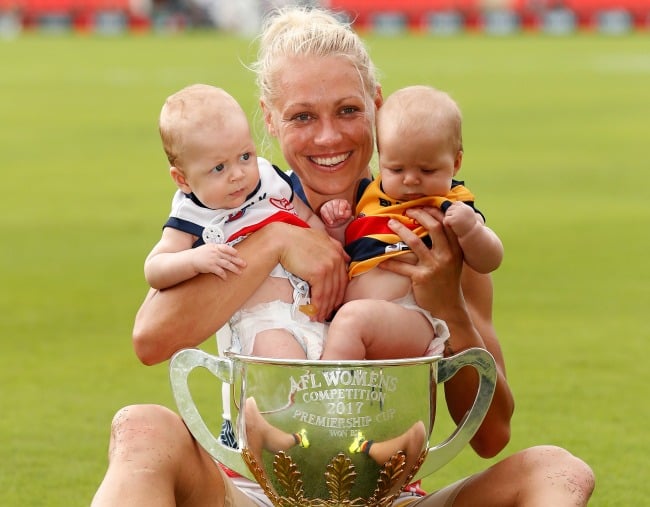 At around 13 years old, Erin Phillips' parents sat her down to deliver the bad news: she couldn't play Aussie rules footy anymore.
This was a blow for South Australian girl, who had grown up playing and admiring the game her eight-time premiership-winning dad was a legend of.
"There was no football for girls playing with the boys after the age of 12 0r 13 and there were a lot of girls in my situation who had to either quit or find another sport." she recalled to Mamamia.
"It's incredibly sad that back then there were no pathways for women in AFL."
Fellow professional footy player Daisy Pearce talks through her career transition from midwifery to Aussie rules. Post continues.
Without other options, she picked a new sport – basketball, which she would excel at to the point of playing at an Olympic level – but footy remained her "first love" and part of her DNA.
So when the Port Adelaide football club offered her the opportunity to return home from the US where she was playing in the Women's National Basketball Association, and launch their women's AFL team in the competition's inaugural season, she lunged at it.
"After playing basketball overseas for nine years, this was a chance to come home and play in the first women's AFL competition and I wanted to be a part of it," the Wolf Blass ambassador said.
Of course, Port Adelaide's bid to join the AFLW didn't pan out, but Adelaide FC – who were successful in securing the rights to enter a team – called her up, beginning one of footy's greatest fairy tales.
Erin joined Adelaide's women's team as co-captain and from round one in February 2017, there were more than inklings she was going to stand out as the superstar of not only the Crows, but the entire competition.
The forward went on to boot a total of 10 goals, rack up an average of 20 disposals per game and lead her team to victory in the first-ever AFLW grand final at the end of the seven-game season. Her impressive showing earned her the title of 'Best and Fairest' at the league's awards night in March last year.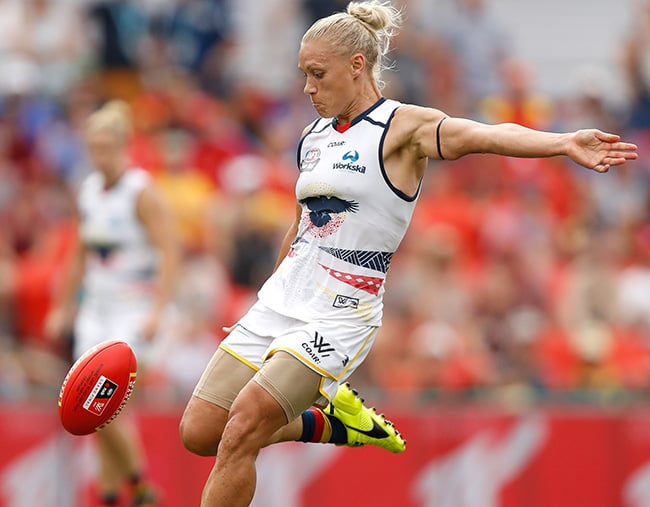 And it was there that she became known for - perhaps even more so than her footy skills - her relationship status.