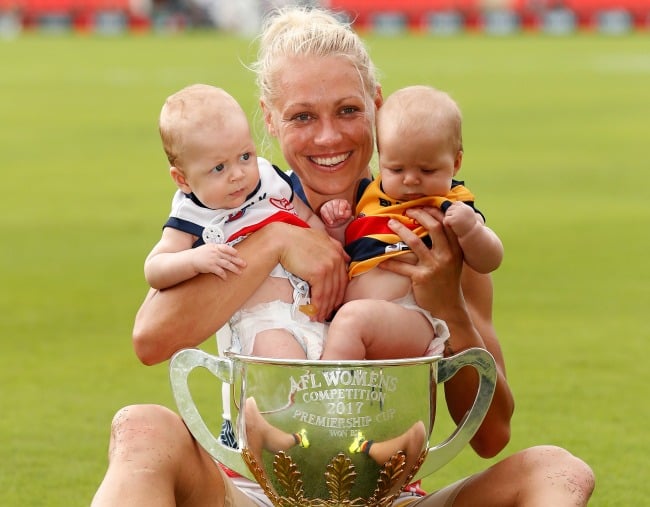 At around 13 years old, Erin Phillips' parents sat her down to deliver the bad news: she couldn't play Aussie rules footy anymore.
This was a blow for South Australian girl, who had grown up playing and admiring the game her eight-time premiership-winning dad was a legend of.
"There was no football for girls playing with the boys after the age of 12 0r 13 and there were a lot of girls in my situation who had to either quit or find another sport." she recalled to Mamamia.
"It's incredibly sad that back then there were no pathways for women in AFL."
Fellow professional footy player Daisy Pearce talks through her career transition from midwifery to Aussie rules. Post continues.
Without other options, she picked a new sport – basketball, which she would excel at to the point of playing at an Olympic level – but footy remained her "first love" and part of her DNA.
So when the Port Adelaide football club offered her the opportunity to return home from the US where she was playing in the Women's National Basketball Association, and launch their women's AFL team in the competition's inaugural season, she lunged at it.
"After playing basketball overseas for nine years, this was a chance to come home and play in the first women's AFL competition and I wanted to be a part of it," the Wolf Blass ambassador said.
Of course, Port Adelaide's bid to join the AFLW didn't pan out, but Adelaide FC – who were successful in securing the rights to enter a team – called her up, beginning one of footy's greatest fairy tales.
Erin joined Adelaide's women's team as co-captain and from round one in February 2017, there were more than inklings she was going to stand out as the superstar of not only the Crows, but the entire competition.
The forward went on to boot a total of 10 goals, rack up an average of 20 disposals per game and lead her team to victory in the first-ever AFLW grand final at the end of the seven-game season. Her impressive showing earned her the title of 'Best and Fairest' at the league's awards night in March last year.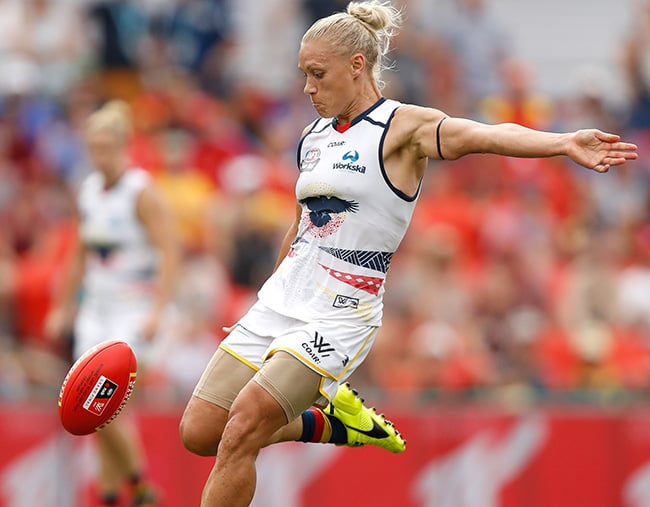 And it was there that she became known for - perhaps even more so than her footy skills - her relationship status.
Images of Erin kissing her wife Tracy Gahan featured in newspapers and sites across the country and suddenly her position as one of the first openly gay AFL players became a talking point.
Erin told Mamamia the attention caught her by surprise. She and Tracy had been living in Texas, where their status as a married couple with kids (twins Brooklyn and Blake) was normal. "We'd forgotten how far we still had to come in Australia."
However, just by being herself, the former Olympic silver-medalist contributed to the campaign for same-sex marriage to become legally recognised, and when the 'yes' vote was confirmed, the couple shared a moment of celebration.
"As soon as I heard the yes vote had won I had tears in my eyes. I was so relieved and proud to be living in a country that now had that acknowledgement of same-sex couples," she said.
Now, Erin is into her second season representing the Crows in AFLW. After missing the first couple games with quad issues, the 32-year-old has been a more-than-welcome inclusion to her side, helping them to get their premiership chances back on track.
"We've got two games of the regular season to go, and we know a few things still have to go our way, but the belief is there."
Erin Phillips describes her decision to join AFLW. Post continues. 
Whether the season ends in a premiership or not, Erin and her family will be off to the US where she'll return to the WNBA club she played at, the Dallas Wings, to act as assistant coach.  But the athlete will be back for the next AFLW season, vowing to continue playing as long as she can - "I still haven't reached my full potential".
Meanwhile, she and Tracy are also running around after their 16-month-old daughter, Brooklyn, and son, Blake.
While Erin said she's introduced her kids to balls of all shapes and sizes, she's comforted to know that whichever sport her children choose to pursue (or not - she's happy as long as they are "happy, healthy and kind people") there will be nothing keeping them from playing the game they love.
"I'm just grateful that I never have to be in the position my parents were and tell my kid that they can't follow their dream."
"I can actually tell my son and my daughter that they can play at the exact same level in football, if that's what they want to do.
"I'm really glad I don't have to have that conversation with Brooklyn."
Wolf Blass is the official wine sponsor of the AFLW and they're offering the chance to win tickets to every AFL Grand Final from now until 2030. To enter, spend $20 on Wolf Blass wines until end of June and enter online at wolfblass.com