A couple of days before the first bounce of the AFL Women's season, Fremantle captain Kara Donnelan taught me the footy skills I'd need to bluff my way through the next eight weeks.
I learned to handball. To kick. And to pick up groundballs — which is harder than it looks, okay?
After mastering the basics to a point where I no longer humiliate myself in kick-to-kick, it seemed fitting to take my tutelage to the next level.
Thankfully I was offered the mentorship of another AFLW star on the rise, Collingwood captain Steph Chiocci.
It was a hot day and conditions were windy but nonetheless, the high school PE teacher persevered with the incredible patience of, well, a high school PE teacher.
I learned how to take a mark, kick a bloody goal and bounce a ball (sort of)…
Marking
Step 1: Track the ball with your eyes so it doesn't fly over your head.
Step 2: Make sure you catch it at its highest point.
Step 3: Keep your hands in a W shape. As in, fingers pointing to the sky, thumbs together and hands spread across the ball.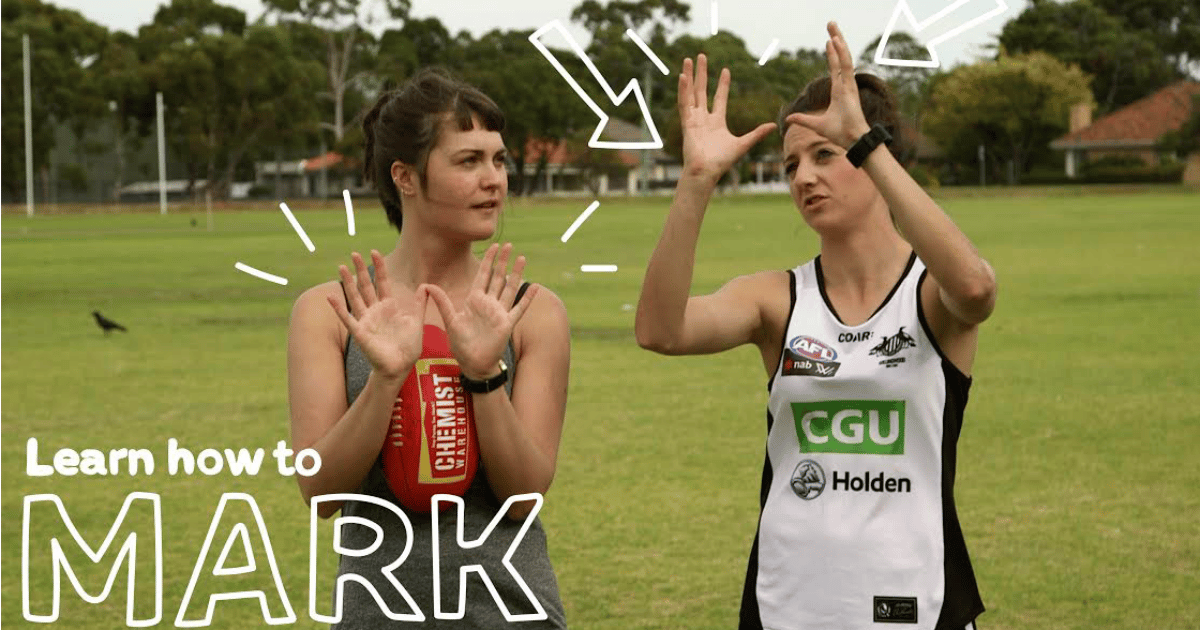 Step 4: Make sure you go up on one leg not two, so your opponents can't take you out while you're in the air.
(You can watch this in action in the video at the top of the post.)
Listen: We chatted to Melbourne Demons captain Daisy Pearce on I Don't Know How She Does It...

Kicking goals
Okay, I had more trouble pronouncing Steph's last name than kicking a goal, which I did first try... NO BIG DEAL.
Step 1: Keep the ball vertical with the laces out.
Step 2: Pick a point behind the goal to focus on, like a person in the crowd,  a goal umpire or a tree.
Step 3: Relax your arms and boot it through the big white sticks.
Easy.
Bouncing
Step 1: Step forward with your non-preferred foot and push the ball down.
That's pretty much the only step - just pray it comes back.
Not easy.
Thankfully, there's plenty of time to practice before the 2018 season starts and, for the little ones, registration for AFL Auskick is open now!
In 2017, Mamamia is committed to covering all aspects of women's sport. Check out more of our sports stories here.