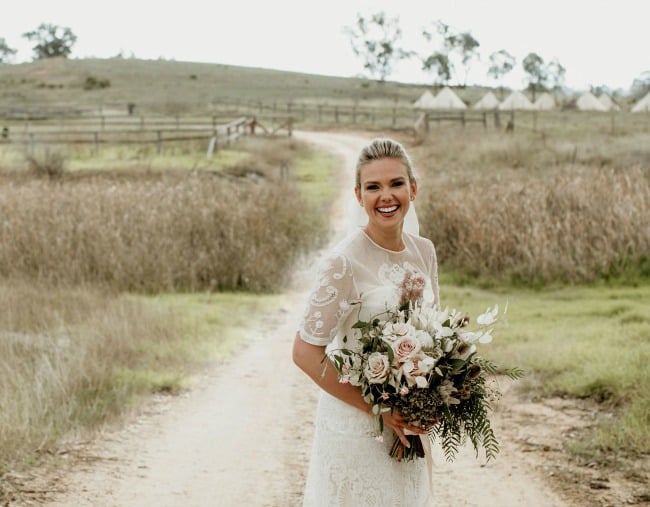 On Saturday, Sunrise presenter Edwina Bartholomew married her long-term partner Neil Varcoe at the couple's farm in the Capertee Valley.
Posting on Instagram about the day, Bartholomew said nothing more than the fact the couple had "the best day", surrounded by 160 friends and family.
The ceremony took place at Warramba, in the Greater Blue Mountains, at the property the couple own; a 1980s sandstone cottage on just over 100 acres.
Bartholomew was the third generation of women in her family to wear the wedding dress. It was lovingly restored by Melbourne designer, Sonia Cappellazzo.
Posting on Instagram about the "honour" of restoring the dress, Cappellazzo said:
"When Edwina mentioned that her wish would be to wear her grandmothers wedding gown from 1944 and her great grandmothers veil from 1915… I felt honoured and in awe of this exquisite opportunity. To hold precious history in my hand and to add new memories to this delicate hand made cotton lace was such a special moment. To keep it authentic but current was so important. To see Edwina wearing history with such beauty and grace and making history and knowing that the we had a little part in this, is very humbling and I wish Edwina and Neil continued happiness and memories forever."
The couple announced their engagement in April last year, after seven years together.