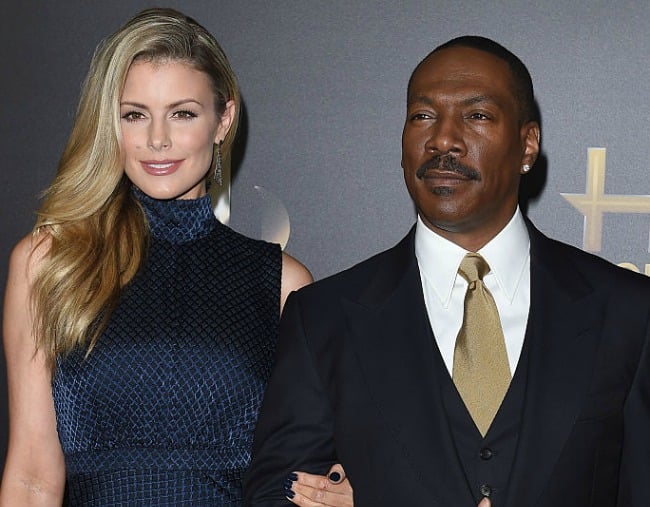 Eddie Murphy rose to fame in the 1980s playing the fast-talking Axel Foley in the Beverly Hills Cop franchise.
He went on to star in a bunch of Hollywood blockbusters and became one of the most commanding stand up comedians in the world.
And now The Nutty Professor lead actor has just welcomed his 10th child into the world with his 39-year-old long-term Australian partner, Paige Butcher.
The couple welcomed a baby boy named Max Charles Murphy.
The comedian, now 57, has ten children to five different mothers.
Murphy and Butcher are already parents to Izzy Oona who is two years old.
For Murphy, fatherhood began back in 1989, when he was a rising Hollywood star. He welcomed his first son, Eric, with his girlfriend at the time, Paulette McNeely.
As the New York Post reports not much is known about McNeely. She has never been photographed and her relationship with Murphy appears to be short-lived.
The following year his second son, Christian, was born. Murphy shares the now 27-year-old with his ex-partner Tamara Hood.
In 1988, while he was possibly still with McNeely, Murphy met Nicole Mitchell at the NAACP Image Awards. They later began dating and moved in together.
On March 18, 1993, the couple married in the Grand Ballroom of The Plaza Hotel in New York City.
Murphy and Mitchell went on to have five children together – Bria, 28, Miles, 25, Shayne Audra, 23, Zola Ivy, 18, and Bella Zahra, 16.
At 4.45am on May 2, 1997, police pulled Murphy over on the Santa Monica Boulevard in West Hollywood. The actor was driving in his Toyota Land Cruiser at the time and there was a sex worker named Atisone Seiuli (aka Shalimar), in the passenger seat.
Murphy was not arrested nor charged when he was stopped after Seiuli got into his car. The police officers questioned him and determined no illegal activity had occurred.
The incident made international headlines and was compared to Hugh Grant receiving oral sex in his car from a sex worker named Divine Brown in 1995.
In August 2005, eight years after the incident, Mitchell filed for divorce citing "irreconcilable differences" with her husband of 12 years.