It was 2003 when Hugh Grant was dubbed the "eternal bachelor" by British tabloid the Daily Mail.
A year had passed since the actor's charming portrayal of serial playboy Will in box office hit, About A Boy, his star still shrouded in a veil of controversy after being caught with sex worker Estella Marie Thompson in 1995. When he was caught receiving oral sex in his car, of course, Grant was embedded in the longest relationship of his life with actress Elizabeth Hurley. He would shoulder a misdemeanour charge and $1000 fine, she the burden of unrelenting media scrutiny, and they would officially part ways years later, racking up 13 years together.
What would follow is a series of trysts with mysterious – predictable – characters; a "blonde PR girl", "models on the make", and, finally, "young women who work in art galleries or fancy shops". Yep.
Unbeknown to the Mail's interviewer, Love Actually was about to become one of the most iconic movies of the decade, providing a much needed oxygen mask of 'dorky and lovestruck Prime Minister' to the 'womaniser' tag that ghosted Grant's celebrity like a black fog.
The fact that his seedy reputation was seeping into his brand was not lost on the actor.
"I need to get married and have children," Grant told the publication. "I definitely keep my thoughts open to the idea of settling down and breeding."
And boy, did he keep his mind open to it, even if that prospect wouldn't come to fruition for another eight years. In September 2011, he welcomed his daughter Tabitha, the product of what his publicist called a "fleeting affair" with Chinese restaurant receptionist Tinglan Hong.
When the actor met his first baby, he was 51.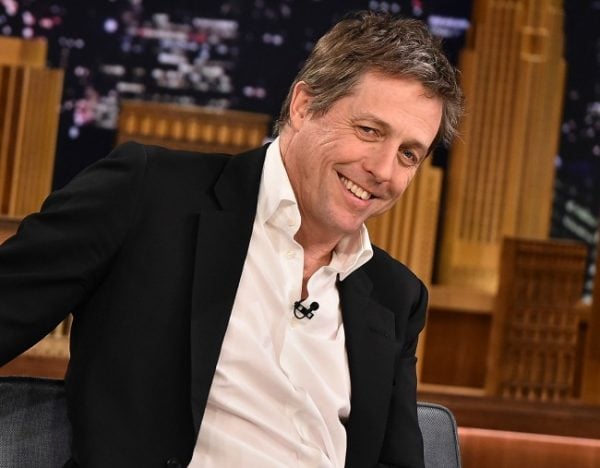 Grant was not present at the London birth of his first child. Instead, he was at a political party conference, citing the potential of a media frenzy and the mother's best interests as the reason for his absence. He purchased Hong an AU$2.08 million dollar home, and quietly nestled back into his warm, well-carved out shell.
"I like my daughter very much. Fantastic. Has she changed my life? I'm not sure. Not yet. Not massively, no," he told the Daily Telegraph some half a year later.
And that's when the script of Hugh Grant's love life transcended salaciousness, to become something truly fascinating.
A secret baby and a pregnancy overlap
Hugh Grant's second and third children - two boys - were actually in utero at the same time, to different mothers.
The first to arrive, named John Mungo, was born in September 2012 to Swedish television producer Anna Eberstein. The other, Felix, was born three months later in December 2012; Grant's second child with Tinglan Hong.
Grant had gone from philanderer to father-of-three in the space of 15 months.
Although that wasn't what the world knew at the time. Coverage of Hong and Grant's second baby was rife, but it wasn't until January 2014 when the press caught wind of John Mungo's existence, and the evident five-month pregnancy overlap.
Listen: If a man cheats on his partner, can he still proclaim himself a feminist? The Mamamia Out Loud team discuss. (Post continues...)
The actor's status as a father-of-three was only uncovered when he signed a birth certificate as John Mungo's father over a year after his birth. Shortly after, it was revealed that Eberstein, the daughter of prominent Swedish judges, was residing in a AU$3.64 million London townhouse, purchased entirely with cash, of which she was listed as the sole owner.
It's not remotely clear as to who was the actor's partner at the time of the boys' arrivals - paparazzo shots show Grant was familiar with both women in the months leading up to the births.
Hong and Eberstein are the actor's juniors by approximately two decades. Neither has ever commented on the, well, very modern family situation.
From there, Grant and Eberstein welcomed another child - who has never been publicly named - in December 2015, have dubbed the concept of marriage as "boring" and made a very rare appearance together at the Golden Globes in Janua. There, donned in an all-black suit, eyes zeroed in on Eberstein's belly.
Yep, baby number five was welcomed into the family a touch over a month later.
This weekend, Grant married Eberstein - his first wedding in his colourful 57 years - in London at the Chelsea Register Office. It was a small affair; Eberstein wore a fitted shirt and mini skirt, Grant a relaxed suit. They spent the day with friends and family (and, of course, a few prying paparazzi scaling the perimeter).
Not so much the eternal bachelor now, eh?