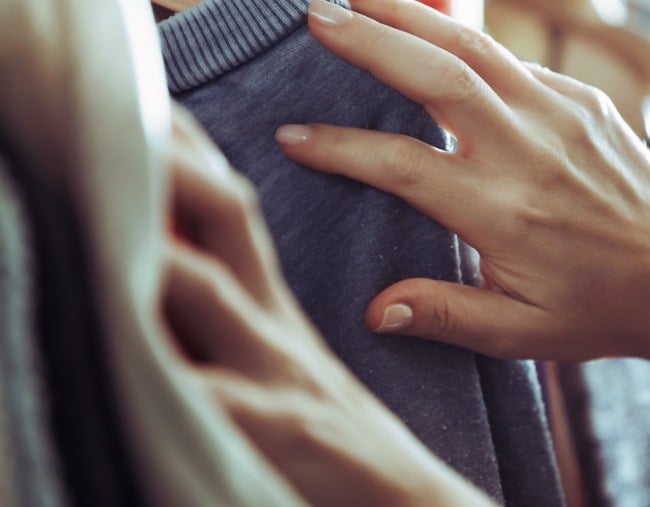 It turns out, it's not just you who stares blankly at your wardrobe for minutes, tries three outfits on and ends up going with what you 'always' wear. Half of women surveyed by clothing brand The Fold and London Business School said they struggled to figure out what to wear in the morning before work.
The report also found most women thought dressing appropriately for work was "crucial" and that getting it right could help them reach career goals. So no pressure then.
The Out Loud team discuss why women are finding it so hard to decide what to wear in the morning before work. Post continues.
But dressing for work doesn't have to be a daily struggle, says Sydney stylist Alarna Hope. The image consultant, who specialises in helping people design their work wardrobe, tells Mamamia there are some simple rules to follow to make sure you're always looking schmick.
Let's start with what to avoid…
1. Anything that looks like you've put zero effort in
It's sad, but it's true – people will judge you for your unironed shirt, too-long, dragging pants and your scruffed-up shoes. Sorry. Alarna says turning up looking dishevelled can send a message that you don't care about your workplace and even make people question your ability.
"It only takes a few seconds for someone to make a judgement about you based on your personal appearance and even though you may be fantastic at your job, if you look unorganised or sloppy, that reflects on you and your employer."
Alarna also recommends taking your work shoes to a cobbler once every six months for a touch-up to ensure they're looking professional.
2. Jeggings
Obviously, leggings and track pants aren't appropriate for work (unless you work at Lorna Jane) but unfortunately, jeggings should also stay out of the workplace, says Alarna.
"I think jegging and legging type pants belong outside of the office, they stretch out too quickly and can make you look sloppy," she tells Mamamia.
"Invest in good quality clothing, in all aspects of your wardrobe and you'll always look more put together."
What your colleagues really mean when they say these common phrases. Post continues.