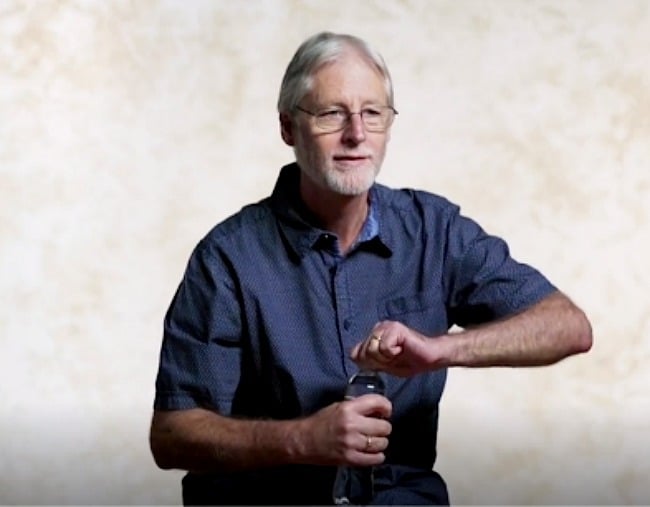 Warning: This article contains details of child sexual abuse and suicide.
When ABC viewers settled in to watch Wednesday night's You Can't Ask That, they knew it would be difficult viewing. But they didn't know just how heartbreaking things would become.
Sexual assault was the theme of this week's episode of the popular show, which sees regular Australians answer tough questions on difficult subjects.
Dr Stuart Kidd, a 60-year-old child sexual abuse survivor from the Blue Mountains, was among those to share his story. And tragically, it has emerged that he took his own life two months before the episode went to air.
Dr Stuart Kidd on You Can't Ask That. Post continues after video. 
A statement released by the ABC said the interview with the retired orthopaedic surgeon, during which he shared deeply personal insights into the long-term trauma of repeated childhood sexual abuse, was filmed in November last year.
The broadcaster shared an email they received from Dr Kidd after he and his wife, Janet, viewed the episode in February before it aired.
"WOW! Gobsmacked. Speechless. Brilliant. A.MAZING!… Janet and I are both so very impressed and very grateful. WHAT a special 'ministry' you guys have of bringing these stories to everyday Aussies…Thank you," it read.
And on Wednesday, Australians watched Dr Kidd open up about the harrowing abuse he and his little brother suffered, beginning from when he was just a toddler.
"I was raped both ends by men 30, 40 years older than myself. And then by an older boy who I thought … I thought was a friend. And then by older men again as a teenager," he said. "I was just being myself being a boy, paying the consequences for it."
Dr Kidd spoke of the feelings of self-hatred he has desperately tried to work through over the course of his life.
"I tried to suicide when I was 11 three times because I was such a piece of filth that the world needed to be rid of me," he said.
"Deep down, despite 30 years of therapy, I still think it's my fault.
"I still haven't been able to come to a place of being able to hate them (the abusers), I just hate myself.
"Unless you have had some sort of similar experience, it's almost incomprehensible."
Dr Kidd said when he saw photos of himself as a little boy, he could see he was not to blame.
"I dug out some photos recently of myself of that age, confronting that I see myself too often as ugly and naughty. And I wasn't ugly and naughty, I was a cute little fella and I was full of fun and I was innocent and I was brutally assaulted."