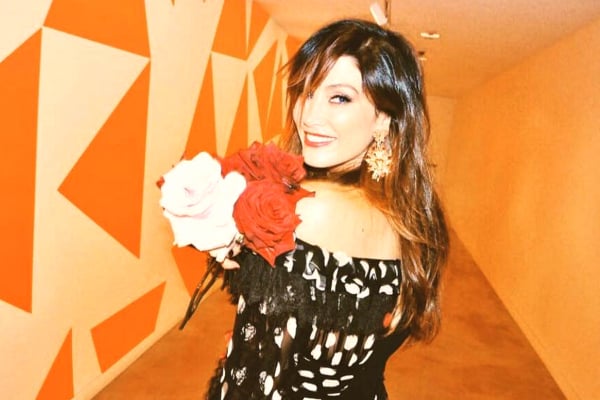 1. "Crosses the line." Delta Goodrem doesn't hold back as she shoots down wedding rumours.
Another week, another fake allegation over Delta Goodrem's marital status.
This week  New Idea might have jumped the gun when they said the 33-year-old was planning a Hawaiian beach wedding with her musician boyfriend Matthew Copley.
They claimed those "closest to the star" received save the date cards to an "intimate bash", which would be taking place at Pa'ako Cove in Makena in South Maui. But alas, The Voice judge has confirmed this info was completely made up.
Correcting the rumour in an Instagram Story,  Delta set the record straight.
"Hi my friends, whilst you're all planning what sounds like a really fun surprise wedding for me, I am busy making the new record," she said.
"But save some cake from this third fantasy wedding this year we have going.
"As I have said a million times, I will let you know," she added. "I won't leave you all out of that special day, one day.
"Made up false invitations is really crossing the line I believe, but I'm off to jump in the vocal booth again. Look forward to sharing my life through song soon, love and music, Delta xx."
Just under a year ago, the singer was also linked to both Seal and the Australian actor, Russell Crowe, before she was forced to also address those rumours with a fantastically sarcastic tweet.
Oh you only just heard the news?! haha!! .. wait, wasn't i married to my friend @seal or has that ended?? No, wait I'm having a baby on my own! Gosh i can't keep up!!
Either way love you Rusty! @russellcrowe ! xx https://t.co/S0seAm5Ega

— Delta Goodrem (@DeltaGoodrem) November 30, 2017
Onwards friends, onwards.
2. Um we've been singing the first part of Destiny's Child's Say My Name wrong for 20 years.
Well.
This is awkward.
It turns out we've actually been singing the first part of Destiny's Child's 'Say My Name' wrong for 20 damn years.