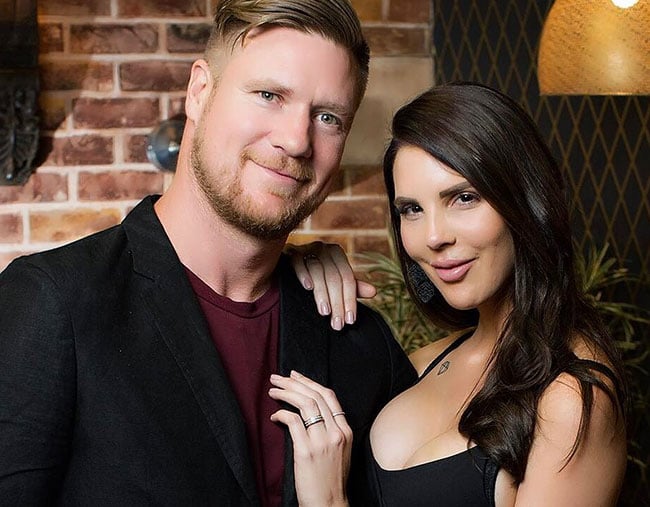 It goes without saying that there was plenty of drama on the latest episode of Married At First Sight, but among the most disturbing of revelations (besides listening to Troy and Carly making out in full view of unsuspecting members of the public and PROBABLY CHILDREN) was the news that Tracey and Sean were an item.
Even though Tracey had told Dean she had moved on with Sean, the dinner party proved… difficult for the trio.
Dean claimed he and Tracey text every day. Sean said Dean had been "harassing" Tracey for weeks.
There was yelling. There was swearing. But what we didn't get was the truth.
Thankfully, Tracey and Sean are doing the media rounds this morning, and have finally shared exactly what was in those texts sent between Tracey and Dean.
Watch: Tracey tells Kyle and Jackie O what was in those texts from Dean:tt
Speaking to Kyle and Jackie O, Tracey admitted the messages were definitely "inappropriate" in nature.
"I didn't say the words 'harassing', but Dean was certainly sending me inappropriate text messages that I was trying to play down," she told the breakfast radio hosts.
"I was trying to be amicable with Dean because I didn't want to cause problems. So I didn't say stop harassing me but it definitely… it wasn't okay."
When probed about what exactly Dean was sending her, Tracey shared Dean was constantly "filling her in" on the girls he was seeing after filming of the show stopped.
"I don't need to know that information," Tracey said.
"I obviously told him Sean and I were together out of respect, so he would come back with messages about the types of girls he was seeing."
She added that there were "a few" and that she hadn't wanted to explain the entire situation during the final dinner party to avoid "throwing Dean under the bus".
Listen to Clare and Jessie Stephens discuss what the hell is happening with Tracey and Sean on our MAFS chat podcast. Post continues after audio.
"But there were a few… he liked to keep me up to date with what he was doing," she said, adding that the texts were "pretty much" blow by blow accounts of his activities.
So how did she respond to the unwanted messages?
"I didn't want to cause issues, so I would brush it off, to be honest," said, adding she "should have been harder on" Dean.