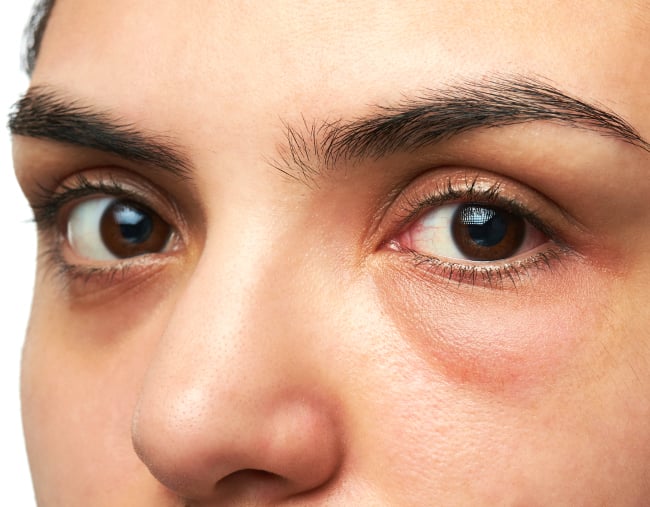 Chat to any woman at 8:21am on a Monday morning and there's a good chance she'll bring up her dark circles and under eyes.
Under eye bags, eye bags, dark circles… whatever you call yours, they're not very nice. They're also stubborn and don't always cheer up after a good night's sleep like they should.
But did you know dark circles and under eye bags are not the same thing? That they're two very different conditions?
We didn't either until we saw this helpful video from Sali Hughes Beauty.
In a Q&A about all things skin, the British beauty journalist sat New York dermatologist Dr Dennis Gross down on a couch and got him to answer her followers' skincare questions.
The 36-minute interview covers everything from bacne and dermarolling to wrinkles and exfoliation. But possibly the biggest (and most practical) advice came up in response to a question about how to get rid of dark circles and under eye bags.
"The truth of the matter is, there's two basic categories[talking about dark circles and bags] – one is actual pigmentation in the skin, the other is skin that's thin and shows the dark veins and fat pads underneath… they're two problems," Dr Gross tells Hughes.
You can listen to Dr Dennis Gross' dark circle and under eye bag advice in the Sali Hughes beauty video below. Post continues after video.
So, how do you know if you've got dark circles OR under eye bags? According to Dr Gross, the easiest way is to try a little something called 'the pinch test'.
"What you want to do is take your skin [under the eye] and gently lift it up. When you lift it up, look at what happens to the colour of the skin at the dark circle," he says.
"If when you lift it up, off the skin's structures… the pigmentation does not change and it stays brown, it's telling you that pigmentation is the primary problem. If when you lift it up, it all of sudden comes back to a normal colour, you know it's because the skin is too thin and more transparent."