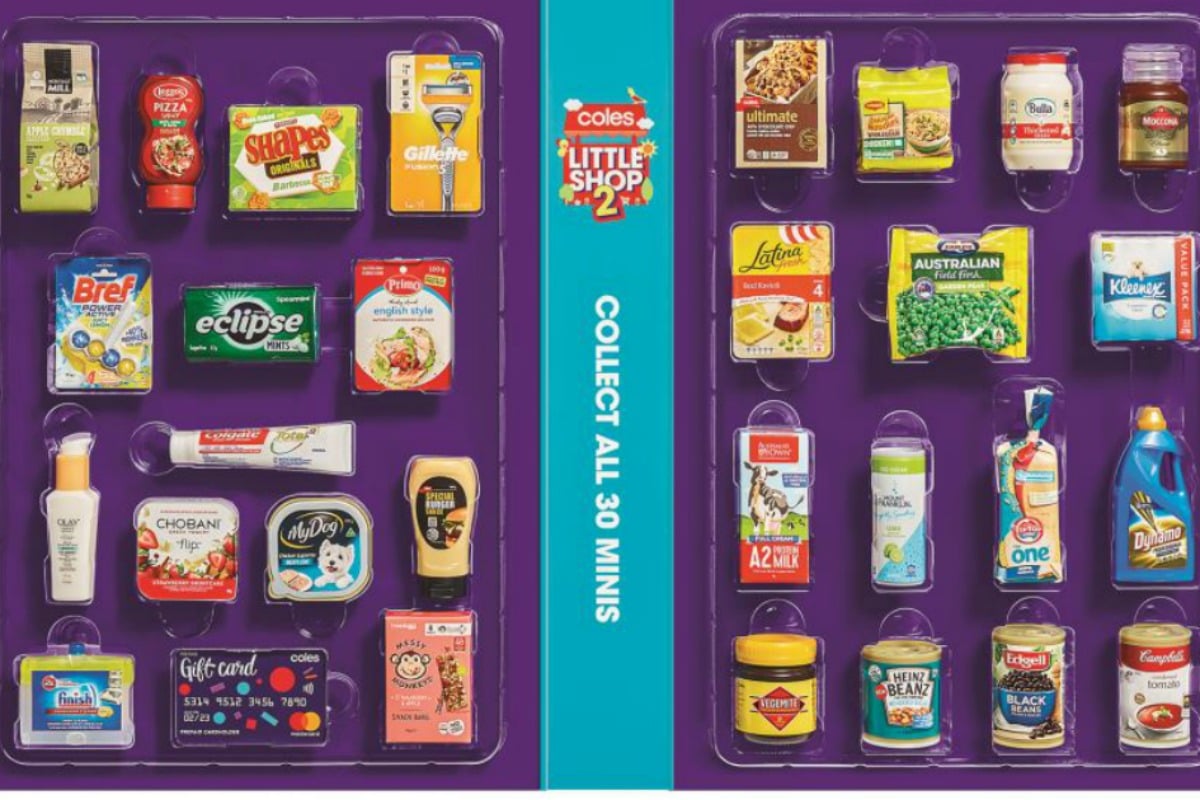 Coles Little Shop has just announced, as a Friday afternoon treat, the launch of their second set of collectables and we have all the details.
Little Shop became a phenomenon in 2018 with tens of thousands of Australians joining Little Shop swapping networks.
For every $30 you spend at Coles, customers are offered a free collectable.
Last year, they included iconic household brands, like a mini Vegemite, Nutella and Weet-Bix and were described by collectors as "incredibly cute".
Merchandise like mini trolleys, shopfronts, aprons, baskets and shopping baskets also sold out within days of last year's launch.
This year, there's 30 new collectables. Here's the complete list:
Heritage Mill Apple Crumble Clusters
Leggos Pizza Sauce
Arnotts Orginal Barbecue Shapes
Gillette Fusion 5 Razor
Bref Power Active Juicy Lemon Toilet Cleaner
Eclipse Spearmint Mints
Primo English Style Ham
Olay Complete Defence Moisturising Lotion
Chobani Greek Yoghurt Flip
My Dog Meaty Loaf
Coles Special Burger Sauce
Finish Dishwashing Cleaner
Coles Prepaid Gift Card
Messy Monkeys Snack Bars
Coles Ultimate Choc Chip Cookies
Maggi Chicken Wholemeal 2 minute noodles
Bulla Thickened Cream
Moccona Classic Medium Roast Coffee
Latina Fresh Beef Ravioli
Australian Field Fresh Garden Peas
Kleenex Value Pack Toilet Paper
Australia's Own Full Cream A2 Protein Milk
Mount Franklin Lightly Sparkling Water
Tip Top The One Bread
Dynamo Professional Washing Liquid
Vegemite
Heinz Baked Beans No Added Sugar
Edgell Black Beans
Campbells Condensed Tomato Soup
They'll be available at Coles supermarkets and Coles online from Wednesday July 17.
Mum of two Kristy Davis said in a Coles press release, "Little Shop definitely makes the weekly shop more exciting and creates extra entertainment in our house. It also helped teach Shylah and Giselle about the value of groceries and managing the family budget.
"There are very Australian things in there this year with Vegemite and baked beans.  I love the attention to detail, especially on the bread and the cookies; we already buy those cookies so they are definitely going to be a hit in our household, there seems to be a lot of family favourites in there."