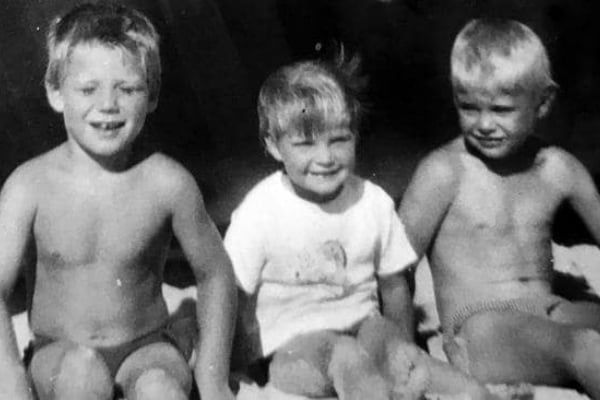 50 years on from Cheryl Grimmer's abduction from a public changing room in Wollongong, NSW, a $1 million reward is being offered for information that helps police catch her alleged killer.
Ricky Nash, one of Cheryl's brothers, said the whole family is hoping the financial incentive will encourage anyone who has information about the case to come forward.
"We just want some answers and we believe the answers are right in front of us," said Nash.
"We believe somebody has the answer that can get this person, this evilness, to come out of the shadows."
To commemorate 50 years to the day since Cheryl's disappearance, Nash and Cheryl's brother Paul Grimmer returned to Fairy Meadow Beach to unveil a plaque in her honour. The brothers wore matching royal blue shirts – the same colour as Cheryl's bathing suit the day she was allegedly taken.
According to Homicide Squad Commander, Detective Superintendent Daniel Doherty, on January 12 1970, then three-year-old Cheryl was reportedly carried to an unidentified male's car and has not been seen again.
"Witnesses at the time reported seeing an unknown male carrying Cheryl towards the car park 50 years ago today, but there has been no trace of her ever since.
"We welcome any information that may assist the investigation — there are now a million reasons to come forward."
The harrowing story of Charyl Grimmer's alleged abduction
It was a scorching afternoon on a NSW South Coast beach, on January 12 1970, when Carole Grimmer began searching for her three-year-old daughter Cheryl Grimmer.
Moments before, Carole had asked her sons Ricki, Stephen and Paul to go to the toilet blocks with their little sister after a southerly storm had blown in.
But Cheryl refused to leave the ladies' change rooms. Her older brothers left her for less than two minutes while they summoned their mother to help bring their three-year-old sister out of the showers.
When Carole went to retrieve her toddler, Cheryl wasn't where the boys said she was. In fact, she was nowhere to be seen.
At 4pm, two hours after Cheryl was last seen, Carole called the police. It was the beginning of a sizeable search as police and volunteers combed Fairy Meadow Beach and surrounding suburbs for the toddler.
The Grimmer family had moved to Australia from Bristol the year prior, and were only just settling into their beach-side cottage in Wollongong, New South Wales, when Cheryl was abducted.