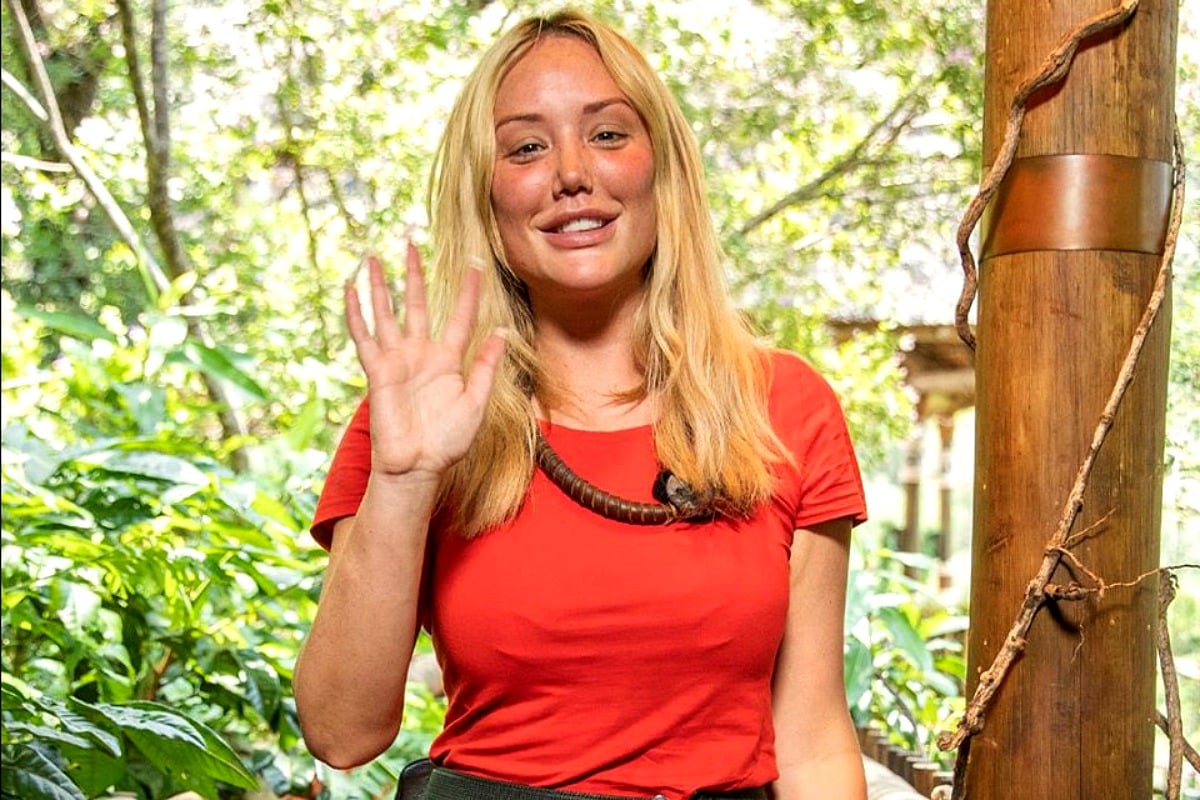 Some reality TV contestants leave their respective shows with cash prizes and tarnished reputations. Charlotte Crosby left hers with a bleeding anus and a new love interest.
She'd also be the first one to tell you that she's not the tiniest bit ashamed of either (and nor should she be) and it's this unfiltered approach to discussing life, love and bodily functions that has endeared her to a legion of fans, building a successful career on simply being herself.
The 29-year-old first rose to fame in 2011 as a cast member on the popular reality series Geordie Shore, before going on to appear in many other reality-based programs while also working as an influencer, radio star, author, entrepreneur and charity ambassador.
From the moment she first appeared on this year's season of I'm A Celebrity…Get Me Out Of Here! she began grabbing headlines.
Initially for her refusal to jump out of a helicopter (fair) and then due to her romantic relationship with Married At First Sight star Ryan Gallagher , a love that sprung up on camera in the celebrity-filled camp alongside gruesome challenges and a fair bit of starvation.
Listen to our very NSFW chat with I'm A Celebrity…Get Me Out Of Here! star Charlotte Crosby. 
However, in this age of never-ending reality TV offerings and deep distrust, fans are wary of jumping on any kind of fairytale TV bandwagon.  So as their relationship progressed, fans – potentially feeling a little carried away after consuming one too many true crime podcasts – decided they smelled a love rat.
Their evidence included the fact that they both appear to share the same Australian talent agency and that they had chosen to allegedly partake in a little bit of Instagram flirting and DM sliding before entering the jungle.
So of course, that was the first question I put to Charlotte when I spoke to her the day after her elimination from the I'm A Celebrity… camp, and it's safe to say that she's deeply disappointed in all of us for ever doubting her.
"I would never lie or put anything on, I am such a real person," she told me passionately over the phone from South Africa, "…with real emotions and I have never been anyone but myself. I wear my heart on my sleeve and I could never lie.
"So the fact that people are saying this a 'showmance', well I am very disappointed in them, do they even know me at all?
"I fall in love and then I get my heartbroken. Give this relationship six months and I'll probably be crying my bloody eyes out, but you know what? I fancy that boy because he's got a good set of arms and he's very tanned and listen…I've seen the erection, and it's quite big.