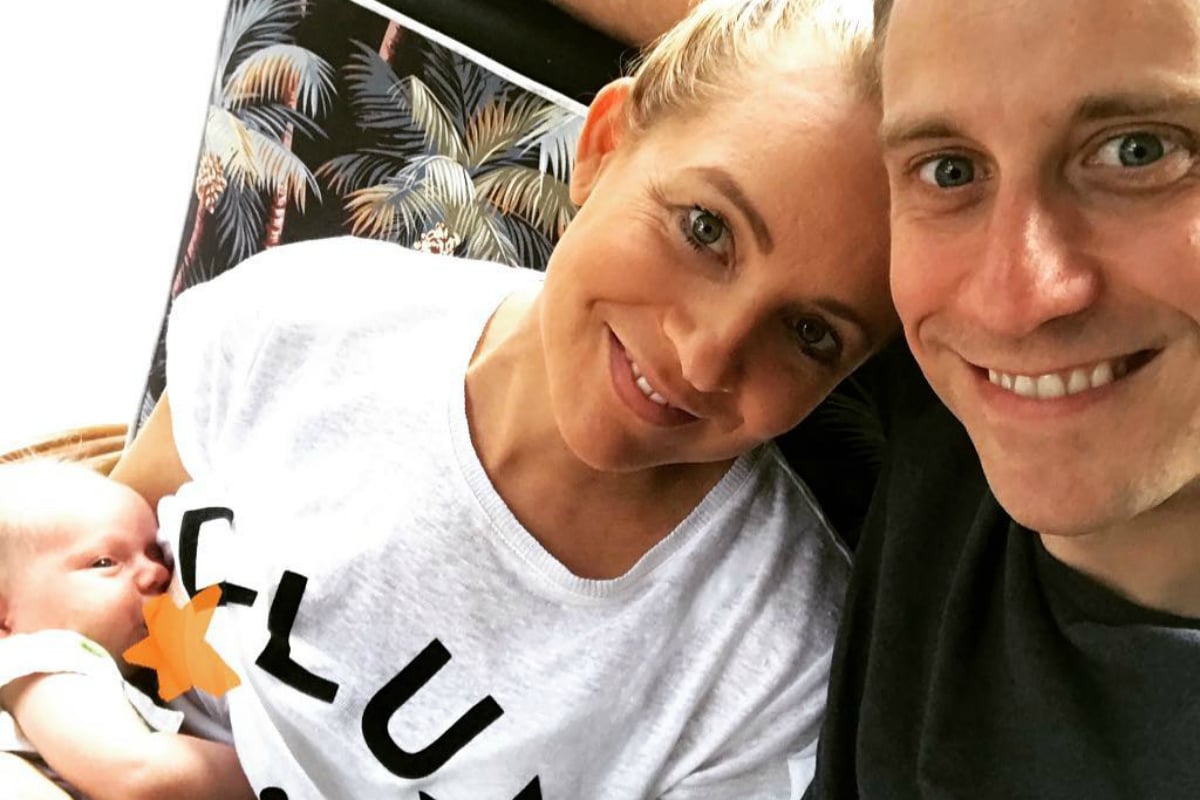 A glowing Carrie Bickmore, cradling her newborn daughter, leaning in to her beaming partner.
It looks like the kind of blissed-out baby picture we've seen time and time again in our Instagram feeds. But then there's The Project host's caption, and with it a reminder that beyond the artifice lies the messy, conflicted, exhausting truth of new parenthood.
Carrie shared the post to her page on Tuesday, to mark one month since her third child, Adelaide, came into the world.
"1 MONTH OLD TODAY," she wrote.
"Sleep [thumbs down]
Boobtime [thumbs up]
Googling 'what is reflux at 3am?' [thumbs up]
Late night pram walks [thumbs up]
Cuddles [thumbs up]
Arguments [thumbs up]
Conflicting advice given [thumbs up]
Struggle with existing 3 year old [thumbs up]
Hours spent staring at Adelaide [thumbs up]
Feeling overwhelmed [thumbs up]
Feeling like it's all going to be ok [thumbs up]
Eating meals with 1 hand [thumbs up]
Witching hour is witching 4 hours [thumbs up]
Tears of happiness [thumbs up]
Tears of exhaustion [thumbs up]
Surviving on 4 hours broken sleep [thumbs up]
A trip back to hospital with mastitis [thumbs up]
Getting 5 mins to myself [thumbs down]
Bursting with love and gratitude [thumbs up]"
The glimpse into those first four weeks struck a chord with Carrie's followers. More than 55,000 people reacted to the sentiment, among them a few famous names, including television sports presenter Erin Molan, former Today presenter Sylvia Jeffreys, and celebrity trainer Tiffany Hall.
"Sending you all the powers," Hall wrote. "Nothing is as hard as those first 12 weeks. Nothing! What I would give to sniff a baby's head though! That smell amazing how it makes you survive."
Australian model Megan Gale, who gave birth to her second child in October 2017, added, "Hang in there Mama Bear.. you've done this.. you've GOT this.
"These first 12 weeks seem like an eternity but you KNOW when you look back it will seem like it all happened in a blink of an eye. Enjoy the teeny baby snuggles as much as you can through bleary eyes. [sic]"