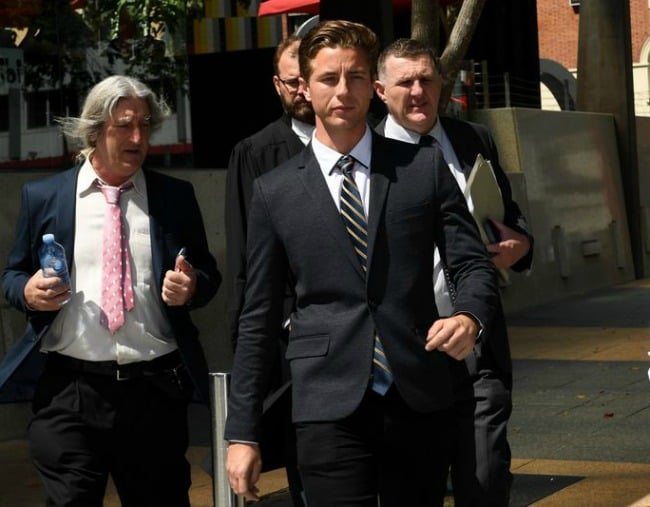 Just 10 minutes after they were sent home on Tuesday afternoon, the jury in Brisbane's West End rape trial announced they were ready to deliver a verdict.
Guilty. Guilty.
After three hours of deliberations, the District Court jurors convicted Jack Scott Turner Winship and Ryan David George of raping a 20-year-old female medical student in 2011.
The woman was walking to catch a late-night bus in the city's West End when the two men pulled her into a laneway and attacked her. She was a virgin prior to the assault.
The case, which dominated headlines in Brisbane at the time, was described by Queensland Police Inspector Rod Kemp as the most brutal rape he had investigated in his career.
"She was most aggressively raped in the worst way that I have seen in my service," he said in 2011.
"All I can say is [the victim] did the right thing as far as I'm concerned; she stuck to the main drag as she walked down to catch the bus, but unfortunately this happened. So it shows you've got to be very wary of your own safety."
'These guys are trying to hurt me.'
The woman, who cannot be named for legal reasons, was leaving a private function at a nightclub on Boundary Street at about 11:30pm on April 11, 2011, when she encountered Turner Winship and George.
The men manoeuvred the intoxicated woman into a nearby alley, where they raped her. After the attack she was discovered with blood on her legs and hands. The man who found her gave evidence during the trial and, according to The Courier Mail, told the court that she appeared "out of it" and said, "These guys are trying to hurt me."
According to the paper, the District Court jury were shown disturbing photographs of bloody hand prints left at the location of the assault.