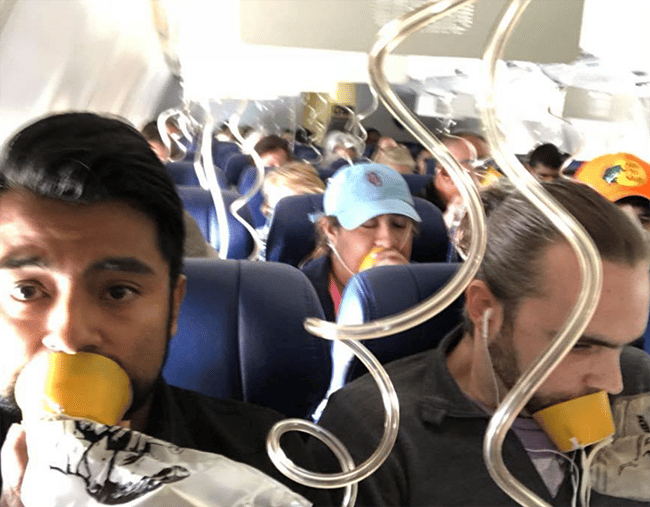 1. One person killed and a woman partially "drawn out" of plane after an exploding engine shattered a passenger seat window in mid-air.
A plane flying from New York to Dallas was forced to to make an emergency landing after an engine blew up and a woman was reportedly almost sucked from the plane.
According to CNN, National Transportation Safety Board chairman Robert Sumwalt has confirmed one passenger has died following the incident, which investigators are classifying as "engine failure".
It's not yet been announced if the person who died is the same woman who was almost sucked from the aircraft.
The engine on a Southwest Airlines plane exploded mid-air at 32,000ft around 11.30am on Tuesday, The Sun reports.
Accounts from passengers say shrapnel from the burst engine shattered a passenger's window and a woman was ripped from her seat and almost sucked out of the plane.
The pilot was forced to land near Philadelphia, where 143 passengers and five crew members were disembarked.
According to The Sun, one person was taken to a nearby hospital and nine others were injured in the incident.
What a flight! Made it!! Still here!! #southwest #flight1380 pic.twitter.com/Cx2mqoXVzY

— Joe Marcus (@joeasaprap) April 17, 2018
Terrifying images posted to social media show passengers holding oxygen masks to their face during the plane's rapid descent, as well as the exploded engine and blown-out passenger window.
"Something is wrong with our plane! It appears we are going down! Emergency landing!! Southwest flight from NYC to Dallas!!" Marty Martinez posted to Facebook alongside a Live Video.
"Engine exploded in the air and blew open window three seats away from me," Martinez added upon reaching the ground.
"Explosion fatally (critically, not sure her status) injured woman sitting in the seat next to the window."