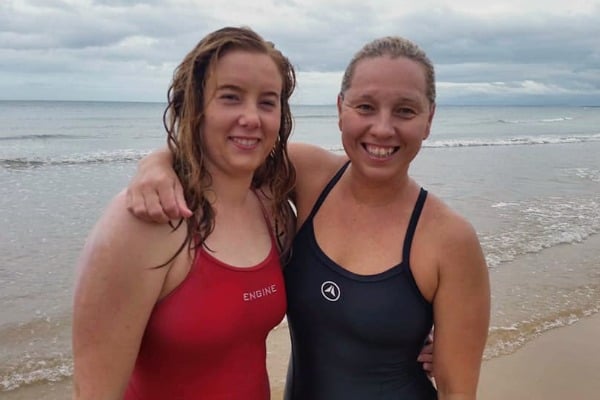 Since she was just 13 years old, Brianna Thompson has dreamed of swimming the English Channel.
Last year, after months of training, the 17-year-old from Brisbane completed a single crossing of the Channel in incredibly rough weather conditions.
But this year, the Aussie teen attempted an even more difficult feat – a two-way crossing of the English Channel.
Earlier this week, under the guide of English Channel world record holder Trent Grimsey, Brianna became the second youngest person in history to complete the 68 kilometre double crossing.
We got our P&O ferry shot!!! ???????????? @GrimseysSwimfit @TaraDiversi @RedTopSwim @CSAswimmers pic.twitter.com/IZ9uzusIog

— Tim Denyer (@CoachTimSwim) July 9, 2019
Beginning the swim at Samphire Hoe on England's south east coast at approximately 4am (11:35am Brisbane time), Brianna reached Le Gris Niz, France around midnight Brisbane time, before beginning the return trip back to England, which she eventually reached in the dark hours of the morning.
Overall, Brianna swam for a total of 22 hours and 37 minutes, with four half-hour feeds.
With water temperatures of just 16 degrees, the 17-year-old faced the threat of hypothermia while crossing the Channel. Thankfully, however, warm drinks along the way helped fight off the cold.
"As my body began to shut down towards the end, I could feel the cold creeping in to my body," Brianna said.
"But then the adrenaline of finishing kicked in the closer I got and I knew I was safe from hypothermia."
BRIANNA THOMPSON is a 2-WAY English Channel swimmer!!! 11:05 + 11:32 = 22:37 Boom!!! ???????????????? @CSAswimmers @TaraDiversi @GrimseysSwimfit @TaraDiversi pic.twitter.com/kWLJJIAIyO

— Tim Denyer (@CoachTimSwim) July 10, 2019