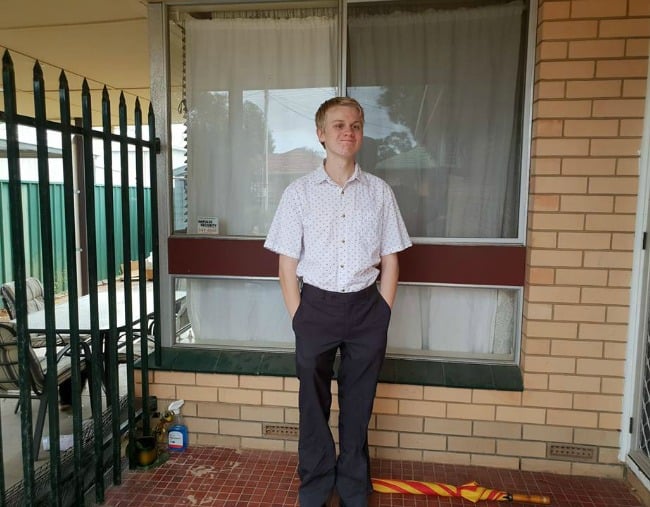 A couple of weeks ago, Lee-Anne Domeika and her two sons, 14-year-old Cameron and 15-year-old Zach, decided to go job hunting together in Adelaide.
The boys had decided they were after their first job, and so, with more than 20 resumes in hand, handed them in to as many businesses that would take them.
Only one called them back.
You see, Zach is blind in one eye. He has anxiety, too. So when Kmart responded to his application, she – and he – were stoked.
"It was about a month ago and honestly, we handed in about 20 resumes to a whole heap of places. Kmart were the only ones who called him back," she told Mamamia.
Upon hearing that initial news, Lee-Anne felt an urge to share it. Not for her own good, she says, but for Kmart's. She posted a quick status on the Facebook group Kmart Mums Australia:
"I just want to thank Kmart for accepting my blind son's job application and giving him a interview… He did work experience at Coles and liked the idea of stacking shelves etc, so fingers crossed he gets a job," she wrote. It was liked by more than 5000 people.
Talking to Mamamia, Lee-Anne said she wanted to share her experience, in the beginning, to thank them.
"Regardless about whether they even gave him the job, at the very least they considered him. They gave him an opportunity to be considered," she said.
"I wanted to thank them and I wanted people to know that while we all love their products, there is even more of a reason to love Kmart."
The reception to her first post was staggering. Some of the lovely comments, Lee-Ann said, made her "tear up".
This was Zach's first time ever applying for a job, and he wasn't so sure at the beginning.
"I convinced him. I said to him, there is no harm in trying.
"A lot of people take it for granted, going for a job interview. As a mother of three disabled children, I can tell you this is just another really big milestone. Zach has had to overcome a lot so far. He has struggled in some areas and breezed through in others. But this was a big thing for him, because he has a lot of anxiety.
"He normally just stays home, and doesn't go out much, so for him to actually apply for a job and look forward to getting a job is a really big thing. He has managed to get through a lot – he doesn't like big crowds and he doesn't like noise.
"People don't understand that for some people, it's not easy taking that first step and initiate looking for work."