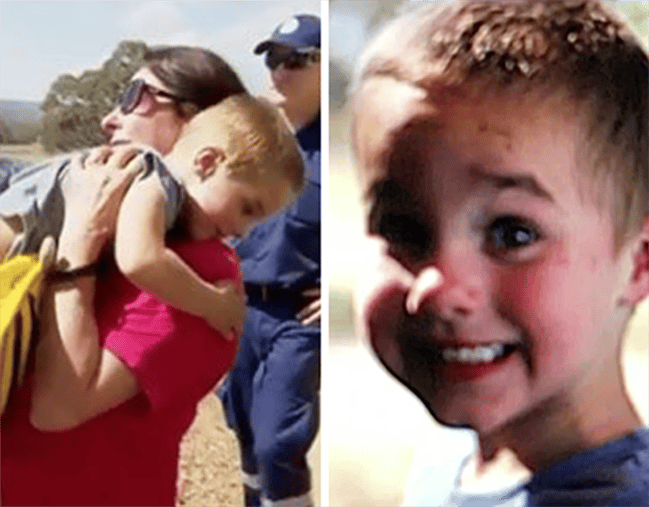 1. Boy, 3, found safe after a night lost in the bush where he asked a kangaroo to "take him home".
A three-year-old boy who was missing for 18 hours after wandering from a campsite near Mudgee in the NSW central west during the Easter long weekend has been handed back into the arms of his emotional mother and father.
WATCH: A family are celebrating what they call an "Easter miracle".

James Skillen was last seen at about 5pm on Saturday at a campsite with his family on a property on Old Ilford Road, Razorback, about 69km south of Mudgee. He was found "safe and well" wandering along a 4WD bush track just before midday on Sunday
"It's an Easter miracle, it's just amazing and we just can't thank the emergency services so much for everything they've done," James' father, Peter Skillen told the ABC.
Mr Skilllen also said young James had tried to get a lift back to the campsite from a kangaroo.
"He said he tried to jump on a kangaroo this morning because he thought the kangaroo might take him home," he said.
Members of the public from the small nearby town of Sofala had joined the search and James was found five kilometres from where he had last been seen.
James was then flown in a PolAir chopper to a paddock where his parents were waiting and a policeman placed him in the arms of his mother, who held him tightly amid cheers of joy from the gathered crowd.
When James was last seen he was carrying a yellow backpack, which he was still clutching when he was carried from the chopper.
James and his parents then climbed into a waiting ambulance so the boy could be assessed by paramedics.
Mr Skillen thanked members of public and emergency services, saying his son was very chirpy after the chopper ride.
"He was very chirpy, he was very happy he got to ride in a helicopter."