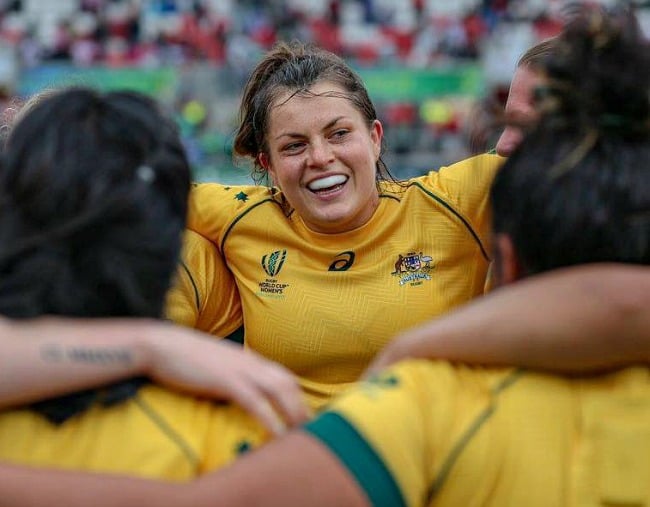 Can you remember the first time you heard the Australian anthem? As in, the first time you heard it sung for a real, patriotic reason – not just at a school assembly?
I can't actually remember my first time, but I'd bet good money that it involved my family and I watching a bunch of men in gold jerseys, belting out "Advance Australia Fair" before they took on the world's best rugby teams.
I grew up watching rugby and the Wallabies, and it shaped my childhood in so many ways. Even my first crush was rugby related (Matt Burke, circa 1999 – I was seven years old, and thought he was the best player ever).
But I was always on the sidelines – cheering on Dad, cheering on my brother, cheering on my guy friends, cheering on the Wallabies.
Nowadays though, I'm cheering on my own teammates from the field.
Since I started playing rugby for real five years ago, it's been a whirlwind of travel, tackles, parties, physio, beep tests and laughs.
As well as travelling all over the country, I've been lucky enough to play against girls from all over the world in the USA, New Zealand, Samoa and most recently to Ireland to play at the Women's Rugby World Cup in front of sold-out stadiums.
And while it's amazing to wear the gold jersey and sing the national anthem standing shoulder to shoulder with your best friends, we've never been able to do it at home, on the same stage as the boys.
Until now.
On Saturday 18 August, my teammates and I will run out on ANZ Stadium for our first double-header in our home country. It'll be the first time I've ever worn the gold jersey at home.