The Australian women's rugby team, the Wallaroos, head to Ireland in August to compete in the Women's Rugby World Cup, which only comes around once every four years. Team member, Grace Hamilton, who also works and studies full time, writes for Mamamia about her journey and why rugby mates are mates for life.
***
If someone had told me when I was little that I would grow up to represent Australia playing full contact rugby, I would never have believed them in my wildest dreams. I would have informed this misinformed person that a) I don't play rugby and b) no girls play rugby (duh!).
That said, in one month I'll put my life on hold to jump on a plane to Ireland to play in the Women's Rugby World Cup.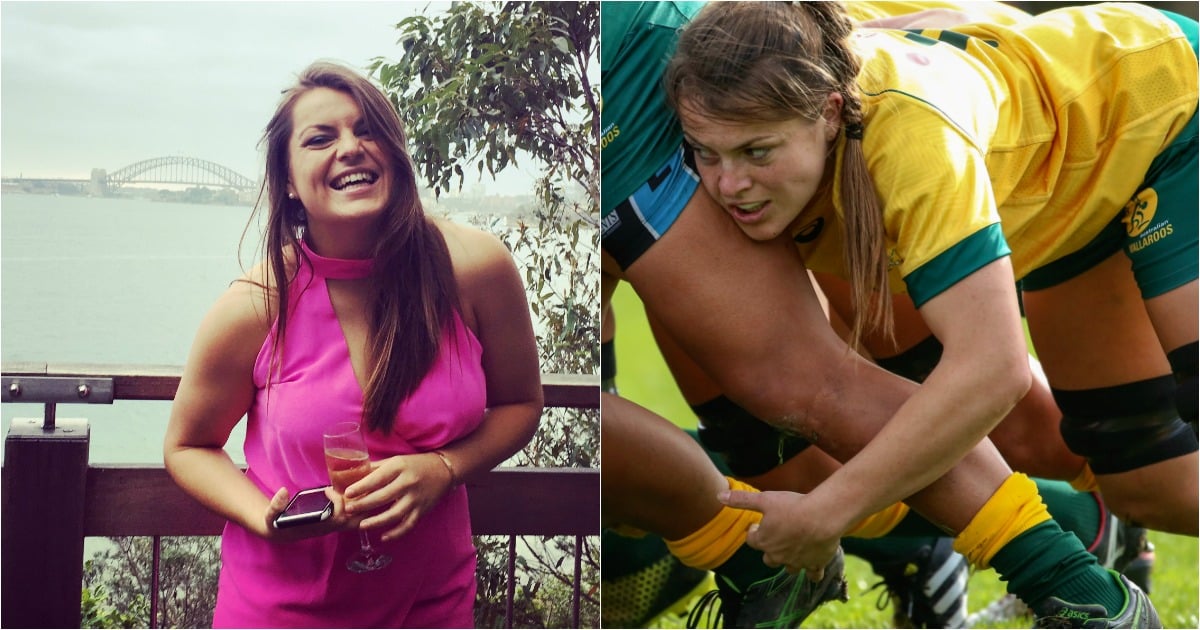 Despite growing up in the country with a rugby-obsessed dad and always being a really sporty kid, it never crossed my mind that one day I would start playing rugby. I thought it was a sport for boys. Even if I did know girls could play, I definitely wouldn't have thought it would be the sport for me.
I'm the girl who spends too much money on clothes and makeup (or drives my friends crazy by borrowing theirs). I'm the one who grew up playing netball, doing ballet and practicing my Beyonce dance moves – surely I'd never play rugby?
My girls-don't-play-rugby attitude changed when I did a university exchange in the USA. With no netball or touch team to join, I started training with the university rugby team (without tackling) to make friends and stay fit. But, being competitive to a fault, after about three sessions I decided I wasn't going to train to not play. And so commenced the biggest training session of all: learning how to tackle.
Now, I had always been one of the stronger kids (a rower/discus-thrower/farmer's daughter from way back) but violence scares me. If you're in a bar-fight, I'm not the girl to back you up. However, I had some really good coaches who helped me understand that tackling is about technique and attitude, not violence.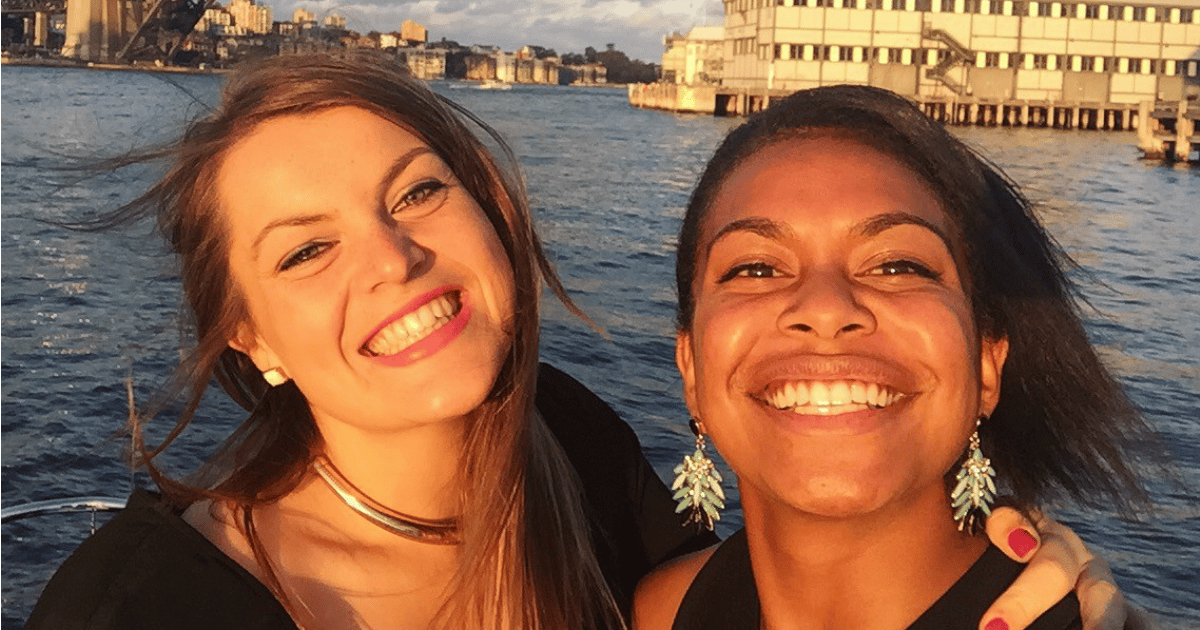 First I learnt how to fall on the ground so I didn't hurt myself. Then I learnt where to put my arms and legs when I made contact, and where to put my head to keep it safe. Finally they told me "just remember to run at them as fast as they're running at you". Sounds simple enough, but remembering all that for your first tackle is easier said than done. Most of the time, I just went in low, closed my eyes, and hoped for the best.
Fast-forward four years and I'm not scared of tackling at all – I find it empowering. It's a great feeling to know that even if you're not the biggest, strongest or fittest, if you have the determination and commitment, you can make a difference on the field and make your team mates proud.
LISTEN: Mamamia Out Loud discuss the AFL's history-making first female CEO (post continues after audio...)
Tackling is actually what makes rugby so special from all the other sports I've played. You're putting your body on the line for your team mates and they're doing the same for you – it means the bonds and friendships you make through rugby run so much deeper.
The girls I've met through rugby are some of my best friends. My Wallaroos team mates are from so many different backgrounds and cultures and we range from 18 to 40 years of age, but when we put on that national jersey, we're all the same. Just a bunch of strong, fearless women running around doing our best for each other and our country.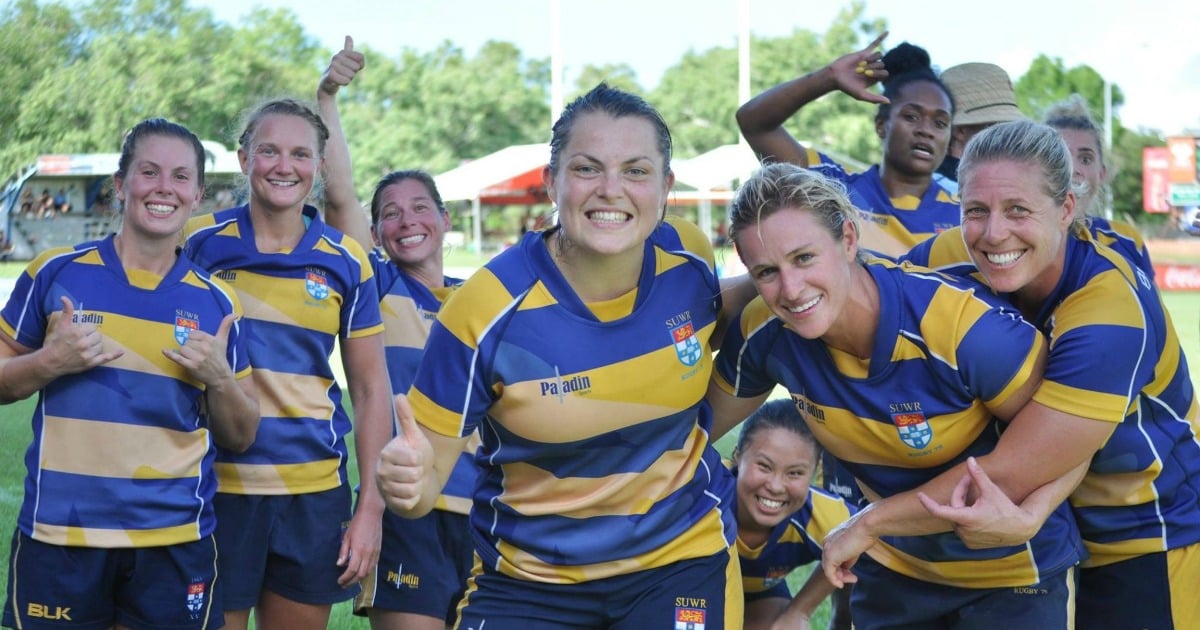 I've had my set-backs – people telling me I'm not good enough, I'm the wrong shape, the wrong size, not fast enough – but it's important to not let that crush your spirit. As a little girl, I would never have dreamed that rugby would be my sport, but now I wouldn't change it for the world.
So when the World Cup rolls around in August, look us up on Fox Sports or watch our highlights online. You'll see us tackle, and you'll be impressed. The World Cup only comes once every four years so we'll be putting our heart and soul into this tournament. We just want the rest of Australia – the mums, daughters, sisters and any little kid who's been told they're not good enough – to join us on our journey.
You can watch the Wallaroos in their Women's Rugby World Cup pool matches on Fox Sports, at the following times:
Wallaroos v Ireland, 10th August, 4am AEST
Wallaroos v France, Dublin, 14th August, 4.45am AEST
Wallaroos v Japan, Dublin, 18th August, 2am AEST