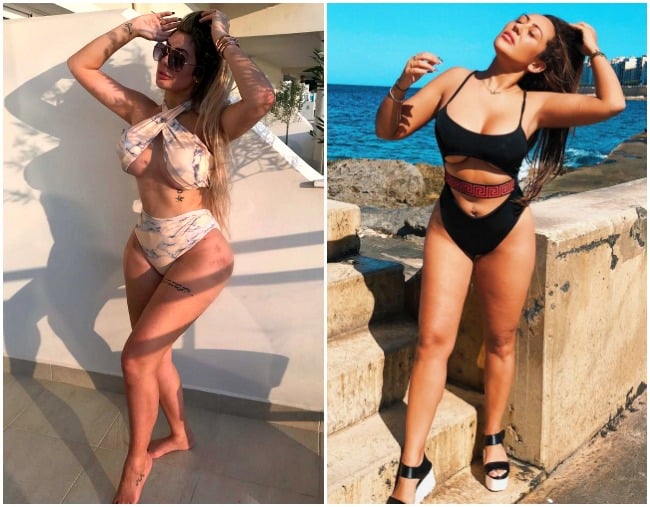 It's been a (sad) few weeks since Love Island was on our TV screens, but there's one aspect of the show I still can't stop thinking about.
(And no, it's not how much of a d*ck Grant Crapp is.)
I'm talking about the swimwear.
When all the boys are chasin' #LoveIslandAU pic.twitter.com/F65xCFa3mw

— Love Island AU (@LoveIslandAU) June 20, 2018
I sincerely hope that before Aussie summer returns, we can remind ourselves what proper-fitting swimwear looks like. Because on national TV, it was entirely forgotten.
To be fair, it's not just the Islanders. It's the Instagram models. People on lavish European holidays. Designers. Retailers. All showcasing precariously cut-out one-pieces and bikinis that feature side boob, underboob, overboob and every-other-boob angle. It has me greatly concerned.
Why? It's got absolutely nothing to do with showing off skin. I'm all for that. For me, it has more to do with the dangerous precedent this trend sets for accepting swimwear that just doesn't fit properly.
What likely started out as an accident has now turned into a full-on trend. People are now manufacturing swimwear that looks like it doesn't fit ON PURPOSE. And people are paying good money for it.
And here I was thinking last year's ridiculously high-cut, vag-baring bikini bottoms were the peak.
Let's face it – a bikini that showcases underboob may look great on the 'gram, but I can guarantee you'll regret it when you have to chase a seagull for stealing your picnic lunch. Or when you jump in the surf.
Here were our favourite, fanny-flutter-inducing moments from this year's Love Island.
Here's the bottom line – finding flattering swimwear that actually supports the bits and pieces that need support is a hard enough task as it is. It's made infinitely more complicated when you have a body type that doesn't conform to the sizes available in stores (which applies to a lot of us). Add this trend and it becomes damn near impossible.