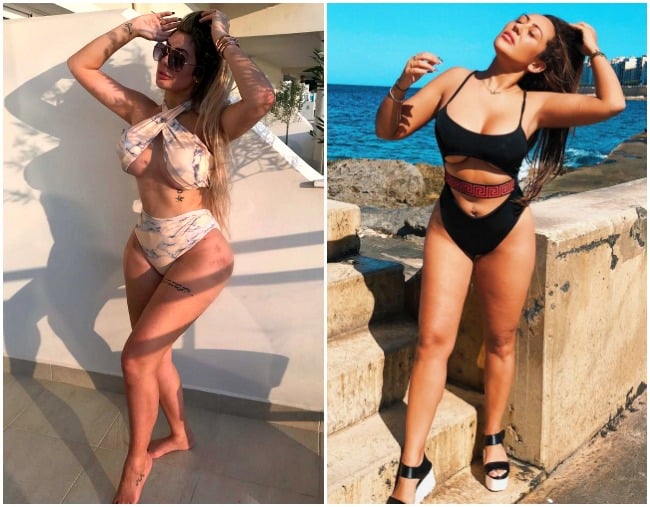 It's been a (sad) few weeks since Love Island was on our TV screens, but there's one aspect of the show I still can't stop thinking about.
(And no, it's not how much of a d*ck Grant Crapp is.)
I'm talking about the swimwear.
When all the boys are chasin' #LoveIslandAU pic.twitter.com/F65xCFa3mw

— Love Island AU (@LoveIslandAU) June 20, 2018
I sincerely hope that before Aussie summer returns, we can remind ourselves what proper-fitting swimwear looks like. Because on national TV, it was entirely forgotten.
To be fair, it's not just the Islanders. It's the Instagram models. People on lavish European holidays. Designers. Retailers. All showcasing precariously cut-out one-pieces and bikinis that feature side boob, underboob, overboob and every-other-boob angle. It has me greatly concerned.
Why? It's got absolutely nothing to do with showing off skin. I'm all for that. For me, it has more to do with the dangerous precedent this trend sets for accepting swimwear that just doesn't fit properly.
What likely started out as an accident has now turned into a full-on trend. People are now manufacturing swimwear that looks like it doesn't fit ON PURPOSE. And people are paying good money for it.
And here I was thinking last year's ridiculously high-cut, vag-baring bikini bottoms were the peak.
Let's face it – a bikini that showcases underboob may look great on the 'gram, but I can guarantee you'll regret it when you have to chase a seagull for stealing your picnic lunch. Or when you jump in the surf.
Here were our favourite, fanny-flutter-inducing moments from this year's Love Island.
Here's the bottom line – finding flattering swimwear that actually supports the bits and pieces that need support is a hard enough task as it is. It's made infinitely more complicated when you have a body type that doesn't conform to the sizes available in stores (which applies to a lot of us). Add this trend and it becomes damn near impossible.
I get it. I might sound like I'm overreacting. But my own past experiences make me find the whole thing frustrating.
For me, purchasing swimwear has become almost a ritual of disappointment. I've lost count of the number times I've ordered a nice-looking one piece I've seen people wearing on social media, stalked the postman for a week waiting for it to arrive, then put it on only to see the "deep v-neckline" literally cuts halfway into each boob, creating some kind of double-mountain boob.
Or there's all the times I've gone into a fitting room with high hopes for an on-trend bikini, only to discover it doesn't even cover a third of my chest. WHY.
I've heard the same stories from countless other women who just want a nice-looking bikini or one piece they feel good in to wear over summer.
I'm just a girl, writing on the internet, asking the world to please make it easier to find a bikini top that actually sits flat under my boobs rather than leaving them hanging. Is that so much to ask?
(FYI – After much trial and even more error, some better brands for larger boobed ladies I've found are The Fold, Target and Lily Lime.)
Ultimately, if this is a look that you like and want, that's absolutely fine. You'll thoroughly enjoy bikini shopping this season. But if you don't, remember – you musn't accept less than you deserve. We have a right to swimwear that actually fits. There is no excuse for poor design.
Who's with me?
Brittany Stewart is a freelance beauty and fashion journalist who has a lot of feelings. You can find her on Instagram or Facebook.