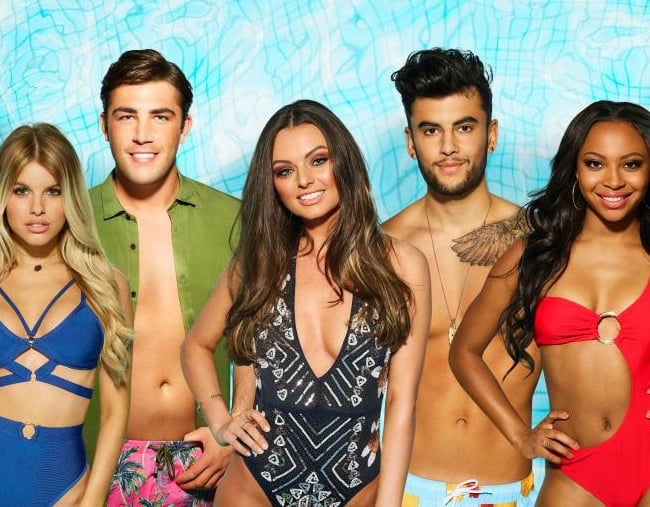 I've got some feelings. About Love Island.
For six weeks, I surrendered a large portion of my life to Love Island Australia. I sacrificed dinner arrangements, sleep and possibly thousands of brain cells to watch Eden and Erin and Grant and Tayla four nights a week from 8:30 – 9:30pm (or 9:48pm, more accurately).
It was wonderful and I don't regret it.
That is, until I watched the first episode of the UK's new season of the reality dating show right after Thursday night's finale and realised we, Australia, have been duped.
If you're not yet familiar with the first three seasons of the original Love Island UK (which you must binge on 9Now immediately), you might not be sure what I'm getting at. That's not your fault, you don't know any better. You've got nothing to compare Love Island Australia to, and therefore, like me, you settled.
But to sum it up, comparing Love Island UK to the Australian version is like choosing between a smooth barista-made cappuccino and a watery, luke warm instant coffee. No one really wants luke warm instant coffee.
We did have some nice moments though. Didn't we?
You can recap all the best Love Island Australia moments in the video below. Post continues.
Like when 'fanny flutters' and 'flanter' became part of the villa lingo, or how Millie said all along that she wanted a rough Aussie tradie before ending up with the owner of the world's whitest teeth.
And all the times Eden and Erin showed us what a borderline abusive relationship can look lik- oh wait… never mind.
That said, as much as I wanted to get behind the Aussie-made trashy reality TV show, Love Island UK is and will always be far superior.
For example – in just two episodes, I've watched:
Couple-swapping
Partial nudity
Multiple bouts of tears
A man that doesn't have a six-pack
Another man threatening to leave because no one likes him
A contestant with a semi-famous dad (spoiler: it's Danni Dyer, and her dad is… UK actor Danny Dyer from EastEnders)
A challenge that's exposed the contestants' former indiscretions by making them all pash each other
Yep. All that drama in just two hours of television.